Google+ Booster Plan
So you started getting your business involved Google+ - that's a great start! However, you may be posting somewhat regularly but not getting much in the way of engagement (bona fide shares, comments, +1s, etc.). This is normal; especially if you have not been active in engaging or sharing thought-leadership style posts. Once people start engaging with your posts on Google+, your site will enjoy an increase in direct traffic, organic searches, and site engagement. Additionally, since activity breeds activity, you will start to see your Google+ follower count rise consistently every month.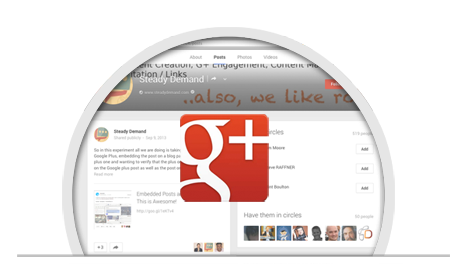 Supercharge your Google Plus brand page and Social Media SEO!
Get your G+ Brand Page optimized and properly connected with your site.
We will post to your G+ Brand Page every business day with high quality, relevant content.
Grow your followers and People Circling YOU!
Earn Links Naturally!
Gain access to our expert staff
The Booster Package is perfect for you if:
You have been posting to Google+ but have not gained much in the way of engagement (+1's, shares, and comments)
You are not gaining traffic or new followers
You do not have the time to generate new content for status updates
Your social media manager does not focus on the SEO aspects of Google+
You do not know how to create ROI from Google+
We will post links to your site content, blog articles, and relevant content from other sites along with a 200-400 word summary or prompt for social engagement on your Google+ brand page. We will +1 each post and share into a community once per month as applicable to increase awareness and followers. We will also tag people and brands that are relevant and add hash tags for enhanced discovery to each post.