Kent Roberts
Social Content Specialist

Kent Roberts is a professional writer. He has contributed to the New York Times and The Onion, and co-authored a book for Random House. He has edited construction manuals, magazines, and sociology textbooks. As a content writer, Kent has written thousands of business articles for industries including automotive, DDoS protection, healthcare, HIPAA compliance, law, marketing, real estate, SaaS, and web hosting. Kent has an MA in English Literature and a BA from Brown University. He lives in Los Angeles.

Nick Santangelo
Social Content Specialist

Nick Santangelo is a guy who writes things. Things on the internet. Things you've (hopefully) read on the internet. He holds a BS in Marketing from Rutgers University and has spent the last few years working as a copywriter for a handful of digital marketing agencies. His passion for writing stretches all the way back to his days covering sports for his middle school newspaper. Since then he's been a staff writer for the Rutgers Gleaner, the news editor for a small video game blog, the managing editor for a much larger video game blog, a contributor to Jersey Man Magazine and a freelance writer for Subaru Drive Magazine. He's written marketing and PR copy for clients in industries ranging from tech to dumpster rentals to consumer products to HVAC to law to far too many others to mention here. Additionally, he knows all about the SERPs, the SEOs, the SEMs, the SMMs, the PPCs and even the ABCs.

Mia Voss
HOA Host

Mia Voss is a professional Google Hangouts OnAir/YouTube Show Host, Interviewer, Strategist: all about the community connection! Having produced and starred in over 300 episodes including, The Mia Connect, The Food & Booze Show, 15 Minutes with Christine & Mia and numerous YouTube/HangOut appearances. She has an engaging & energetic interview style that elevates every guest and helps brands build a strong presence with their video content.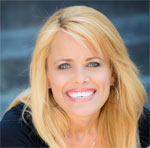 Rebekah Radice
Social Content Specialist

Rebekah is the author of "How to Use Social Media to Virtually Crush the Competition" and recently named an Inman Top 100 Most Influential Leader for the second year in a row, as well as one of the Top Ten Most Shared Content Marketers of 2014. A Los Angeles native with over 17 years marketing experience, Rebekah Radice is a highly sought-after keynote speaker, brand ambassador, social media writer, digital marketing specialist and business consultant with Rebekah Radice, LLC. Rebekah has been blogging since 2004 on one of the top social media blogs, rebekahradice.com. As a recognized leader and influencer, Rebekah has been featured on Social Media Examiner, Social Media Today, Steamfeed, 12Most and Alltop. In 2013, she co-founded Imagine WOW and Social Success Academy, a digital marketing agency and social media training platform designed to help businesses and brands build a vibrant online presence. With her early days spent on morning radio, Rebekah has honed her skills at engaging and reaching an audience. She is passionate about small business, having trained thousands of business professionals on how to use social media strategically, allowing them to maximize, prioritize and monetize their online efforts.