Create an optimal cover photo for your Google+ page with this simple template!
Your Google Plus profile will, often times, be the first place people go to find out more information about who you are and what you do. As such, the first thing that is likely to catch their eye is that gigantic cover photo staring them right in the face on your profile or page.
That's why it's critical that you not only have a cover photo that looks great, but also makes an impression.
But it's not as simple as just throwing an image in there— there are specific dimensions and nuances that you need to know about in order to get the most optimal cover photo possible.
Google Plus Cover Photo Size
In this post we're talking specifically about the cover photo size of the new Google+ interface. The updated size for your Google+ cover photo is 1840×1035.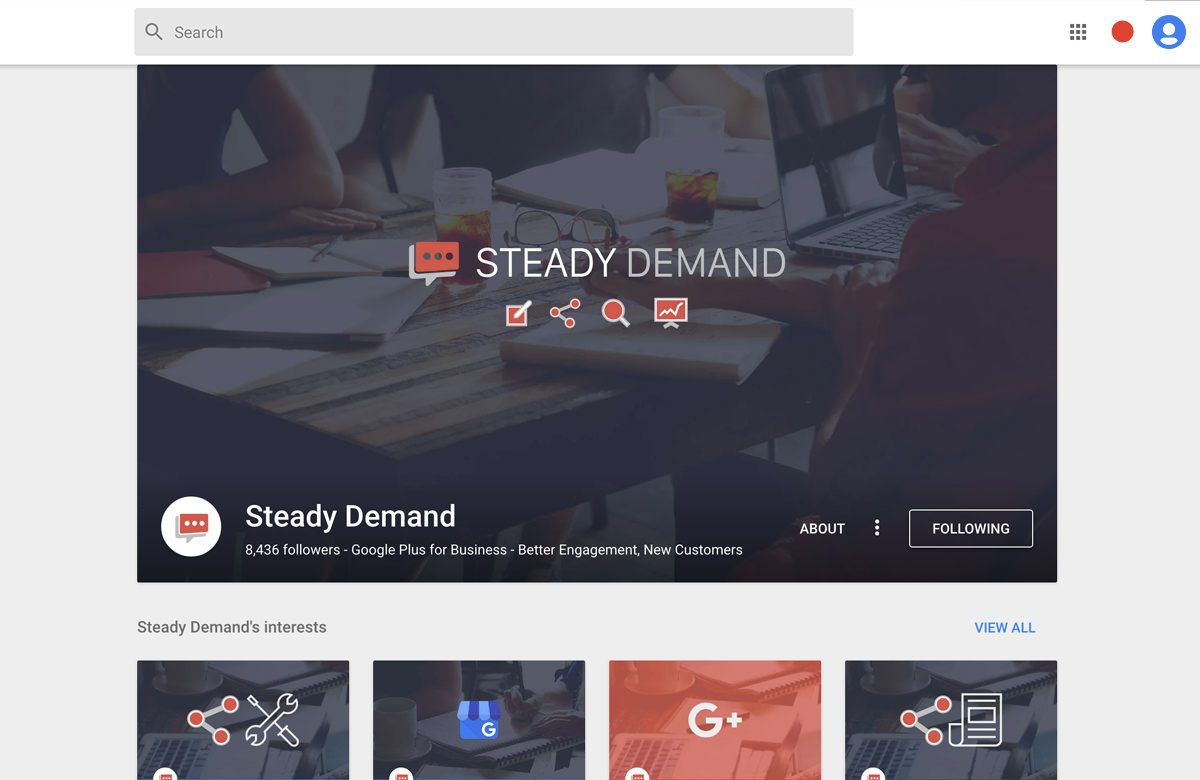 One thing you need to keep in mind with this, though is that when someone first lands on your Google+ profile/page it's not going to show the full height of the photo. The user actually needs to scroll up in order to reveal the full image.
To account for this, we've created the following template that shows you where the cropped areas will be.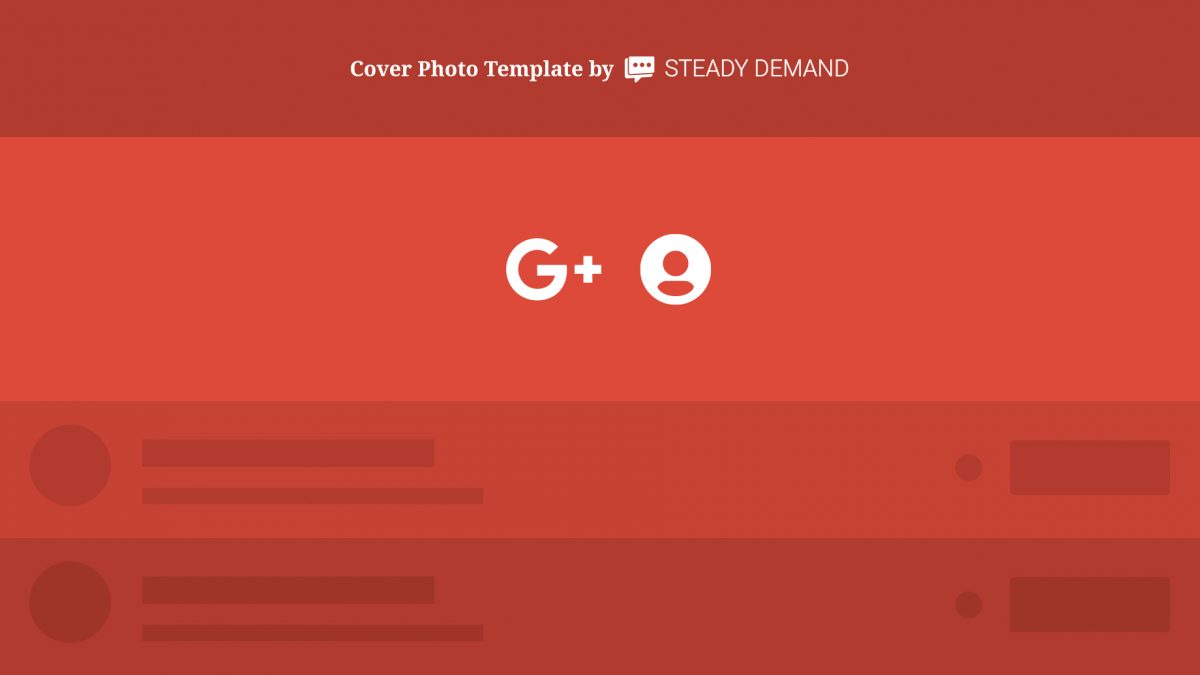 [click for full size]
Simply click on the image above and save it to your desktop (or somewhere that you will have easy access to it). You can use this template as a blueprint of sorts for creating your Google+ cover photos.
Using the Google+ Cover Photo Template
This template (or blueprint) can be uploaded to your favorite image editing software such as Canva, Photoshop or other image editor. You can then place your own graphics or images over top of this template to create your own unique cover photo.
The brightest area on the template is where you should place all elements that you want to be seen right away— your company logo, tagline or the focal point of your image.
Anything outside of this brighter area will either be cropped off before scrolling or be covered up by elements such as your profile picture, name or other text elements.
Great Cover Photo Examples
One thing we recommend keeping in mind is that you should treat your Google+ cover photo as a welcome mat, not a billboard. Think of it more like a branding opportunity than a flyer— showing off your brand's style or personality rather than a plethora of information.
Take +CoSchedule (our favorite editorial calendar tool) for example: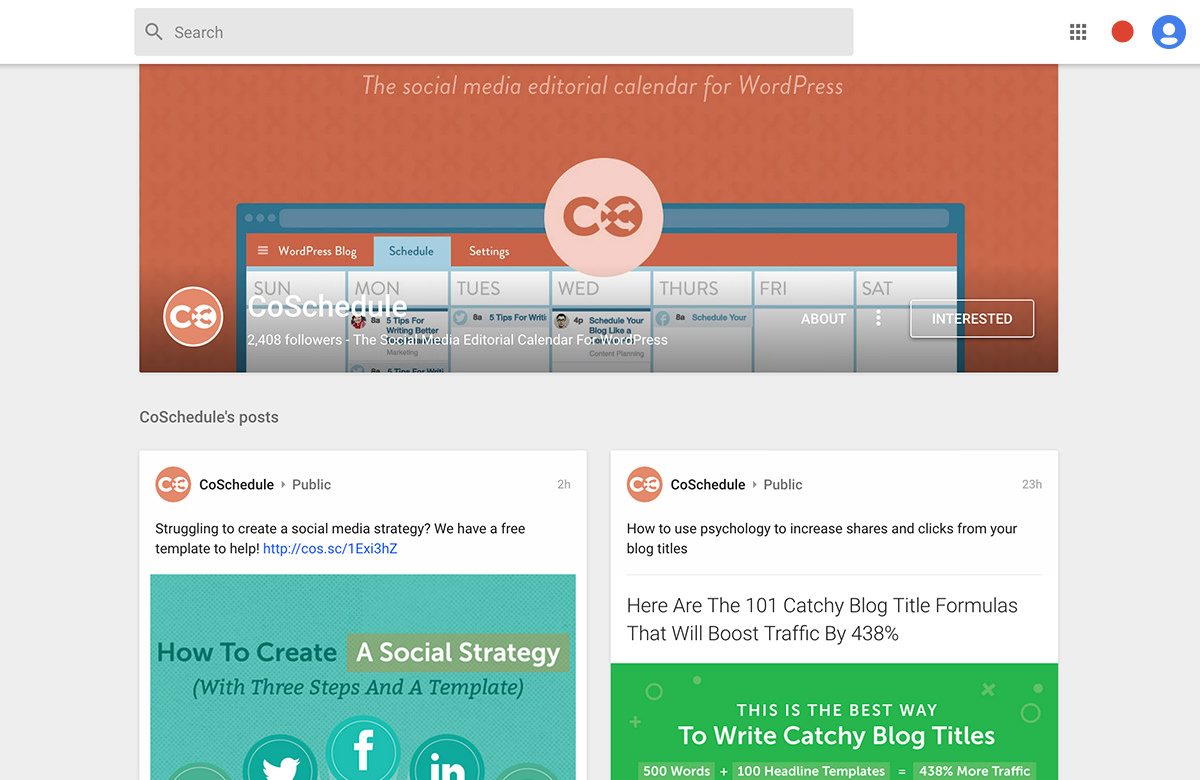 Their photo showcases their unique style, takes into account the crop area so their tagline is visible upon first load, and when you scroll up the page, their full logo is revealed.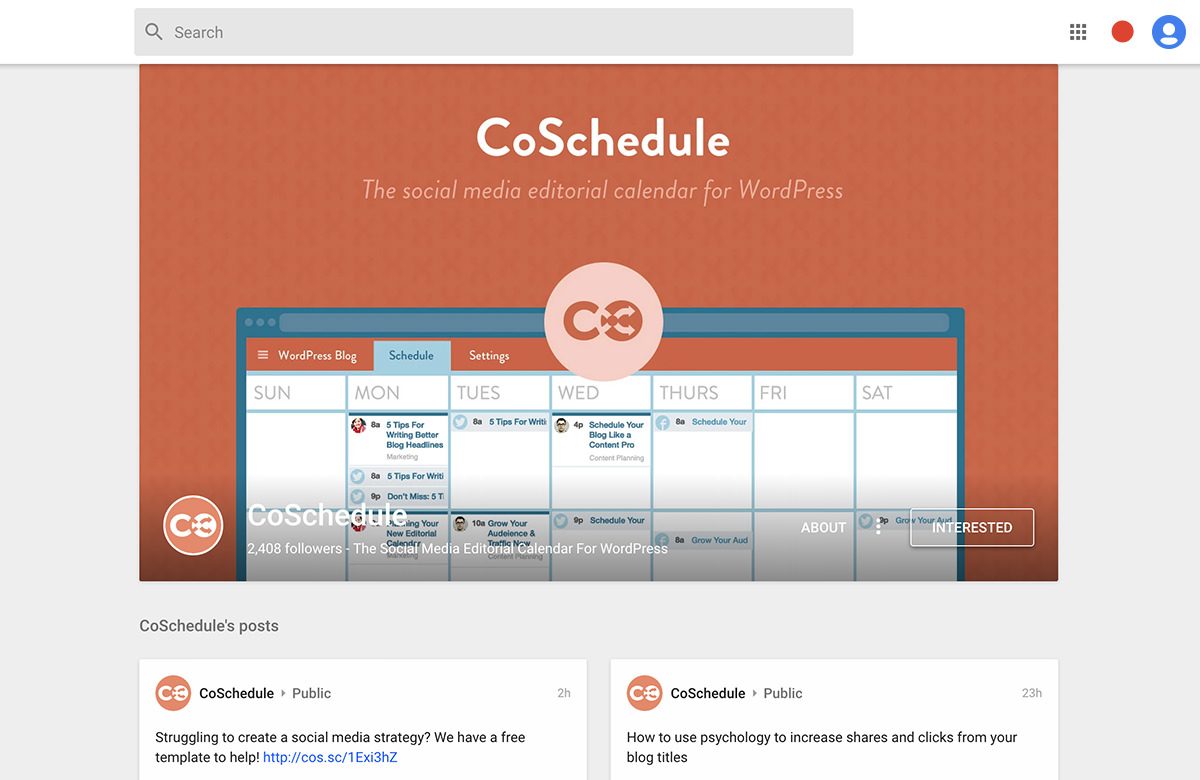 This gives an element of "reward" for uncovering something that you didn't know was there until you scrolled. Makes for a very interesting experience for a first-time impression.
Similarly, I created this same effect with the +Social Warfare page, where it gives a powerful tagline on the initial view but when you scroll up, you see a bit more info revealed.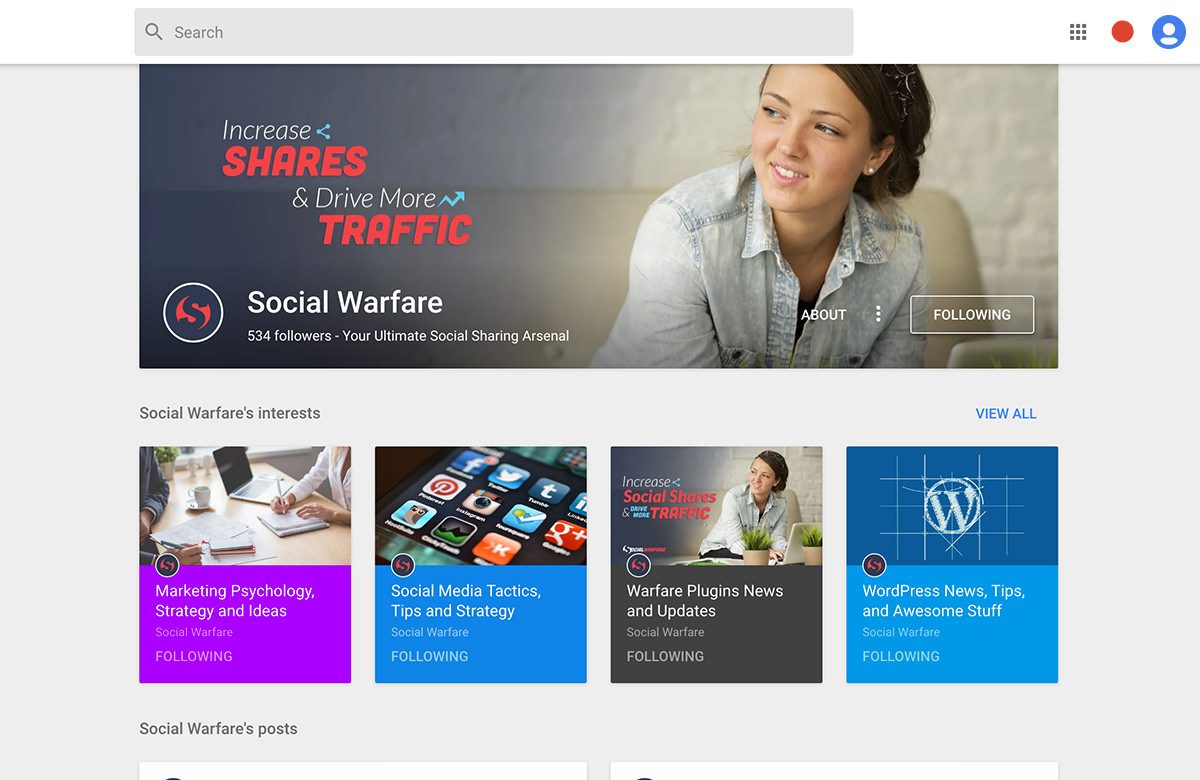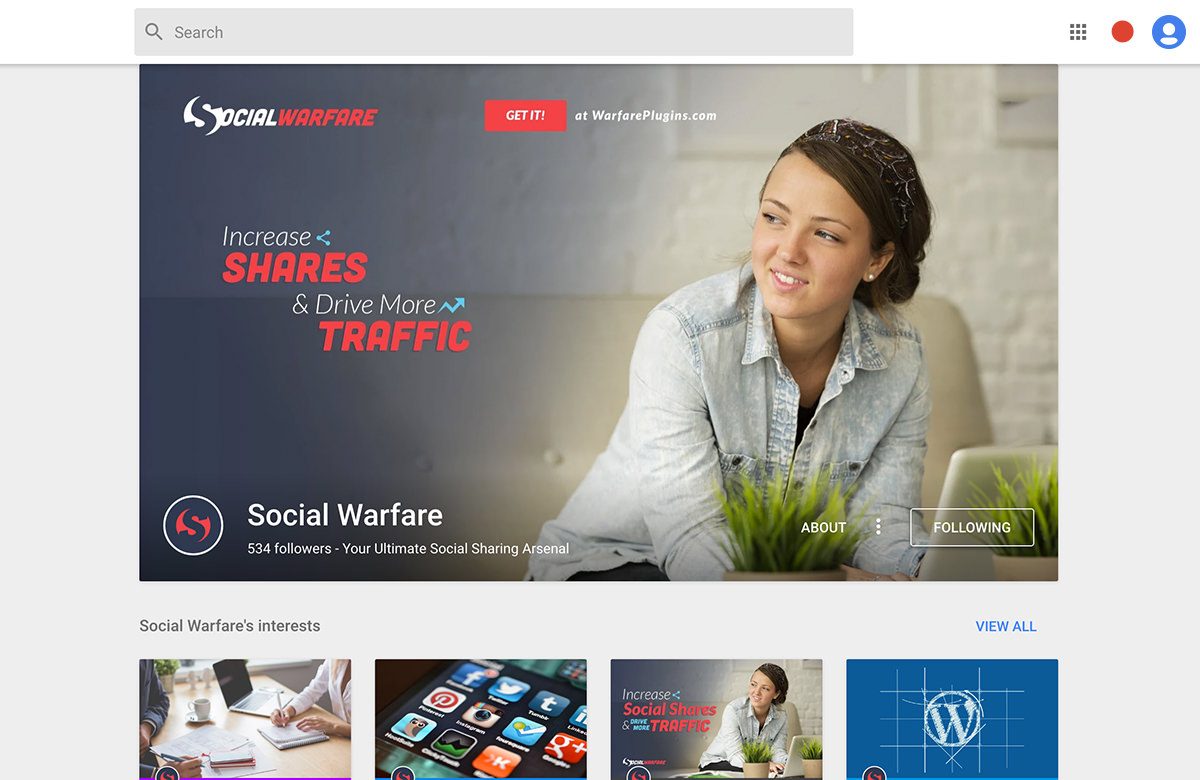 Another great cover photo example is from the people at +Capri Laguna, who have utilized a beautiful photograph (taken on their property) with their official logo. Notice how on the initial load the logo only slightly dips down into the text area.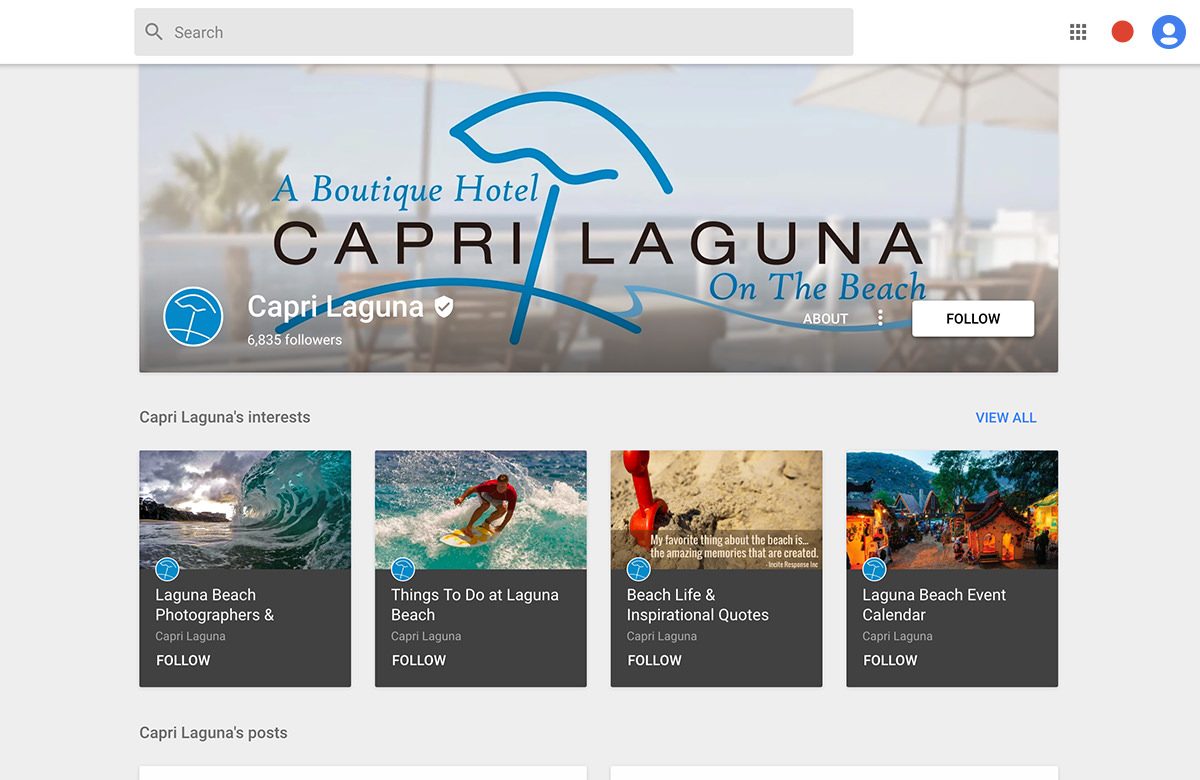 The +Stanfield Real Estate page takes a simple photographic approach to their cover photo, but they've made sure that the primary focal point (the couple walking on the beach) is right within view without scrolling.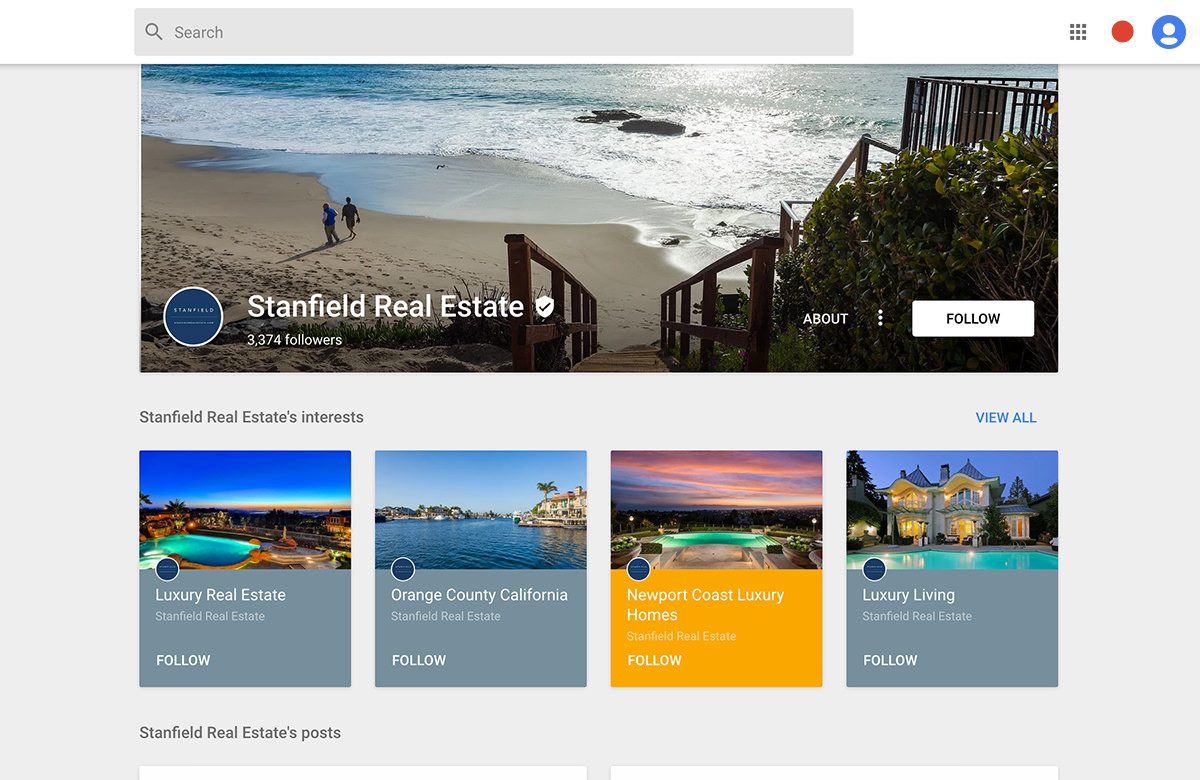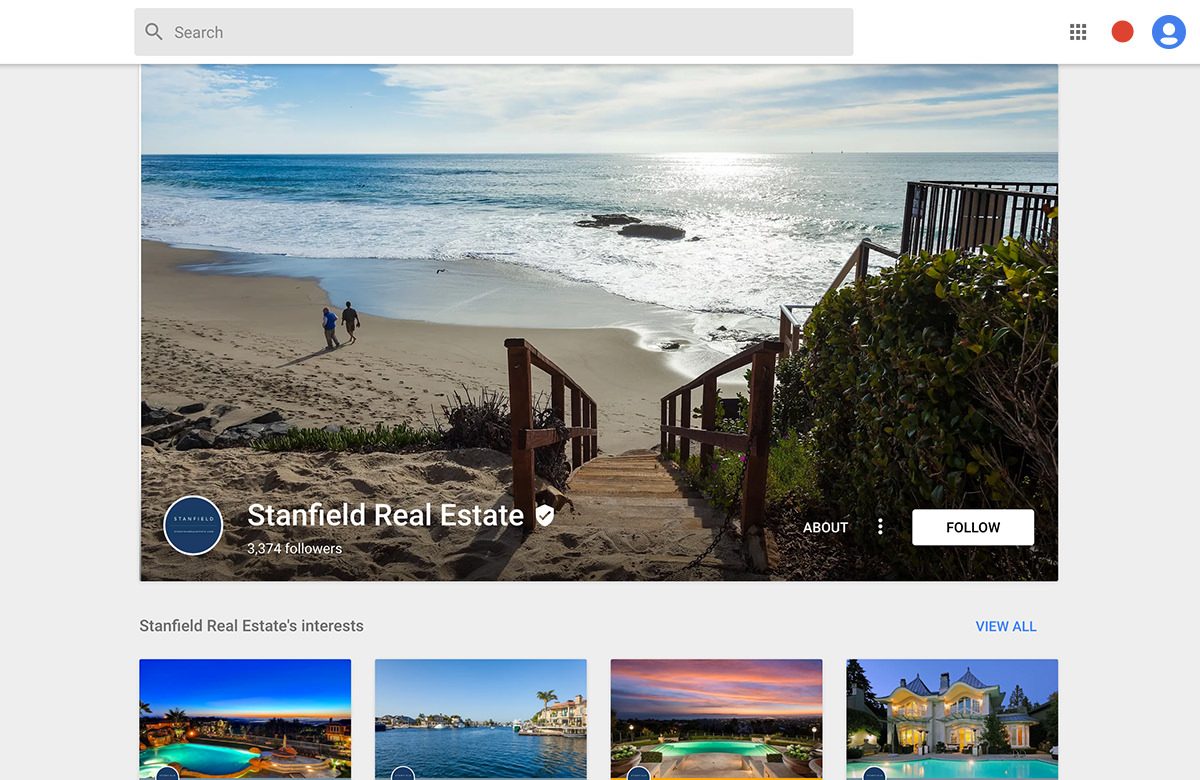 Quick tips for Cover Photos
To wrap this up, I wanted to give a handful of quick design tips to pay attention to when you're creating your Google+ cover photos:
Text Size: If you use text on your image, be sure that you use a font size that will be visible and legible. Probably no smaller than 20px to be safe.
Colors: You'll want to use brighter colors or very dark, contrasted colors to stand out on the page. Avoid blank white backgrounds because it will blend in with the Google+ interface and won't draw the user's eye.
High Resolution: If you use a photo background, be sure that the photo you're using is high enough resolution and doesn't look pixelated. There are plenty of free image resources available if you need to find the right background photo.
Avoid Clutter: Most people's eyes will actively avoid anything that looks overly cluttered and confusing. By keeping your focal points minimal and with plenty of whitespace, you end up drawing more attention to it.
Most of these are general design best practices and can be very helpful to keep in mind during your cover photo design process.
How about a special bonus?
Well aren't you lucky you read all the way to the end of the article? You get to see our bonus Google+ Collections template!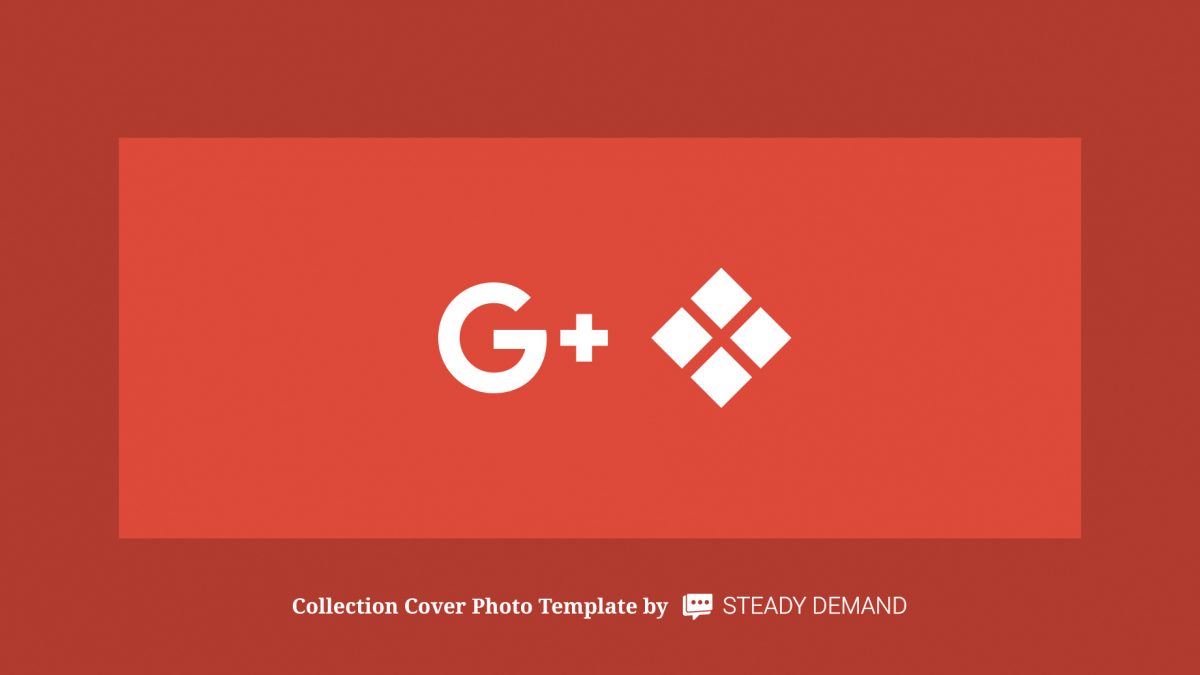 [click for full size]
Since Google+ is putting a huge emphasis on Collections in their new interface, we felt you should also be equipped with being able to create highly effective Collections cover photos as well.
Simply use it in the same fashion as the first cover photo template and use it to create as many different Collections covers as you need. If you need any examples, you can always take a look at how we've utilized it in creating our own collections.
Now go create!
We hope you will find these helpful in creating your own Google+ cover photos. Be a pal and share this post so that other folks will have access to these easy-to-use templates.
And feel free to brag about your own cover creations in the comments below! We'd love to see them!