We'll take a look at all of the major new features and elements the recent re-design of Google+ gave us, and what they mean for you and your business.
If you haven't logged into Google+ in a few weeks, you should do so right now. No seriously – go do it. We'll wait.
Pretty different huh? The recent revelation (November 17, to be exact) by Google of a full, comprehensive redesign of Google+ caught many of us who use the platform daily by surprise. (In a small bit of irony, Google+ did an exclusive reveal and Bradley Horowitz interview with TechCrunch the day the news brokethe same TechCrunch that just over a year ago claimed that "Google+ Is Walking Dead" and was the inspiration for our recent "Google+ Is Talking Dead" article.)
So what exactly is new in the new Google+? Actually, quite a lot, and not just the shiny new aesthetics. Let's take a look at some of the biggest changes, what they mean for you and/or your business, and what they mean for the platform as a whole. We'll start with the "big picture" changes and the philosophies behind them.
Communities and Collections
Perhaps the biggest and most noteworthy change included is the huge shift in focus toward Communities (which have been one of the most unique and effective elements of G+ since the beginning and are now averaging over 1.2 million new member joins each and every day) and Collections (which is only a few months old and allows you to organize you and/or your brand's posts, photos, and videos by thematic content).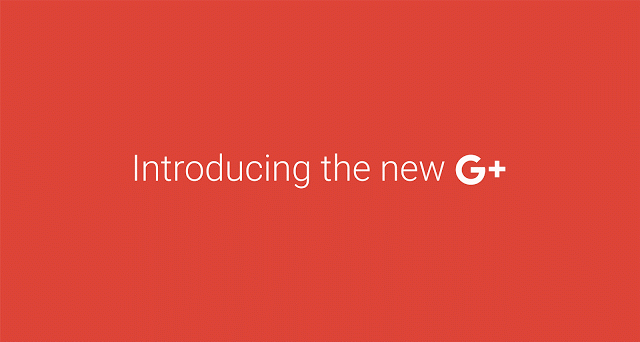 This move made a lot of sense for Google, as it has always insisted that Google+ is less of a traditional social network and more of a portal to connect you with content that you're interested in seeing. Google+ was never meant to be Google's version of Facebook or Twitter – as Dave Llorens with Fast Company put it, it was always meant to be Google's version of Google, meaning using your search data to create a customized experience based around your passions, and connecting you to people, content, and communities based around those common interests.
It's something Google+ currently does better than any other social media network. Facebook and Yahoo both have Groups, but both are severely underused by their respective user bases. Communities on G+ have been improving and growing in quality since the inception of the platform itself, and as Eli Fennell points out, "Google+ Communities, from a design and usability perspective, blow all of these options away."
This focus on interest-driven communities coincides perfectly with Collections, which gives Google+ users an elegant way to follow a user or brand for certain types of content, but not for others. Let's say you come across a great tweet about your favorite sport, Frisbee Golf. It's so great and offers so much unique insight that you want to follow the person who made it – easy, right? But what if that person is on the complete opposite end of the political spectrum as you and regularly posts tweets that you don't care to see? There's no way to just follow them for Frisbee Golf related tweets, so you either are forced to endure the political content you hate, or stop following them but miss out on the Frisbee Golf content you love. If this hypothetical person was on Google+ however and made a Collection each for Frisbee Golf and Political Rants, you could easily follow one and not the other. Problem solved! Again, the new Google+ is all about making it as quick and easy as possible for you to see the content you want from the people you want.
Mobile Friendly
We'll get more into the aesthetics in Part 2, but a big focus of the new design was to make the desktop version of Google+ more closely match the mobile version, which for some time had already been implementingGoogle's Material Design UI. With this new design comes increased speed – quite a bit of increased speed, actually. As Computer World contributor Mike Elgan explains: "In the past, a Google+ stream would load everything at once, so there was a gigantic lag. Now, Google claims not only that pages are a tiny fraction of the size they were before, but also that they never download more than 60K of HTML, 60K of JavaScript and 60K of CSS at once."
You'll likely notice this change with everyone's favorite image format, the animated gif. No longer will gifs autoplay and loop – you'll have to manually click play to start them. While this might come as a bummer to those of us who have a few pages and profiles we follow that post a lot of gifs and love seeing them all load up at once (yours truly is personally guilty of that), there's no denying that those same pages and profiles sometimes took an age and a half to load.
While many of us still access Google+ and other web pages through a desktop or laptop, an ever-increasing amount of us use mobile devices, where speed is critical. In fact, earlier this year, Google itself announced that for the first time ever, they saw more queries for its search engine originate on mobile devices than on desktops. It makes perfect sense then to streamline the entire Google+ experience for mobile devices, since it's only a matter of time before mobile outstrips desktop for web traffic in general. Putting an emphasis on responsive design via Material Design and doing everything possible to decrease loading times is Google's way of future and mobile-proofing G+.
And wouldn't you know it? It appears to be working. We already mentioned the fast adoption rate of collections, but regular users for Google+ are higher than many people think. The oft-maligned social platform was the recent subject of the GlobalWebIndex Chart of the Day – the infographic shows that about 1 in four people globally use G+ actively, and that rate is actually higher in certain markets.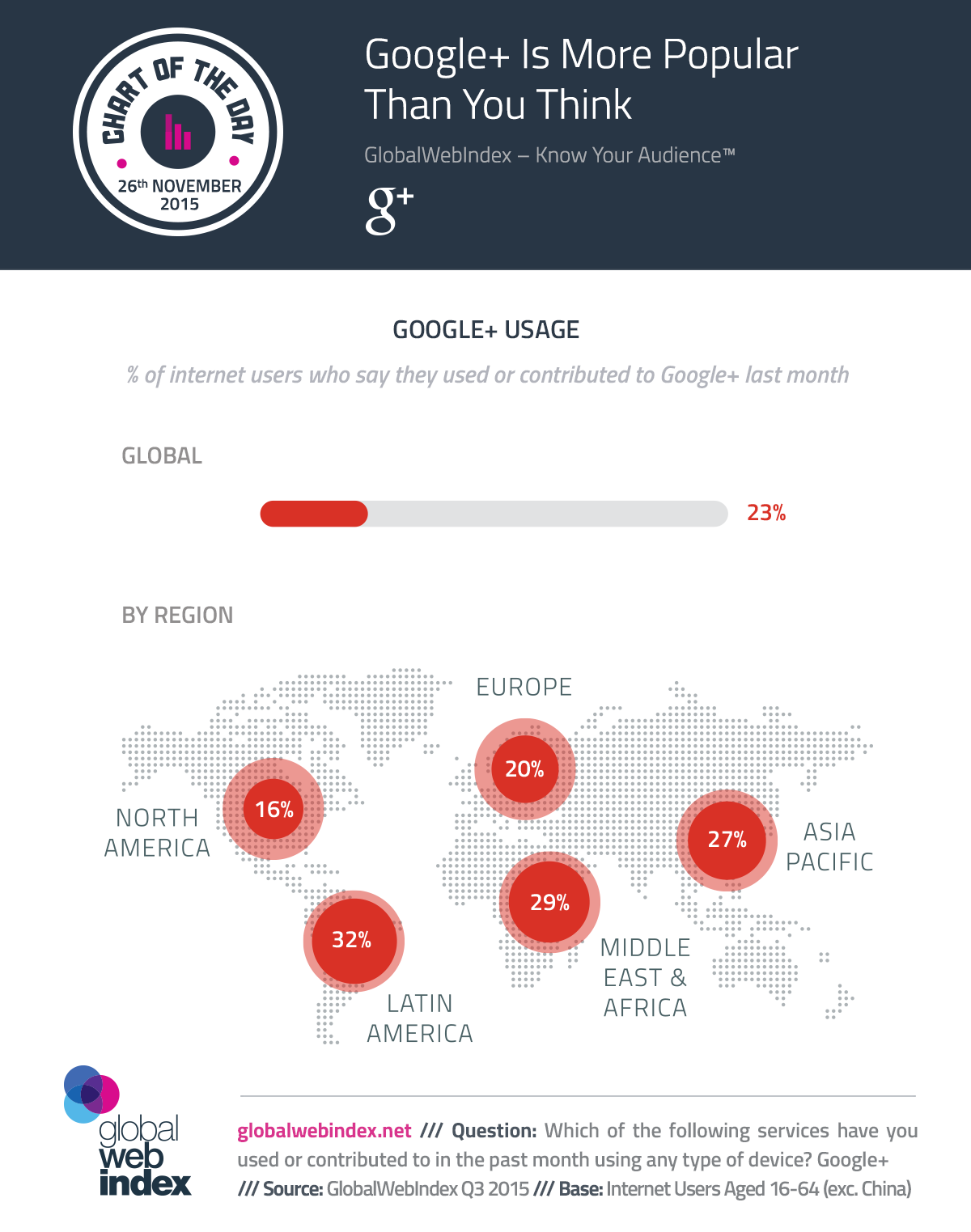 That's it for now – in Part 2, we'll take a look at some of the "smaller picture" tweaks, additions, and removals, as well as how to alter your marketing efforts to best take advantage of all of them.