Let's take a look at all of the major new features and elements the recent re-design of Google+ gave us, and what they mean for you and your business.
Hello again! It's been a couple of weeks since we posted our first installment of our "The New Google+" series, which dealt primarily with the big picture changes – the emphasis on communities and collections, the mobile-friendliness of the new platform, as well as the improved loading speeds of the pages, communities, and collections themselves.
Now, as promised, we're diving into some of the smaller changes that every day users have no doubt noticed by now. There are quite a few to list off, so let's get started.
Gifs
Since yours truly is personally a sucker for amazing gifs, that's where we're starting. One of the first thing us daily G+ users noticed about the new UI was that everyone's favorite animated image format – gifs – didn't auto-load as they did previously. As mentioned in Part 1, this was very much intentional on Google's part to get pages and profiles to load faster, and it absolutely accomplished that.
However, after keeping their ears open to user feedback, Google decided to make auto-playing gifs a user-selectable option. Googler Luke Wroblewski posted a G+ update on December 11 that gifs were now back to auto-play, but users can turn it off if they so choose. Not only is this a great sign that Google is continuing its recent trend of listening to Google+ users and incorporating their feedback, but it means that you can have majestic cat gifs such as this play in your news feed without having to click play.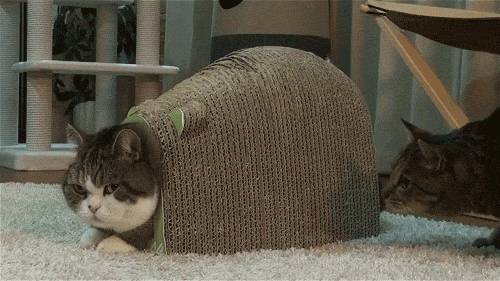 We have it on good authority that one of the Internet's most famous cats, Maru, and his friend Hana are fans of the auto-playing gifs. Source video of gif: YouTube
+1 Comments
Another small but noticeable change is the ability give a comment on a post a +1 with a single click. This is how it was before with the "old" Google+, but the new change required you to click the ellipsis on the right hand side of comments to bring down a menu to +1 a comment. It is now back to a single-click action, per another update from Luke on December 18. This is another example of Google incorporating feedback from its user base as many complained it was a bit silly to make a simple +1 a multiple-step process.

As you can see, the ellipsis drop-down menu is still there (which contains the ability to Reply, Report Comment, or +1 if you'd still rather do it the multiple-click way), but added to the left is the +1 button. Shout out to Denis Labelle< for making our Part 1 his post of the week!
Pinning Posts in Collections
The ability to pin a post to the top of your personal or brand page is a fantastic feature, allowing you to keep a certain link, image, or video up at the top of your page for as long as you like. But until recently, it was a feature only for pages and communities. No longer – you can now select any post to pin to the top of your collection. Given that collections are by far the newest kid on the block, it's understandable that they were the last to get this feature (although some of us wondered why it wasn't there from day one).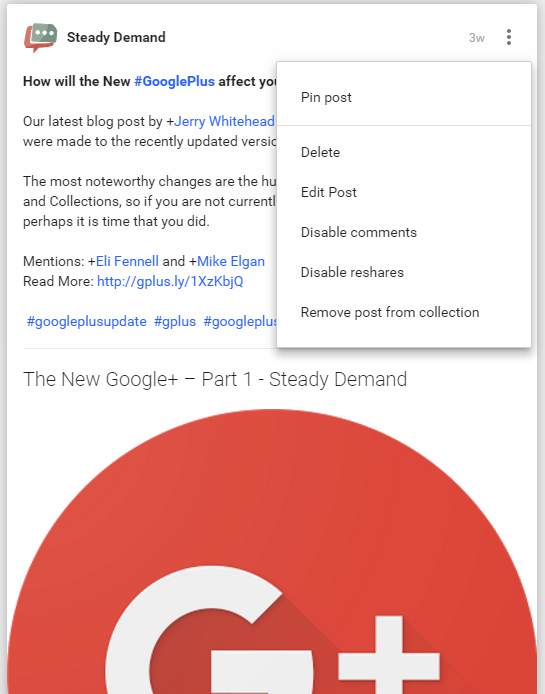 Pin any post to the top of your collection for as long as you like.
Hangouts Stripped
Those of us here at Steady Demand spend hours and hours each day on Google Plus, so it's natural that we'd be chatting with team members and clients frequently. Speaking personally, the removal of Hangouts from the new G+ was the hardest to get used to. Pulling down a menu and seeing your entire contacts list and having them just a quick IM or video call away was great.
That's not to say Hangouts are going anywhere – conversely, Hangouts have been one of the more notably successful companion apps for Google+ (along with Photos). You just aren't able to access them directly from the G+ ecosystem any longer.
If you're like us and are constantly on Hangouts while at your computer, you can either A) stick with the Classic G+ format (which is fine, but know that eventually Google will focus only on the "New" Google+ so it might be better to get used to it now), B) open up a Google Chrome tab and point it to https://hangouts.google.com (as unveiled by Googler Jordanna Chord back in April of this year), or C) download the Hangouts Chrome Extension from the Chrome Web Store.
Comments as a Scroll
If you're fortunate to have a brand page that gets lots of engagement and many comments per post, this might have been one of the first things you noticed in the new G+ (and if you're not getting lots of engagement, we can help with that). Instead of seeing a drop down menu of all the comments in the Old G+, you now are treated to an animated scroll of the most recent three comments. You can of course still view all the comments by clicking the icon that looks like a dialogue box (shown in the gif below with the number 8 to the right of it), as well as who shared it by clicking on the "View Activity" URL.

Here's what the scroll looks like when we posted Part 1 to our G+ page – hi again to Denis Labelle as well as Nina Trankova!
There's lots more to discuss in terms of changes that have already taken place, as well as future changes that will undoubtedly continue to be implemented. It's great to see Google really taking a proactive approach to the New Google+ and listening to user feedback – it obviously makes for a better product, but also goes to show the naysayers that Google+ is something that Google has big plans for and isn't going away anytime soon.
We'll look to do another update soon! In the meantime, be sure to circle us on Google+ for daily updates and news, and bookmark our curated blog post we update on a regular basis for new G+ changes as they happen.