This one, simple bit of SEO awareness could make a big difference to your business rankings.
In any discussion of search engine optimization, the relationship between businesses, marketers, and Google itself needs to be one of the main talking points because it leads to a better understanding of how the whole process works and takes some of the mystery out of it.
If you're new to SEO or you're somewhat familiar with it as a concept, it'll often come across as one of two things:
an impenetrable science, or
a series of throwing stuff at the wall and hoping some of it sticks
If the whole thing seems kind of vague to you, you're not alone. That's why it's important to make a few points right off the bat.
Three points to keep in mind:
The relationship between your business and Google is important to both parties.
Paying attention to a few key details in your content and social profiles will produce better results in search.
You already have the tools to improve your visibility. You just need to use them properly.
Now that we've done away with some of the mystique of how one actually "does" search engine optimization, let's get to some specifics since surely that is what you're looking for.
At Steady Demand, we place a heavy emphasis on investing time into Google+ to increase your presence in Google's search results pages. One's initial response may be surprise due to the relatively low profile Google+ has compared to other social media behemoths like Facebook or Twitter.
But, not all social networks have the same function.
Think of all your social media accounts as making up your toolkit. If a job calls for a Phillips screwdriver, your flathead won't be as effective despite still being a screwdriver.
When trying to rank higher on Google, you're going to want to invest a decent amount of energy into a Google product in addition to whatever else makes up your marketing strategy. Since Google prioritizes its own products, it only makes sense to target them.
Google + and its impact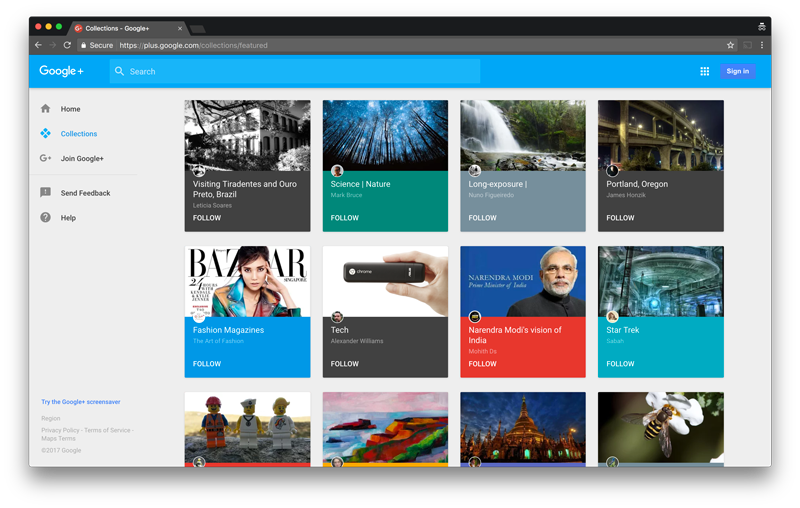 Searchmetrics and Moz have both conducted a studies to try and identify what factors had the most weight in Google's search algorithm. Their findings were similar when it came to the significance of Google+.
Let's look at some stats:
Social signals make up seven of the top eight factors that make up Google search results.
Google+ activity has the highest correlation with rankings in search results.
Facebook has the same weight as backlinks to your site. Both have less of an effect than Google +1s.
Page Authority excluded, the number of Google +1s related to a URL has the highest correlation with top results in Google's SERPs.
Back to the point about the relationship between your business and Google being important to both parties. Google's service relies on pulling in as much information as possible so it can provide users with the most relevant and useful search results. If users found that results didn't match their queries to their satisfaction, they would stop using Google.
Fewer people using Google means fewer impressions on ads and you begin to see how the business model can unravel. That's why Google rewards businesses for providing them the right kind of information through improved rankings in search results.
How do you get the most out of your Google + profile?
Simply setting up a Google+ profile is a positive first step towards improving your performance in search, but you're getting the bare minimum as far as benefits if you don't set it up properly.
Why not use it to its full potential? Steady Demand has created a free audit tool for your existing Google + page. This free analysis tool will help you get started getting more out of your Google + presence.
What can you start doing today to make sure you have a more optimized Google+ page? Here are some actions you can take now that will give you a boost.
Profile and cover photos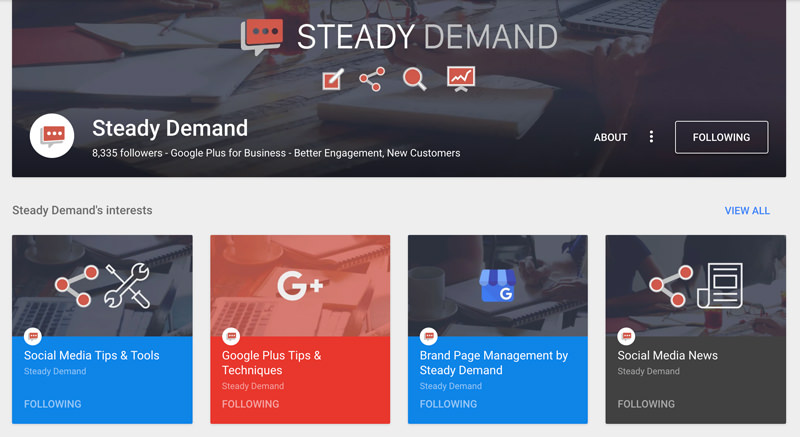 Insert the obligatory "a picture is worth a thousand words" idiom here, but it does apply. Mike Blumenthal writes for Local U:
"The profile image is the image that creates the critical first impression that a searcher has about your business. There is data from Google that indicates that having photos on your listing increases direction requests by 42% and clicks to your website by 35%. I am sure that your profile image plays a huge role in those numbers. According to Google's research, listing photos are second only to reviews in increasing the performance of your Google+ listing."
Make sure that you are taking advantage of these prominent page elements by using high quality, professional images for your profile and cover slots. Because Google will assign pictures to its various other products (Google Maps, Knowledge Panel, etc.) it's important to supply them with the picture you'd like to represent your company.
We've even created a handy cover photo template for you to start from!
About section
Profile and cover pictures are important parts of making a good first impression that Google also values highly. The same applies to your profile's About section.
This is prime real estate that you would be wasting if you don't fill it out strategically.
The first thing to focus on is your tagline. Think of your tagline as both your "elevator pitch" and your brand's meta description for SEO purposes.
In your introduction section, you want to give a concise explanation of what your business is about. Include key terms that you want your business to be known for.
It's important to not jam as much content as possible here. Save your long pieces, including the history of your company and whatever else, for blog posts that you can share on Google+.
Set up Collections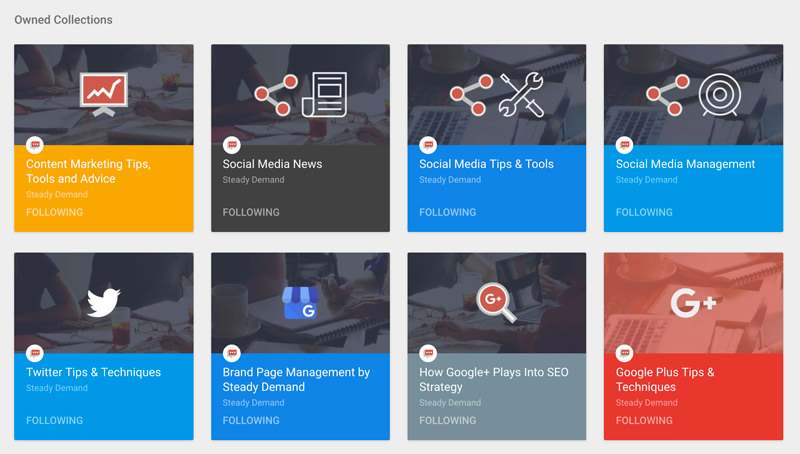 Google + has a unique functionality called Collections. It allows you to create groups for your posts based on theme, audience, or whatever criteria you choose.
It's important to use Collections because it fills in your profile for a fuller appearance, allows you to court different kinds of followers, and better categorizes what you're sharing on your page for both users and Google's index.
It also encourages more interaction and improves shareability. Because +1s are so important to your ranking, the better of an experience you create for your audiences, the more inclined they will be to provide you with the social signaling you need.
Business information
Because you manage your Google+ page through your Google My Business, be sure to fill out all the information that is requested when establishing your account. Enter in all pertinent contact information, location addresses, operating hours, and other important details.
Google will use this information to populate search results that pertain to your business. The more information you give, the more prominent you'll appear across Google's product line.
We can help
You have the tools you need to succeed. Creating a Google+ page for your business is an easy win. With these tips, you'll be able to better leverage it to maximize your results.
But simply having an optimized profile isn't enough. Engaging people, making connections, and regularly creating content are all critical parts of a successful search marketing campaign. These things take time and resources.
That's why we partner with companies who are looking to improve their social presence but don't have the time and personnel to devote to it. Leave it to us. Our team of experts is waiting to help you achieve your goals.
Contact us today and we'll help you figure out the best way to accomplish them.