A Google Plus Page connects to your website, your YouTube channel, Google Analytics, Webmaster Tools, Local Search (for local businesses), Gmail, and even AdWords.
The problem that presents itself is when you do not know who owns the Google Plus Business page and it is not listed under any of your accounts. This can be very frustrating! Who wants to create yet another Google Plus Page?\
Answer: nobody.
A common thing we see is that a business owner, social media manager or marketing manager has:
Outsourced the Google Plus Page creation to an agency
An ex-employee created the page
The page was automatically created when creating a YouTube channel
Had a legacy Google Local page and a Google Plus Business page was created
The rub here is this. If an employee, friend, agency, etc. created the page and can not (or will not) grant ownership to a new email/account owner then in Google's eyes, the creator of the account is the true owner of said page.
But, What Can I Do If I Cannot Access My Google Plus Business Page OR YouTube Account!?
This is the most common problem we see. It also is one of the most frustrating aspect of Google Plus business pages (well that and bad reviews or incorrect information in Google Search results).
Never fear, this too shall pass, there are ways to identify the owner of a Google Plus page owner or at the very least find out who you need to contact.
Start Here:
The first step in recovering your account(s) should be setting up the account where you want all of your business pages to be owned by.
Pro Tip: Setup your Google Plus Account under one business email address, here is a handy guide for that.
Attempt #1: Look At The About Page on Google Plus
If you look at the people on the "In Their Circles" section of the About page, you may recognize some names. Be it the social media manager you fired last year, the long lost cousin, the rogue webmaster.
This is a good place to start, as it is a habit of most social manager to circle themselves. The people in common and "Have the in Circles" can also help too (although not as much if there are more that 50 people there)
Attempt #2: Send a private post message on Google Plus, to the Page in question.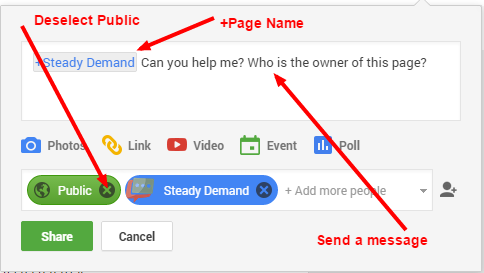 If you are having difficulty +Mentioning a page name, then right click on the page name, copy the link address, and just take the 15 digit code portion out.
Then go back to your private post, and type in the message area; +[15 digit code here] Can you help me?
Pro Tip: Monitor your emails. Depending on the pages settings, the page will send out an email to the page managers. You may get this private message in one of your company accounts. The message will be the title of your message and say "XYZ mentioned you" Note which email account that it comes to, as that account may have access to the Google Plus page and you did not even know it.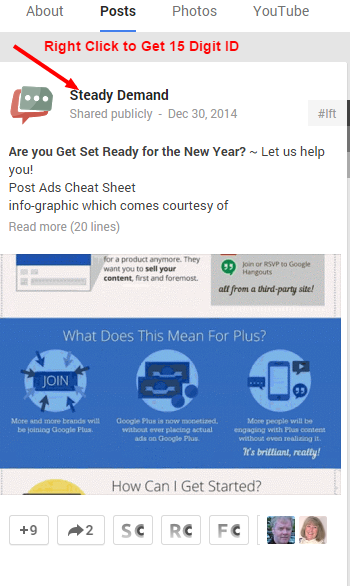 Here are more details on how to send a post on Google Plus.
Attempt #3: Sending private messages on YouTube
To send a private message to another page/person on YouTube, you'll need to visit their channel's "About" tab:
Visit the channel of the person you want to contact (you can click their channel name beneath one of their videos)
Click About
Click the Send message button
Type in your private message and click Send
Attempt 4, 5, and 6
You can contact Google My Business, seek help in the Google+ Help community, contact YouTube support,
OR (now I do not recommend doing this without consulting a person with experience first) request the Google Plus Page be removed for impersonation.
Pro Tip: Google+ Page removals are permanent, and the connected YouTube channel will be removed as well. Only go with this option if you have absolutely run out of options.
So there you have it, how a business should be setup to never get locked out of their Google Plus Page, or if you are in that position, 6 ways to find out who the owner is.
P.S. Download our free guide, Fundamentals to Successfully Manage Your Company's Google Plus Page for free now.