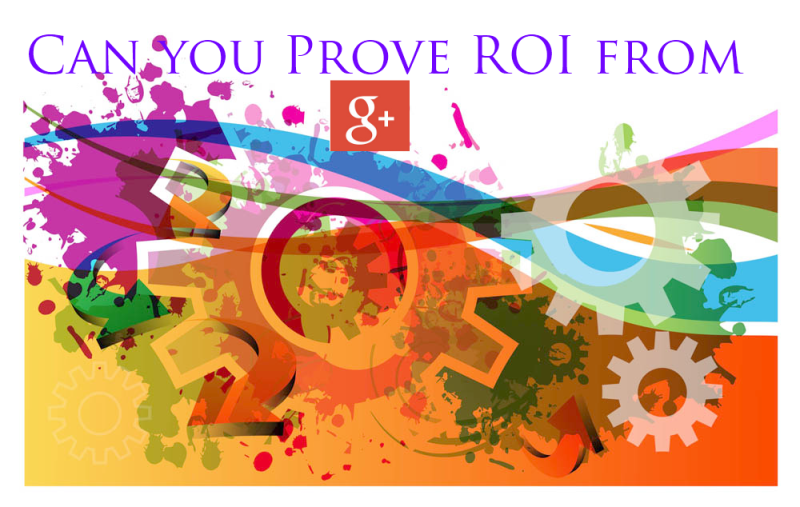 Can ROI be proven from Google Plus?
What causes a social signal to pass to a page?
And how can a single user can pass 4 +1's to a page per shared link in a post?
Dustin W. Stout made an absolutely wonderful post recently that covers most of the benefits of the +1 button and how social signals are being passed from inside Google Plus and on the page. What was truly amazing is that the previous week my teammates and I were running some similar tests on the +1 button.
We had a client of ours GetVoip.com who wanted to switch away from straight links and move to tracked. Before we did this we wanted to make sure that signals were actually passing from G+. So, we went into test mode before making the change.
So, our main reason for these tests were to determine if…
A. The +1 would flow from a post if the actual URL was appended with a Google Analytics tracking string.
B. A +1 would carry through if the URL was shortened.
First, to Summarize Dustin's findings:
A shared link once shared passes

a

+1.
A +1 on a page as a user added

a

+1.
If another user shared the post a +1 is added.
If the same user shares a post and +1's the post a +1 is added.
Image posts that contain 1 link pass a +1 to the page.
Multiple links in a post with an image will interrupt the signal.
As soon as I saw this post I hopped into a hangout with Dustin, since I saw there was one thing missing his list based on our findings. Are you ready for it?
A comment from a user causes a PLUS ONE
Yes, you read that correctly. What we discovered was that when one of our team members commented on a post in Google+, a +1 would register on the page. The beauty behind this is in how Google is looking at the comments. Only one +1 would be added per unique user comment. Meaning that you can go in and comment as many times as you like, but your +1 will only be counted once. This is really amazing for us as engagers and marketers. What better incentive is there to bring others into a topic (beyond a great conversation) than to add another social signal to the page?
Note: We also tested a +1 on a user comment, this did NOT add a +1 to the page. This means the social vote is being passed to the individual profile, not the target link (this actually makes a lot of sense if we look at how PR is passed internally and externally from G+).
So, I am now going to show you my methodology on two separate tests we performed.
** I encourage others to perform these tests as well – let's peer review this!
Test 1. – Will a social signal pass on a URL that is tracked and has

a

Google Analytics UTM

tracking

string?

Does a shared goo.gl , owl.ly or bit.ly link, with a UTM string, still pass a G+ social signal? Result = YES

Methodology:
1. I shared a goo.gl link with a UTM tracking string. The result was as expected a +1 signal, 20 seconds later. (For the record, 20 seconds was a constant throughout all testing?)
2. I commented on the post – interestingly enough, a comment passes a plus (this result was NOT expected).
3. I personally plussed the post (the result was as expected and passed a +1).
4. I removed the plus from post and it removed from page (the result was as expected, +1 was removed).
5. I re-added my plus and then shared the post (the share did not add a +1, but did appear as a comment in WordPress. Mixed feelings on the result as the +1 reappeared).
6. I then deleted my test posts. (After both test G+ posts were deleted, the +1 for the shared link disappeared, but the two other +s, my comment and the initial plus, stayed. The result showed that some social signals live on even if a post is deleted).

*NOTE: This same test was done separately for goo.gl, owl.ly and bit.ly – all results were the same.

So, why is this important? As a consultant and a company that focuses on the ROI of Google+, we are always looking to show proof that what we do causes great things to happen. One of the "mysterious" things about G+ to most business owners I talk to is how we can prove ROI. I normally say something along the lines of, "Look at Google Analytics!" Well, unfortunately, GA does not do a wonderful job, yet, of reporting attribution to a goal or conversion from plus.google.com. Why? Most of those results get lumped into the keyword report of Google Analytics as (NOT PROVIDED) merely because of the fact that G+ is behind a SSL security certification (HTTPS) and most clients do not have SSL enabled on their main website.

So, in a perfect world, we could share a long string that can be tracked as a campaign in Google Analytics. The problem is that those URLs can be very long and do not present well in a post…anywhere. So we have to shorten them.

We take a long URL like http://www.steadydemand.com/?utm_source=googleplus&utm_medium=steadyshare&utm_campaign=steadyshare and make it into http://goo.gl/S2r7Gz .

We stopped using these shortened URLs back in February because there were no social signals passing based on previous tests. Well, something has changed my friends…they now pass social signals!

Once I saw this and shared it with a team member, the question then became: "What other social signal are passing a +1?"
Test 2: What is passing a +1 to a page?
I shared a goo

.

gl

 with a UTM tracking string, shared as a link (the result was, as expected, a passed +1).

I shared to a fellow user, Josh E. (

the

result was again, as expected, a passed +1).

Josh submits a comment (the result was another +1, which was NOT expected).
I commented on the post in G+ (the result was yet another +1, which was NOT expected).

Josh 

plussed

 the author's G+ post comment (no plus one added to

page

).

I 

plussed

 Josh's comment (no plus one added to

the page

).

Josh +1 the original post (as expected, a +1 appears).
I shared the post with a brand page (no +1 added, which makes sense as I already shared the link once).
I commented on the post that was shared to the brand page (as expected, a +1 appears).

The

brand

 then comments on

shared post

 (a +1 appears, meaning the brand page acts like an individual user).

The

brand

 commented again (no +1 added).

I went back in and commented again both on the shared post and my comment (did not cause another +1 so G+ is counting my interaction with the post only once).

Josh 

plussed

 the post shared to the brand page (as expected, a +1 appears).

The brand page shared the link (a +1 appears).

Josh 

plussed

 the page as a regular user on the page (a +1 appears).

I

plussed

the page as a public user (another +1 appears).
Here are the BIG takeaways from all of this testing:
A single user can cause a target page to have a +1 up to FOUR times (1 share, 1 comment , a + 1 on the post, and one public on page plus (the G+ button).
NOTE: To cause 4 +1's the link MUST be a shared link, NOT a picture share.
A shortened URL can now pass social signals.
A UTM-tracked URL can pass social signals.
A comment by an entity causes a +1 to pass a social signal.
So, there you go. Use this information for good, NOT evil. Please use it to educate others and not inflate stats. If we game the system, the system itself loses its value, and guess what? Google will catch on to you if you do try and game it.
Image courtesy of http://all-free-download.com/free-vector/vector-background/colorful_gears_background_05_vector_157499.html
By Ben Fisher