Getting yourself listed on the IMDB, is a pretty big deal for anyone that has aspirations of recognition in the acting or entertainment business. It is also something that you can proudly put on your resume. As we move further down the road toward being on air personalities, using Hangouts On Air, or even your Blab.im, the IMDB can become a critical asset in your BIO.
Why is this important? Well I am glad you asked — credibility! If you can prove that you were instrumental in a blockbuster Hangout On Air, produced a show, interviewed a great guest, then future producers and Hangout hosts will have a much easier time vetting you. Even if you are the guest, add yourself!
Step 1: Search for your name
Tip: You may already be in the IMDB, anyone can add you, especially when adding a show. Search for you name first.
Each permutation of a name is classified in roman numerals, for instance when Andrij Harasewych added the Social Media Hangout ( first HOA to make it ) to IMDB, I was added as Ben Fisher (XV) – this ties me into the IMDB as this name as a unique entity. – Any future additions should be classified this way. So, make sure to search for your name and see if you are related to any shows that you recognize.
Pro Tip: Search for ALL your cast members, producers, co-producers, guests ( himself/herself – or Actor ), Set Designers ( art production ), how you designate people is completely up to you. ( Note: I am still experimenting with the difference between Actor and Himself )
If your show is not currently in IMDB – start your submission here: http://www.imdb.com/updates/newtitle 
Step 2: Adding a new title:
If your HOABlab is not already in IMDB, then just pick an episode and use that in the Title field.
Select Type: Made for TV
Status: Released and Screened
Year: Add the Year released
If you are adding from your profile ( which you should ) – select your role – producer, member, publicist – pro tip you can be multiple roles later in the process.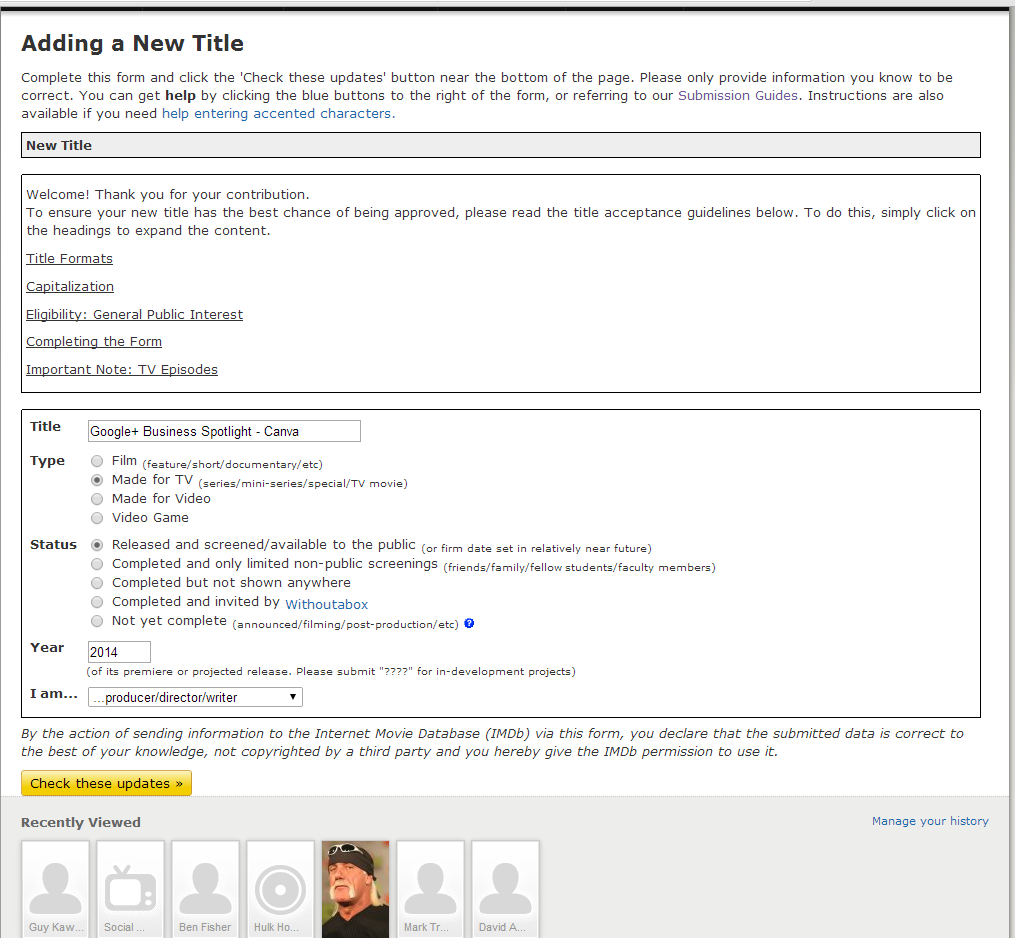 Click Check These Updates ( You will be clicking this button a lot! )
Doing so will highlight area in red ( does not exist ) , green ( all good no errors ) or yellow ( please clarify just a little more )
So now select the subtype – ( TV Series ) – then click  Check These Updates
This is the next screen you will see, it is a yellow clarification screen.
Check the box next to "This is not an existing title."
We are doing this so we can insert the HOABlab into the IMDB. ( More on adding the core series coming soon, I promise! )
click  Check These Updates ( or Re-check These Updates )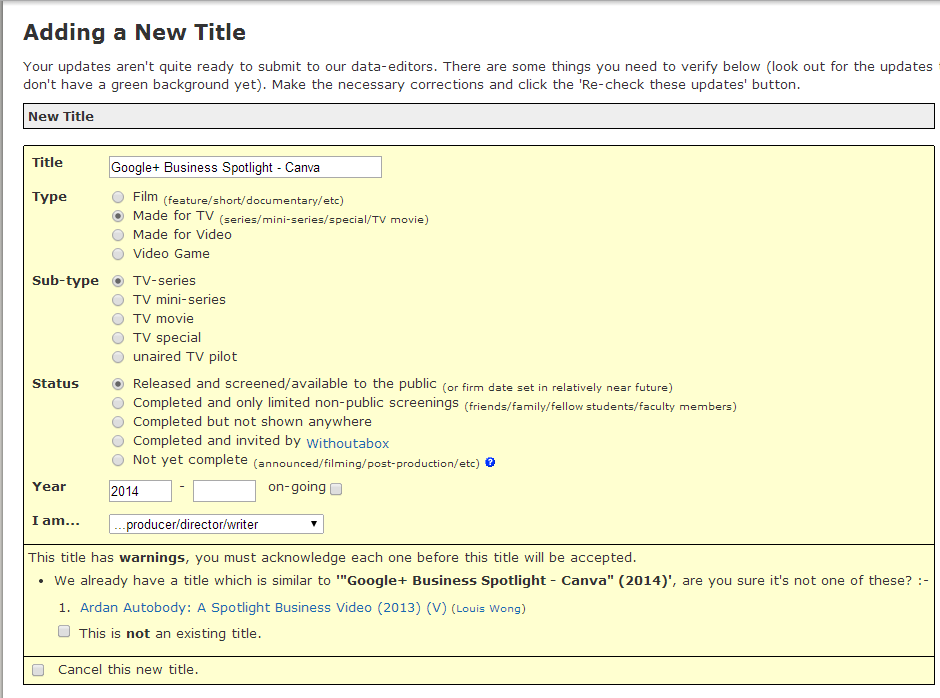 Note: At this time you can also create a series by selecting "on-going" ( There will be a separate guide for that )
Now we get to the fun part, oh sorry I mean… incredibly meticulous attention to detail part.
Note: From this point forward, any information NOT currently in the IMDB will be highlighted in yellow until submitted.
Step 3: Next Step: Mandatory Information
Release dates: Add 1 item – Select Country – select day and month then type in year – in attribute you can leave it blank or put in (internet) – Yes just like that.
Miscellaneous Link – this is to verify that the title you are adding is real. I use the YouTube link and list YouTube as the description field. ( no you cannot use your website )
At this point I re-check these updates – just for less stress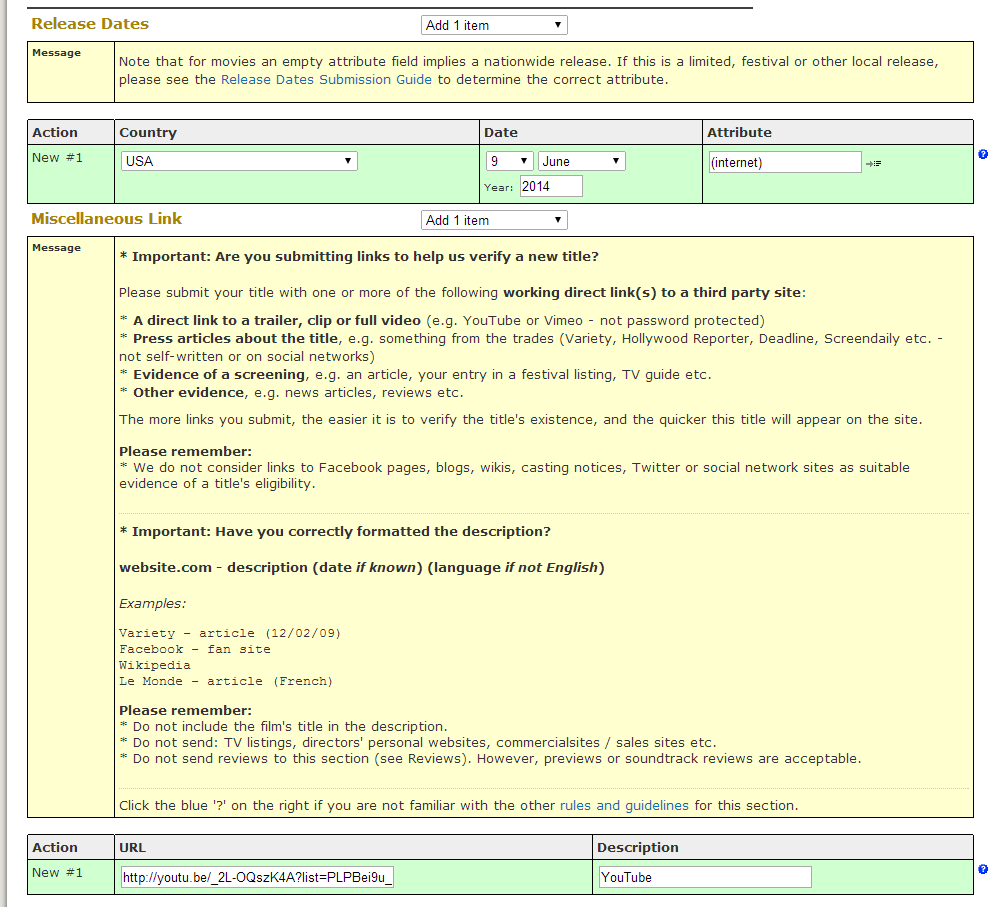 ( Sweet green = move forward ) Tip: if you get tired you can always save the update  for later too
Step 4 Adding Basic Identifying Information
Select Country
Select Language
Select Color
Select Genres – Talk-Show ( unless you have a different theme )
Select Director
IMPORTANT – There should only be one director, even if you are a two or more person team, only add one director. Later in the process you can designate co-directors and co-producers — and yes you can be represented as all of those titles. Just remember someone real is going to review the entry, so if you over do it you may not get approved, or the approval process could take longer.
Type in the persons name as Last Name,First Name ( do not worry if you put it in backwards the system will fix it for you )
If someones name is already in the IMDB, it will Yellow out and ask you to clarify.
If the persons name does not exist, you will get a yellow box with a question like this "This is a different person not currently listed – create 'Hovnanian, Stephan'." ( make sure to select that radio button ) — doing this will create a new person in IMDB. Write down the name and give it to your guest.
Press Re-check These Updates ( at the bottom of the page )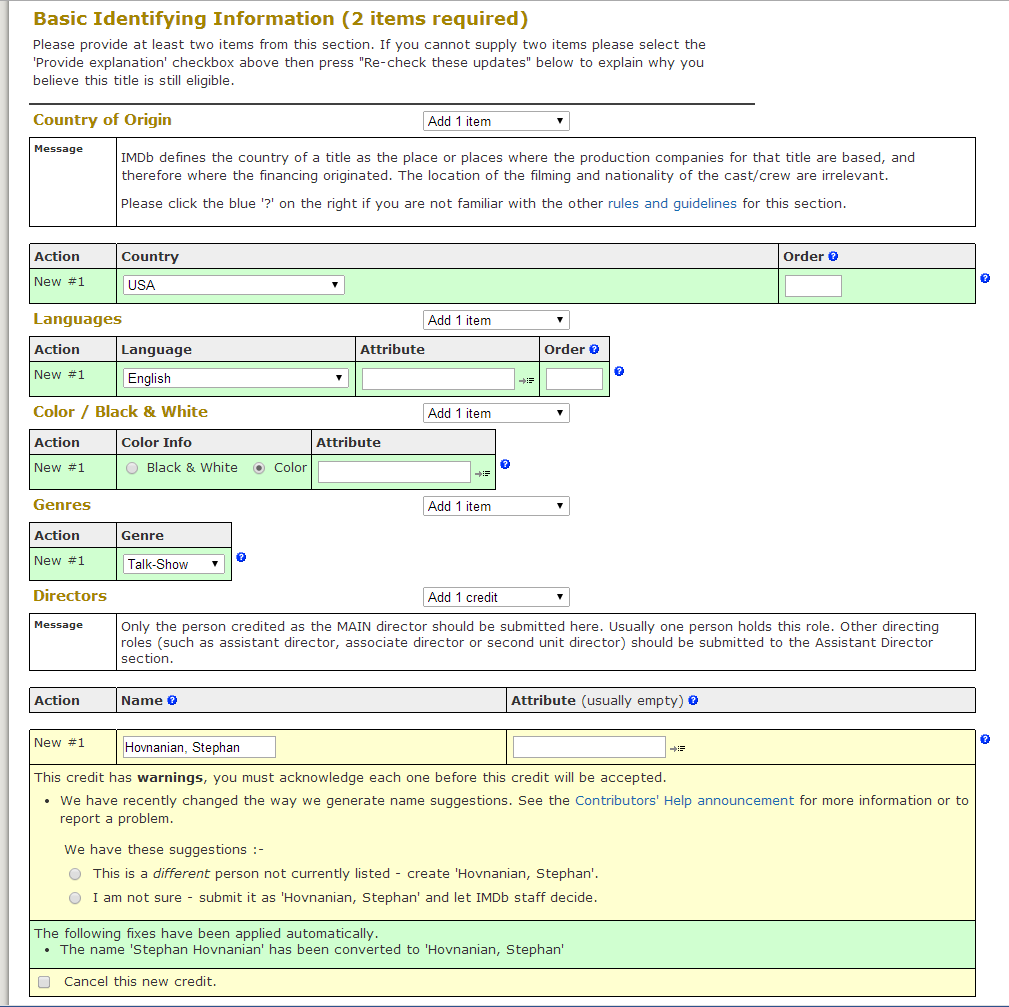 Step 5: Production Information
Ahh the real fun begins!
Select a budget of 200 ( this will translate into $200 ) – NOTE: when you check the update you will see a warning that the budget seems low, go back and check "Warning understood, go ahead anyway."
Enter Official Sites Credits – You can add as many as you want here for your HOA or Blab.im series.
Note: You do not have to add all of them right now, they can be edited later.
The description must be formatted correctly as one of the following:
Official site
Official site [CountryCode] (only give the origin of site if the site is not in English)
Official Blog
Official Facebook
Official Twitter
Official MySpace
CompanyName [CountryCode] (e.g. Pixar Animation Studios [us], Sony [jp], Canal+ [fr])
No other descriptions will be accepted.
Please remember: The URL must link directly to the specific page for that title.
Please do not submit directors' personal websites or production company sites. An official site must be *about* the title itself.
Do not put the title in the description itself.
Press Re-check These Updates ( at the bottom of the page )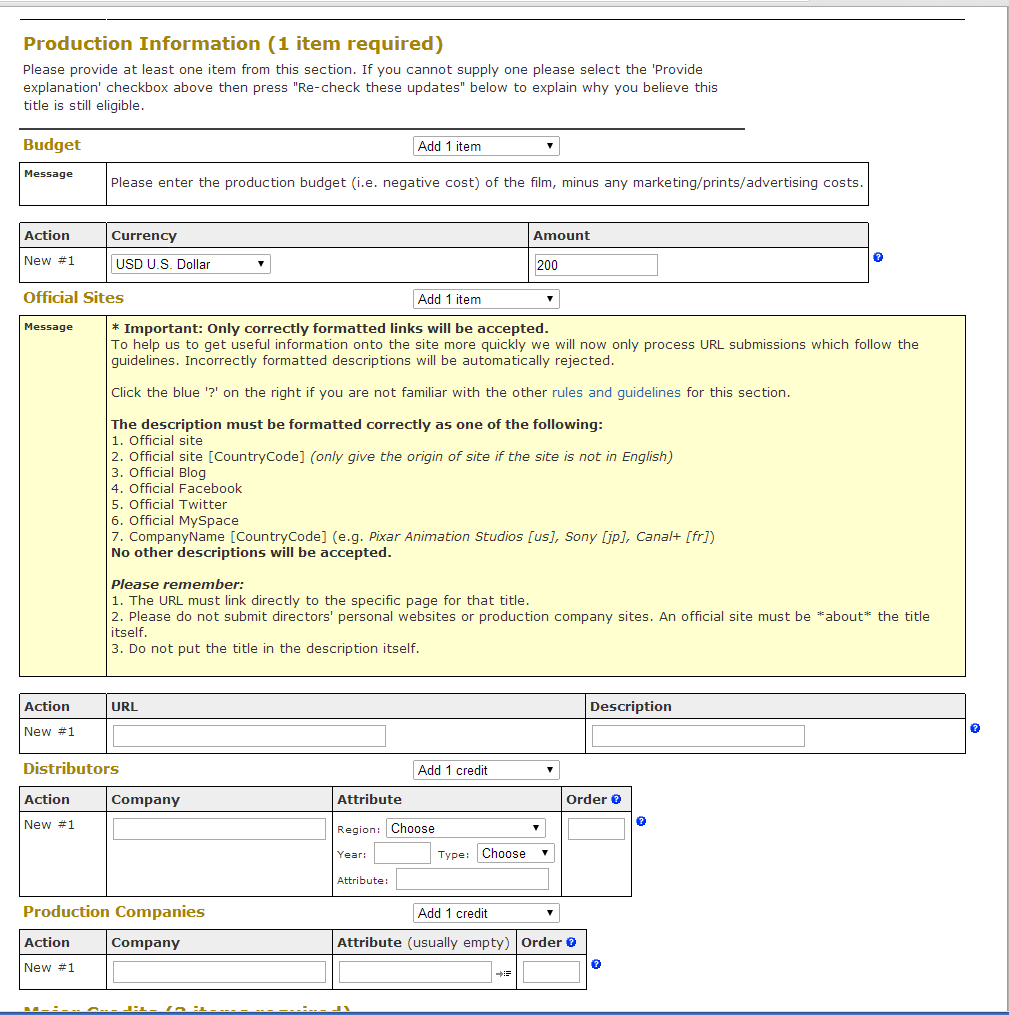 Step 6 Step: Major Credits
Remember back in the beginning, where I asked you to search for peoples names, well here is where you need that information.
Cast members: select the number of people in the HOA / Blab
Writers: If anyone is writing add them ( could be a blog, script, or post )
Producers: Hosts and Co-Hosts
Feel free to add anyone else you want to acknowledge at this time for pre or post production.
Press Re-check These Updates ( at the bottom of the page )
After you re-check, all the name fields will appear. Fill them in with the right information, spelled correctly or with the name as you found it in step 1. Then designate the character as Himself, Herself or Actor. You can then further clarify a co-director etc as an attribute if you really want to.
Press Re-check These Updates ( at the bottom of the page )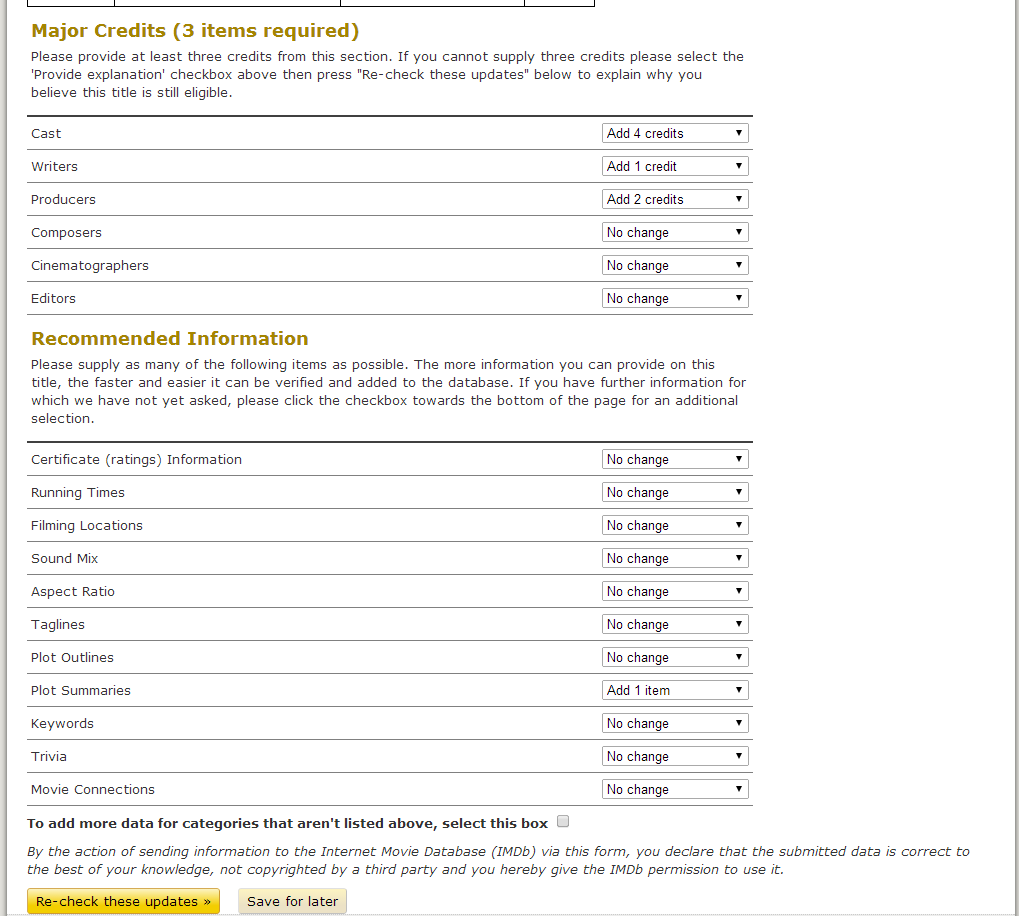 Press Re-check These Updates ( at the bottom of the page )
Step 7 Additional Fields
Now just enter any additional fields you like, for instance the plot summary ( event description )and you are ready to re-check the updates once again.
This is what the final should look like. Then you simply submit the entry and wait for it to be added.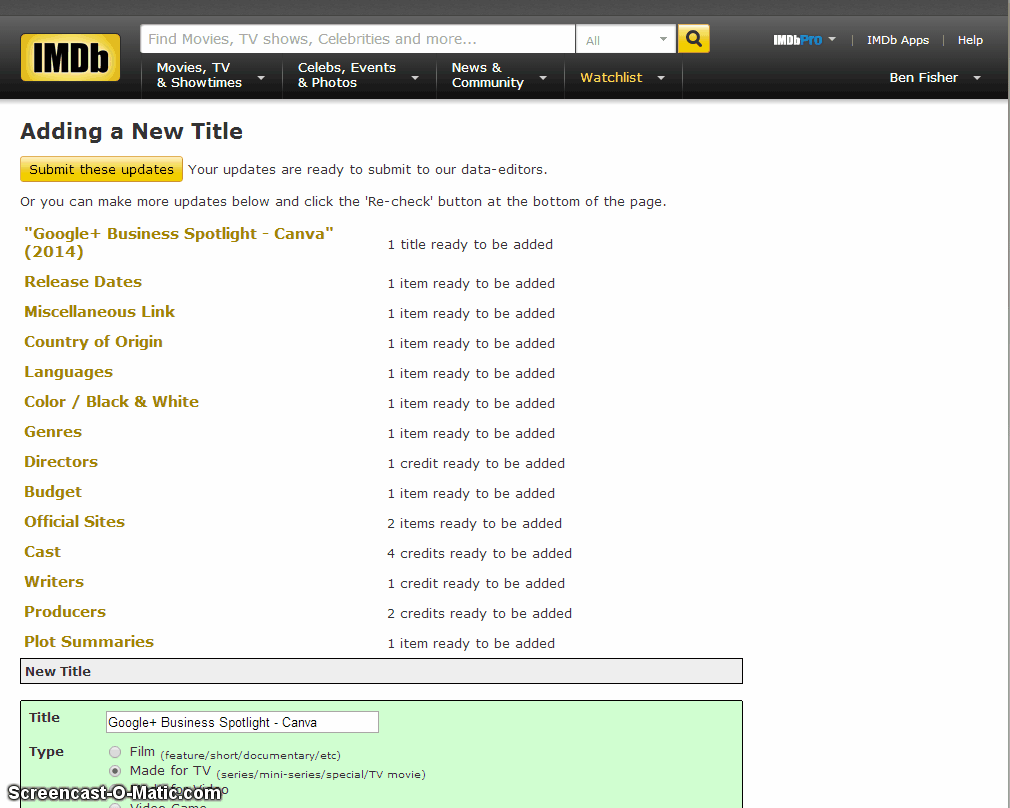 You can keep the Updates page bookmarked to check on your submission (imdb.com/updates/history )