Creating effective social media content is the key to reaching more of your audience with less paid advertising spend. Who doesn't love more, free, organic reach?
But, easier said than done, right?
Today, there are more businesses with bad social media content than there are with good content. These are usually the ones that think that just because they are posting on social media, they are good to go. What a sad state of affairs for them.
Because of that, dear business owner, we don't want you to fall into the same trap. That is why we wanted to share how you can create effective social media content for your social media campaigns.
First off, we will start with some basics and then work our way towards more advanced tactics. Sound fair?
Good, let's go.
What Kinds of Content Should You Create?
There are several factors you should consider when creating content, but all of them should have this goal in mind:
[click_to_tweet tweet="#SocialMedia content must always engage their target audience. #marketing " quote="Social media content must always engage their target audience."]
That's the only thing that separates the good content from the bad ones after all!
The only way you're going to get people to pay attention, again and again, is to continually add value to your audience's life. It's essential when your end game is winning over people using content.
Creating original content to get your audience's attention is hard, though–we know. But you just need to remember a few things in order to start making it work for you:
Your content should always be a good source of information about your industry or topics surrounding your products or services
If possible, use things that are currently trending in your industry or in your target demographic's local area (think sports teams, festivals, etc.)
Try to evoke a certain "feeling" from your audience–people are driven by emotions
The third part there is the most important one. Posts that trigger emotions from your audience are the ones that are highly shareable and extremely engaging. These separate business from being a run-of-the-mill brand to thought leaders in their industries.
Just look at the posts in Humans of New York on Facebook and you'll see how important that third post is.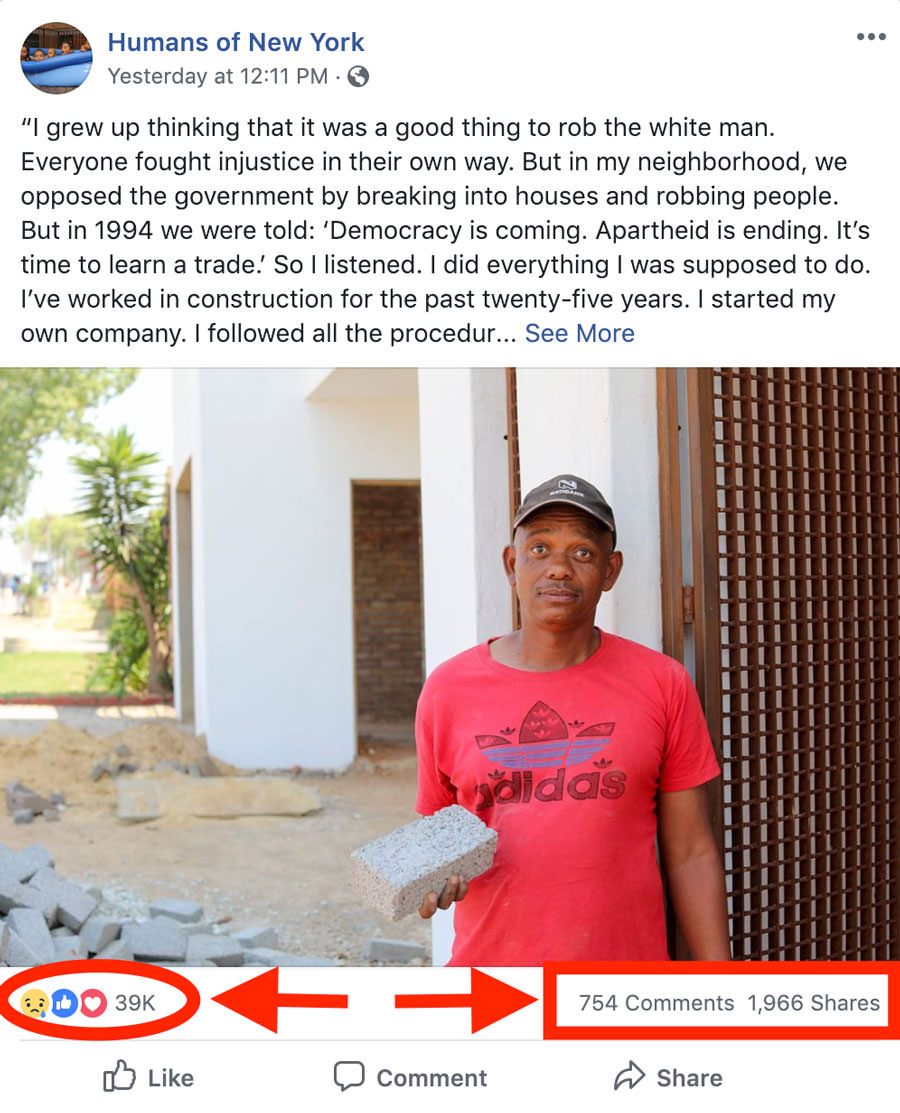 It is easy to post content that is emotionally neutral or run-of-the-mill. If low-performance, low-impact content becomes a habit for your brand, it will do more harm than good. Thanks to the intelligent algorithms that determine who sees your content, the scenario looks like this:
Consistently good content (and engagement) = growth (the "rich get richer" is the best way to describe it)
Consistently bad content = consistent low reach (and very hard to recover from even after you start publishing good content)
And as the old computing phrase goes, "garbage in, garbage out". And once your social profiles have racked up a bad track record of low-engagement posts, it's much harder to build up your momentum and reputation again.
If this is the case, then you should try "remixing" content.
What is a content remix you may ask? You have certainly heard it from music but in content?
Guys, come on! Songs are a type of content too, and if it works for that industry. Why wouldn't it work for social media? After all, the basic idea of remixing is to create something entirely new by using ideas that have worked before.
Our article on how to win attention and stay on top-of-mind for your audience has talked about this, so go and check it out if you still haven't yet.
Now, if you are sure that you are able to create amazing content at this point, then the next step on this path is to build in a consistent schedule.
Create Content Regularly
See, this is why it's hard! Creating amazing content regularly is not an easy task, but with proper discipline and a right mindset, you can definitely do this.
Now, the first thing you need to take into account when deciding your posting schedule is the frequency or "volume" per network. Each social network has a different culture and tolerance for content volume.
Here is a general guide–just a starting point–to each social network's recommended posting volume:
Facebook: one to two posts per day
Twitter: five to ten tweets per day
Instagram: at least one image per day
LinkedIn: one to two posts per day
Pinterest: fifteen to twenty pins per day
If you are just bewildered with those numbers, then we suggest you head over and read our guide on setting up your social media content creation workflow.
But the payoff, however, is huge. This affects you in the long-run, making your brand a powerhouse when it comes to consistency of your posts. It helps you stay relevant to your audience, no matter what day it is.
The more your audience knows that you are posting good content on a regular basis, the more they are willing to pay attention to your next piece.
And in the case of social media networks like Facebook, you stay relevant in their feeds. Facebook's algorithm shows people updates on the pages they most view, as well as those who update their page constantly.
Now, before you start hyperventilating thinking about all the different social networks you need to start creating content for– stop.
You don't need to post on all your social media accounts.
There are various reasons to this, but one major thing is that it might cost more than you think (more on this later) and you might not reap the benefits of it.
The Digital Marketing Institute Limited talked about what social media platforms are generally good for different uses.
If you are in the food industry, then you should probably go for Instagram and Pinterest more so you can utilize images to showcase your products. If you are in a digital service industry, then regular updates on Twitter and Facebook will work best.
[click_to_tweet tweet="#SocialMedia success depends on which networks your target audience is at. Knowing where they hang out on is the key. #marketing" quote="Social Media success depends on which networks your target audience is at. Knowing where they hang out on is the key."]
For example, we did an article on social media platforms real estate agents should be using. We arrived at the conclusion that they should use YouTube more due to the fact that real estate revolves on the power of visuals.
Research is really important so you would know where your target audience is. And supplying them the right kinds of content on that specific social media platform is the best way to cater to them.
What is the Cost of Doing All This?
Let us be brutally honest with you — it's going to take a lot of resources to create consistently effective social content. And by resources, we mean time, money, and good old-fashioned elbow grease.
1. Time
From research, planning, creation, posting, and to actual audience engagement, the implementation of a good social media campaign takes a truckload of your time. And that is an understatement.
It doesn't matter if you are in a niche industry or something where you compete globally. It will scare you if you take into consideration how much time you are going to spend to create a good campaign.
It can be dizzying to think of all the things you need to create and post in time for an event or holiday you are trying to target as your theme.
2. Money
Whether you're paying in-house staff or an outside consultancy, it's going to cost you. People trade time for money, and you just need to hope that they're doing their job as effectively as possible so your money is paying off.
And if you also plan to boost posts or use ads to promote your content, you will need to dish out money as well. This can be a very effective way to get a faster return on your effort, but be careful. If you don't know what you are doing, you'll quickly find yourself burning through your budget without any significant results to show for it.
3. Elbow Grease
This is pretty much implied in the first two but merits its own section. Because staying ahead of your competition takes creativity, thinking outside the box, and executing quickly.
If you try to do it yourself without a good grasp of the basics, then you are wasting your time and money on something that won't work.
Remember what we said at the beginning, where most businesses fail at creating a good social media campaign? It's because they lack the resources or necessary skill for these three things here.
So what is the easiest solution for this? Hire an agency that can do all of the above, and more!
But where can I find a good agency that can cater to all these?
Well, that's actually our pride and joy–partnering our social media and SEO optimization experts with businesses to create effective social media content.
Steady Demand can provide your business with a team of experts that can do all of the above efficiently.
We know how these platforms work. Each network has a different culture, and we know how to cater to each and every one of them making the content we create effective for growing your brand.
And the best thing is, we can cut your costs by a good margin since you won't need to do things in-house. While we do all the social media work for you, you can focus more on enjoying the results and growing the other facets of your business.
If you really want your brand to be an absolute rock star using effective social media content, then contact us today. We provide free initial consultation and can point you in the right direction.