World First Live Presentation With a Hand Drawn Illustration In Real Time
4+ Reasons to Get You Business On Google Plus Now – Get The Draw On Your Competition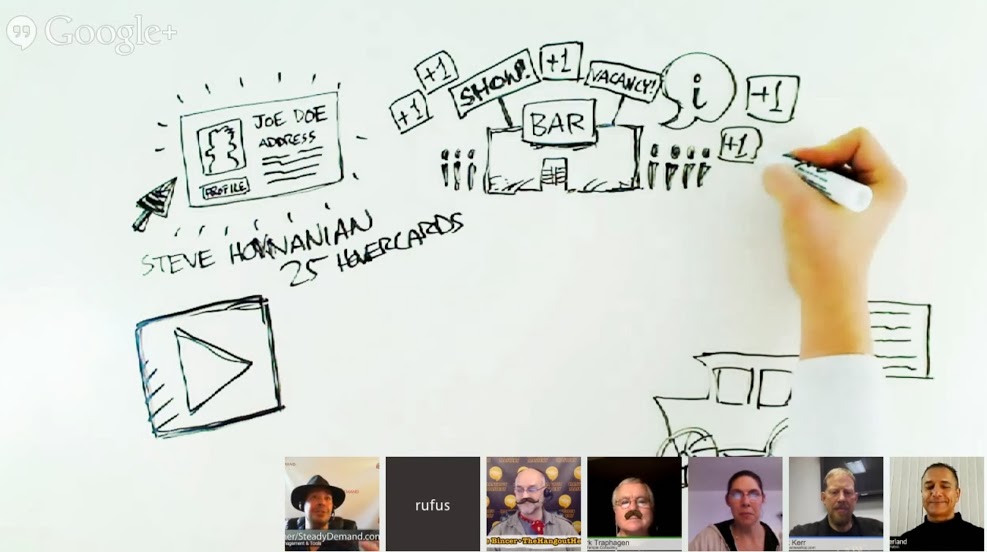 This story starts off fairly simple. Our partner, The Draw Shop asked how we could explain why a business should be on Google Plus. Well, there are so many reasons to be a business on Google Plus, so we collaboratively came up with a concept of doing a Hangout On Air ( HOA ) that could be used by anyone to explain why, as a business, you need to get on Google Plus now or face the fact that your competitors will.
Previously, Steady Demand, produce the landmark Hulk Hogan and Godaddy HOA, Adapt or Become Irrelevant  which had a record breaking number of live viewers.
Together, we were able to produce and execute the HOA in less than 6 days. 
The Cast:
Ronnie Bincer – Talking about Hangouts & Relationships
David Amerland – Talking about Semantic Search ( The Sandwich ) and Google ( The Babay )
Mark Traphagan – Discussing Authorship and Knowledge Graph
Ben Fisher – Producer & Director talking about Google+ History and Social Signals
Erik Kerr – Owner of The Draw Shop
See below the YouTube HOA for more details:
Get The Draw On Your Competition
The Trailer for 4+ Reasons to Get On Google Plus Now
The Results!
The event went off without a hitch ( pun intended ) and the audience was delivered an educational, entertaining, visually digestible experience. What was even more amazing to me was that we were able to hold the attention of our viewers ( mostly ) for the entire hour. If you have ever produced an HOA or watched one, you know that the average viewing time is about 15 minutes.
Post From Mark Traphagan
Your turn partner, we only covered 4 reasons, what are your reasons, as a business, for being on Google Plus?