There's a new Google social media product in town, and it could be set to shake up the world of branded search terms like never before.
In case you haven't heard, Google is now testing a new kind of publishing tool that allows brands to, essentially, use Google search results as their personal social media wall.
What? Yes, you heard me right.
This new product, Posts with Google, allows brands to publish content directly onto their branded search results pages. It is a sort-of social media/blog post hybrid. It can be rich-text formatted and include media such as images, GIFs and video. Additionally, your posts live on a dedicated brand page, similar to a social media profile page or blog feed.
Here's the catch—these posts will only live for a maximum of two weeks and brands can schedule them to "expire" any time before that two week limit. So these are not meant to be evergreen or long-term pieces of content. They are strictly built to be time-sensitive and brand-specific content.
What is a branded search?
Just in case you've never heard the term before, a branded search is what it's called when a user searches for your brand name. You can identify these in your Google AdWords account and you are then given a lower CPC for these terms.
However, smart businesses have become very sneaky at targeting competitors branded search results with their own SEO and PPC campaigns. This may be one of the reasons Google decided to experiment with this sort of disruption in the branded search realm.
What do Google Posts look like?
Below we've managed to capture several of these Posts in the wild. *Disclaimer: some of the shots are taken from our own client accounts.
As you can see in the image above, these posts are shown in a block just below the primary branded search result. These are very similar to how AMP articles are displayed in a carousel that can be horizontally scrolled through.
Posts can contain multiple images or a single video (YouTube videos only, it seems).
Posts also have a sharing icon which, when clicked gives users the option to share the post on Facebook, Twitter, Google+, Email or just copy the link.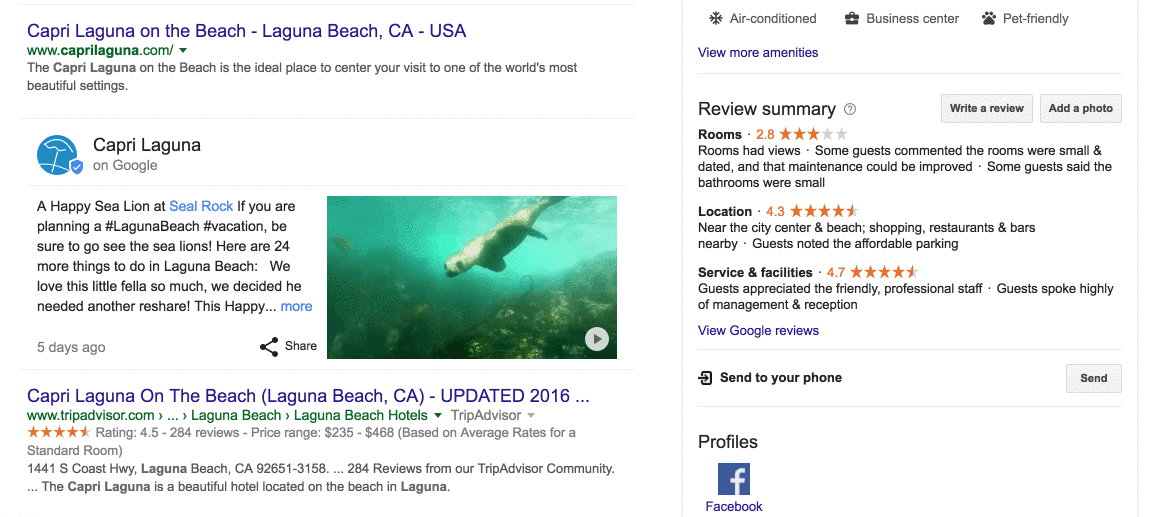 Why would brands want to use this?
Competition in the SERPs (Search Engine Results Page) has become fierce. On top of that, real-time marketing is high on the list of things brands are drooling over.
To have the ability to create timely, relevant content and get it in front of a large audience is the stuff marketers dreams are made of. And Google's new Posts product aims at making their dreams come true.
Control your brand messaging
In the world of real-time breaking news, this could be a highly valuable tool for brands to control brand messaging in real time. If your company has recently been in the news (in a good or bad way) you can be sure that when people google your brand that your narrative is front and center.
Non-promotional promotions?
Although one of the caveats of using Google Posts are that they don't allow commercial messaging, a smart content marketer could find a way to create posts that would influence purchases.
I like the way Mike Blumenthal says it:
Obviously if a business using the product can understand the intent of a brand search then they might be able to enhance user behaviors to increase calls or get them to take action.
Understand your buyers intent for a branded search, then figure out how to subtly tie that to a post-narrative. Simple as cake, right?
Humanize Your Brand
Being that Google Posts can include rich media such as video, you have the opportunity to showcase just how human you are by creating videos right inside of search results.
Video is becoming an increasingly compelling part of the customer journey, with marketers reporting that video conversion rates greatly outperform other types of content.
More Sharable Content
Leveraging the front page of Google Search results to create highly sharable content is just plain smart. Google is allowing you to utilize its own digital real estate to create great, shareable content and you don't have to hire a web developer to build in the sharing functions.
Update: Keep Your Brand Fresh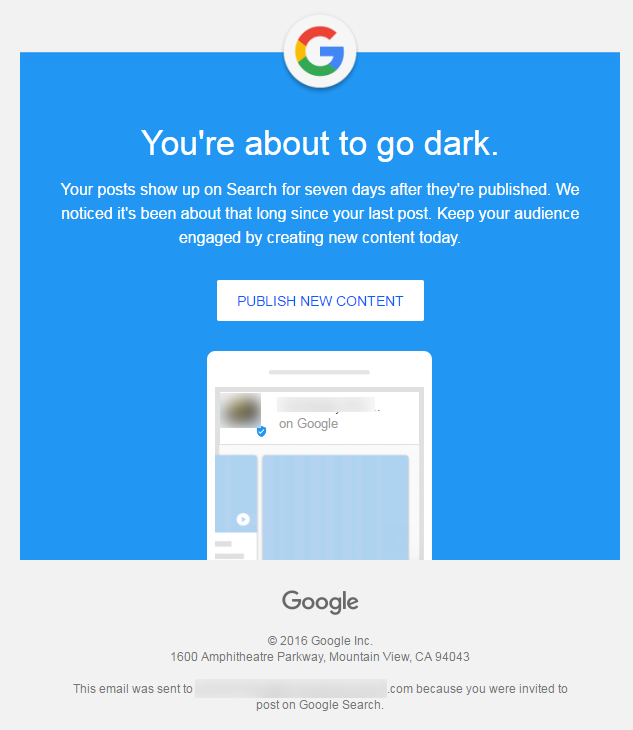 With the new Google Podium posts product, it appears that stats email comes in every once in a while. Also, you get a notification when you are about to run out of content.  When you set a new post to go live, you have the choice of scheduling it and also choosing how long it will live, with a max right now of 14 days. Pretty nice eh? Control what content, when and how long it will be in front of brand searches.
Does this threaten Twitter?
With all the news that Twitter may be entertaining an acquisition from potential buyers, including Google, this doesn't look good for the social network.
Twitter has often dominated the real-time relevancy game. There is no faster way for news to break than on Twitter—period. And when Google struck a deal with Twitter to add tweets in a similar carousel format for relevant search terms, many thought this would be a game-changer.
Turns out, that was an overstatement.
While having tweets inside of search results has been interesting, there's now way of knowing just how much traction it's getting because nobody is talking about it. This fact alone leads us to conclude that it has not been a runaway success.
So by creating a new type of social content with Posts, will Google be doing away with Tweets in search results? Or even more interestingly, if Google was to buy-out Twitter, would they just assimilate Twitter into this new platform? (Update; that will never happen, Google backed out)
Final thoughts
Google Posts are still a very new, highly secretive, and mysterious. Though they do look promising as a brand tool.
We'll continue to experiment behind the scenes and write more of our findings as we discover them. Until then, what are your thoughts about Google Posts? You can let us know in the comments below.