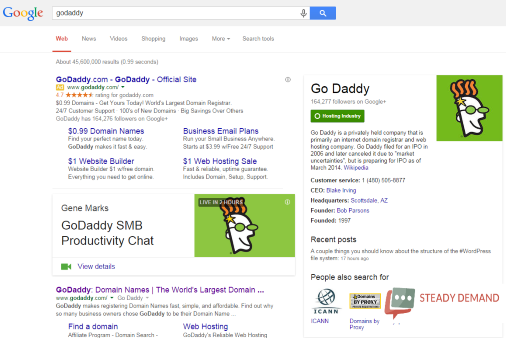 Google announced that they were experimenting with Hangouts On Air showing up live in Google.com Search back in July of 2014.  To date though I am not aware of any that have been spotted in the wild.
Based on what we are told, Live Events should display 3 hours before a HOA ( Hangout On Air ) is set to go live. ( So this appears top be true )
Update: I have to quantify a few things here:
A. I did this search logged in and InCognito
B. I do follow and interact with +GoDaddy
Developing:
After James Dearsley posted about this, Mark Traphagan ( does not follow or engage with GoDaddy ) and Eric Enge also have confirmed that they see the Hangout in regular Google Search and incognito.
Update:
Mark Traphagan noticed the message change from  "Live soon!" to "Live!" – also Mark noted that the event itself is outranking the GoDaddy.com domain during the live show itself!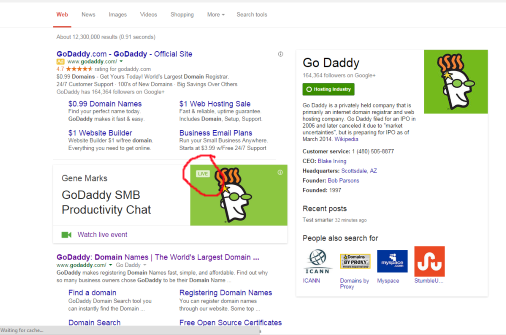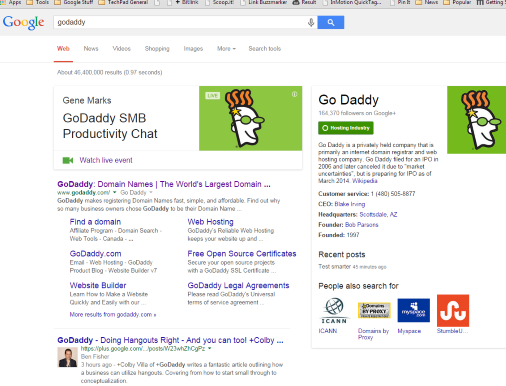 Also we were told; To see the result, someone would have to "search for the event or the name of anyone in the event."  From my search set below this does NOT seem to be true, as the guest name does not trigger the result. The brand name does, and the brand plus "domains" which GoDaddy is known for does. — what does this mean for you, the focus for right now is on the brand.
Well, today Colby Villa, of GoDaddy,  posted a masterful article regarding how they achieved Hangout success.  I decided ( yes on a whim ) to just go take a peek as the show was to broadcast in about 2 hours. Low and behold, there it was, Godaddy dominating the first page of results.
Here are some of the search queries I used, along with results;
1. GoDaddy ( Shows )
2. GoDaddy Domains ( Shows )
3. Godaddy Hosting ( Does Not Show )
4. GoDaddy WordPress ( Does Not Show )
5. GoDaddy SMB ( Does Not Show )
6. GoDaddy Productivity ( Does Not Show )
7. Gene Marks ( Does Not Show )
8. Colby Villa ( Does Not Show )
Have you witnessed any Hangouts Displaying like this in search?
So therefore, if you are a company, and you are doing Hangouts On Air, you can soon expect to be rewarded with more search visibility. We all know that Google likes to experiment with things ( like the most recent Authorship 3 year test ). What I would encourage you as a user of Google Search, is to engage with these search results as they appear more frequently, otherwise we may all lose this valuable real estate.
As a bonus – here is what it looked like on mobile: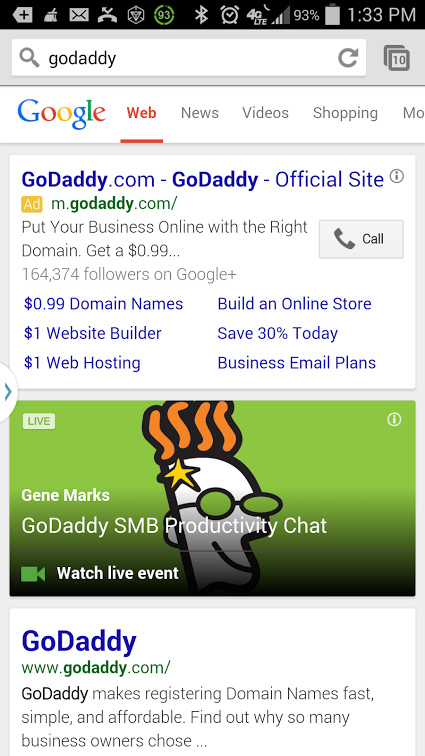 Still wondering if you should be using Google Plus for your business? — This is some great proof of why you should.
PS. If you are looking for a company to help you with end to end production of a Hangout On Air for your business, feel free to drop me a line 🙂