Local Businesses around the country are reaping the benefits of this Pokémon Go craze!
On September 7th, Apple held its annual big media event to announce the release of this year's iPhone. As is usually the case, the announcement of the iPhone 7 was preceded by spotlights of new features that users can find in the latest iterations of iOS and watchOS.
What many people probably noticed, though, is that Apple decided to open up the event with news from companies that well, weren't Apple themselves, though they involved the new software and hardware on display. Super Mario coming to iOS is a big deal, but the real rock star of the opening segment had to be Pokémon Go.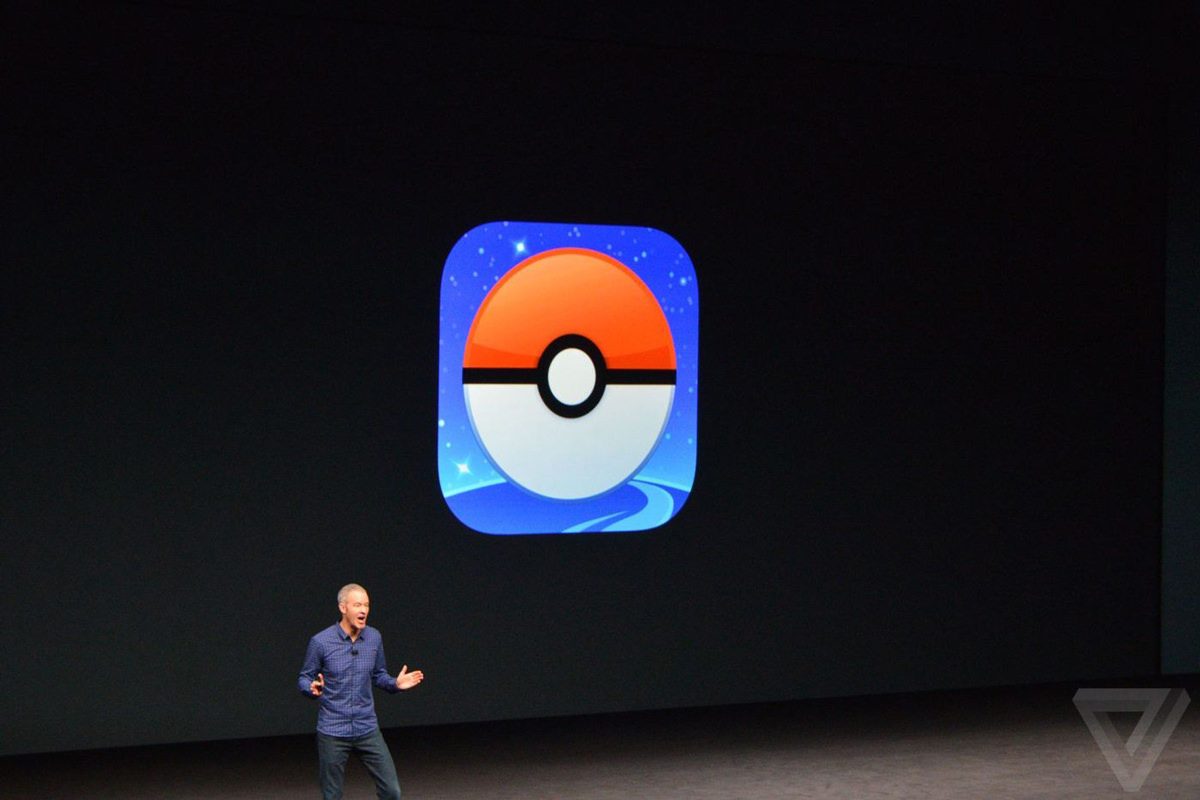 [Image via The Verge]
Just in case you've somehow missed out on the Pokémon Go phenomenon, here is the game in brief. The lovable creatures from the hit Pokémon games and cartoon that came out twenty years ago have returned in the form of a smartphone app geolocation based game. Through a rudimentary virtual reality experience, you can feel like a Pokémon master as you encounter Pokémon "walking around" in the places you frequent every day. Would you like a Pikachu with that coffee?
It's no coincidence that Pokémon Go being ported to the new version of the Apple Watch was presented as a key feature for buying Watch Series 2. Over the past couple of months, the game has been ubiquitous. It's rare in this day and age of smartphones and game consoles that a game could inspire the creation of its own dedicated device.
The popularity of Pokémon Go has done just that as we wait and see how well the Pokémon Go Plus wearable sells. As with any other widespread cultural phenomenon, marketers and business owners quickly became interested. How could this unique game built on emerging technology be used to change the way customers interact with local businesses they pass on the street every single day?
Estimates for the number of people currently playing Pokémon Go are around 30 million, with a peak of about 45 million when the game debuted this past July. That's a lot of potential customers that can be reached through geolocation services.
One of the early adopters of Pokémon Go integration was Yelp, who started adding Pokéstop filters in mid-July, to tell users if that restaurant they were looking for reviews of is near a place they could also get some critical Pokémon items.
According to Business News Daily, preliminary surveys show notable increases in business engagement when Pokémon Go activity is occurring nearby.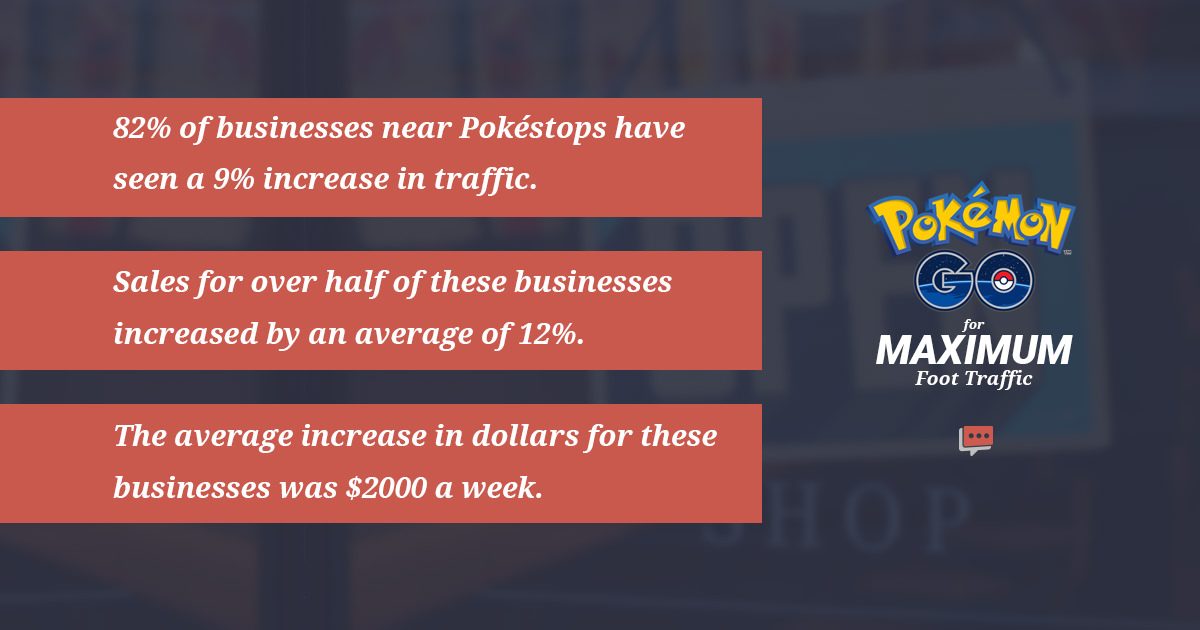 82% of businesses near Pokéstops have seen a 9% increase in traffic.
Sales for over half of these businesses increased by an average of 12%.
The average increase in dollars for these businesses was $2000 a week and 265 more customers.
Time spent in the store is up and people are making multiple trips to these businesses throughout the week during their Pokémon quest.
So, how can a business owner leverage all this Pokémon madness?
At Steady Demand, we specialize in helping businesses get results in local search. We've found that taking full advantage of geolocation services, including integrating with Google business services, produces positive results.
Using the geotargeting of Pokémon Go is a fun way to engage potential customers in your area. Let's look at a few ways nearly any business can benefit from the Pokémon hunt.
Check for Pokéstops near you
This suggestion was originally going to be (and might become one once again in the future) request to become a Pokéstop. In the beginning, Niantic was allowing businesses to submit a request to be a Pokéstop.
Due to the overwhelming response, the company can no longer accept these requests. That might change one day, but for now you cannot submit any new Pokéstop requests.
If you already have Pokéstop status, congratulations. Otherwise, you'll have to rely on being in relatively close proximity to one. Download the game and see if any pop up in your area. There's a good chance there is one near by and you can still benefit from the foot traffic coming through.
If you haven't set up a Pokéstop, utilize the ones near you to drive more foot traffic.
Click To Tweet
Advertise the Pokémon in your location
Sounds kind of crazy, right? I'm going to tell my Facebook friends that there's a Pikachu hanging out at my cash register? This is all part of the continuing evolution of social engagement. As Rajeev Singh wrote for Forbes,
"Social media has far surpassed the fad stage. It's here to stay, and whether you embrace it or fend it off, you and your customers will be impacted. There is a world of conversation and engagement that's happening right now with or without you."
Social media itself may not be a fad, but success with it does rely on fads.
Pokémon Go players are seeking out the rarest Pokémon as they walk around throughout the day. Signaling through your social networks that a much desired Pokémon, such as the aforementioned Pikachu, is available at your business could send people heading over to check it out.
That's when your tried and true sales abilities will come in. Encourage customers to tag your business in their own Pokémon-related social media posts as well for maximum reach. It's free advertising.
Encourage customers to tag your business in Pokémon-related social media for maximum reach.
Click To Tweet
Set up Pokémon lures
Pokémon lures are an easy, direct action you can take to bring in more foot traffic. To put it simply, it's like going fishing.
Lures attract Pokémon in the area, which in turn attracts people. You've probably seen the viral videos of dozens of people running into a park after news spreads of a rare Pokémon making an appearance. While having thirty people storm your business in a mad dash may not be exactly what you're going for, there will be an increase in traffic if people walking by are interested.
Anyone can benefit from laying down Pokémon lures, though businesses based in major cities may see the biggest boost due to higher foot traffic.
Pokémon lures are an easy, direct action you can take to bring in more foot traffic.
Click To Tweet
Go to where the Pokémon are
If you operate a business that doesn't have to be in a fixed location, this could be a strategy that works for you. Much like you can cast a lure to bring people to your store, you could bring your business to where the Pokémon are.
Whether it's a pop up shop, a table you set up, or just you and your tablet, you can feed off the friendly energy and engage new customers. Sometimes simply being in the right place at the right time is enough to see an increase in business. If you can't move your entire operation because you're in a fixed location, use the lures to bring the action to your doorstep.
Businesses of all sizes are seeing positive trends across multiple metrics by engaging their customers in a way that is relevant and fun. The most successful marketing strategies are the ones that have a real human element to them.
Sometimes the best way to market your business is to treat it like a conversation with friends. With everyone going crazy for Pokémon, all it takes is some genuine interest of your own in the game to reap the benefits.
If you haven't downloaded the game yet, try it out and be sure to let us know how these strategies impacted your business.