How do you get people to share your real estate listings? Let's look at the psychology of social media.
Why do people decide to share content on social media? Why do people decide to not share content on social media? We're going to dive into the human psychology that drives these actions and then we'll go over ten specific steps you can take to make your listings more shareable.
Let's face it: sharing is the holy grail of social media. When your content is shared, you are reaching people outside of your own network. If enough people share it (and especially if the right people share it), your content can travel around the world at an amazing speed; potentially to be seen by thousands or even millions of people.
Imagine if you are trying to sell a home, and your listing is seen by potential home buyers all around the world… It sure would make your job a lot easier, wouldn't it? Of course it would!
But, before we get ahead of ourselves, let's discuss some of the reasons that people share (or don't share) on social media.
Why people share social content
Facebook, Twitter, and Google+ can at times feel like a dumping ground. There's no filter, and anyone can post anything. What becomes powerful about social media, though, is understanding why people share things. Once you understand that, you have a better sense of what to post so that the rest takes care of itself.
According to a survey conducted by the New York Times Customer Insight Group, there are five primary reasons why people share things on social media:
To introduce valuable information or something entertaining to other people. 49% of respondents said that they share to let people know about something they like (such as a product or service), to possibly make people think about it in a different way.
To give people a better sense of who they are. 68% said that they want to express themselves and what's important to them.
To build connections. 78% of individuals said that they share as a way to maintain relationships.
To make a difference. 69% share things so that they can feel engaged in the world.
To let others know about a brand or cause they appreciate. 84% share so that more people will find out about an issue with which they're concerned.
The NYTCIG study delves deeper into the psyche of different sharing personas (or personality types), and is free to download if you would like further insight.
Why people do not share social content
Now let's look at the other side of the coin – why people decide not to share content on social media. Here are a few aspects of content that make it unshareable to your audience, according to Phil Mershon at Social Media Examiner:
They don't trust the source. People will not share something if they think the individual posting it might be dishonest. Solution: To get beyond this issue, Guy Kawasaki recommends opening up more transparent discussions with your audience.
They aren't invested in the brand. If people don't care about your company, they will be less engaged in anything you post. Solution: Figure out what your customers value about you, and target that.
The content isn't interesting to them. It's key to be entertaining or compelling, even if you are trying to spread a certain informational message. Solution: Figure out how to introduce humor or fun into your content.
They don't think you're human enough. People care about causes. Realtors, like other businesspeople, are too often dispassionate about everything but selling themselves. Solution: Find something that you can advance that is bigger than the bottom line. A charity or cause helps people better connect with you.
Your content doesn't help them feel validated. Your audience, like anyone else, shares things in part to feel validated and to be seen as credible by their peers. Solution: Share links and content that provides information that helps your audience look good to their own audience.
Many of these deal with the relationship you have with the audience, emphasizing the importance of developing authentic relationships with your target audience on social.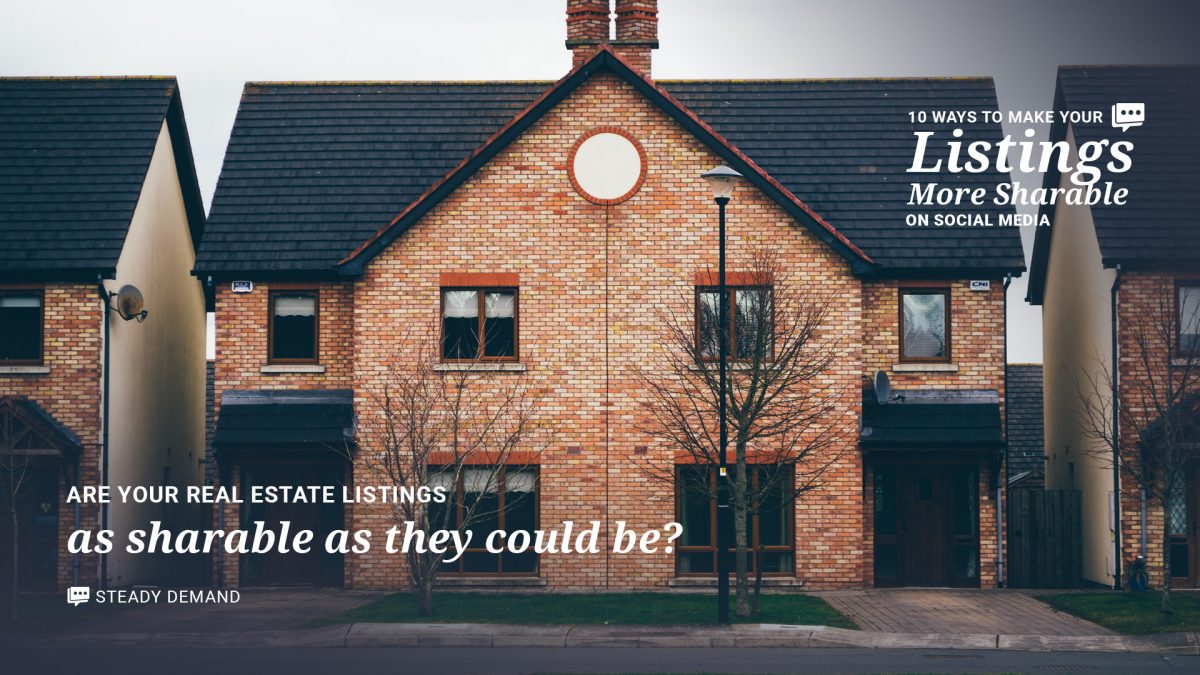 10 specific tips for shareable real estate listings
Here are ten ideas that will help you, as a real estate agent, get more people to share your real estate listings:
1. Create a dedicated page or blog post for your listing
Let's face it, there are a bajillion MLS listings (at least) and for the most part, they really aren't very attractive. If you have a few listings, this shouldn't be any problem at all; if you have a lot, perhaps start by creating pages for your featured listings.
These pages will not only be more shareable, they are also likely to get indexed by search engines to give you added bang for your buck.
2. Make sure your photos "wow" the reader
Beyond making your listing more shareable, great images are likely to help you sell the home. Here are some additional real estate photography tips from Inman:
Set the stage by removing trash cans, clutter, personal items, extra furniture, etc.
Make sure the photos aren't blurry and that your camera has at least 5 megapixels.
Try to include pops of color in your photos, such as artwork or flowers.
Take photos on a sunny day with lots of natural light. When it comes to real estate photos, the brighter, the better.
Take a lot of photos, but only use the best of the best.
Create a shareable image for social media using one of the photos and a text overlay. If you don't have Photoshop, try a free service such as Canva or Pablo.
Great visuals are highly contagious on social media, so always be sure to include them in your listings–as much as possible.
3. Make sure your description is well-written, and invokes emotion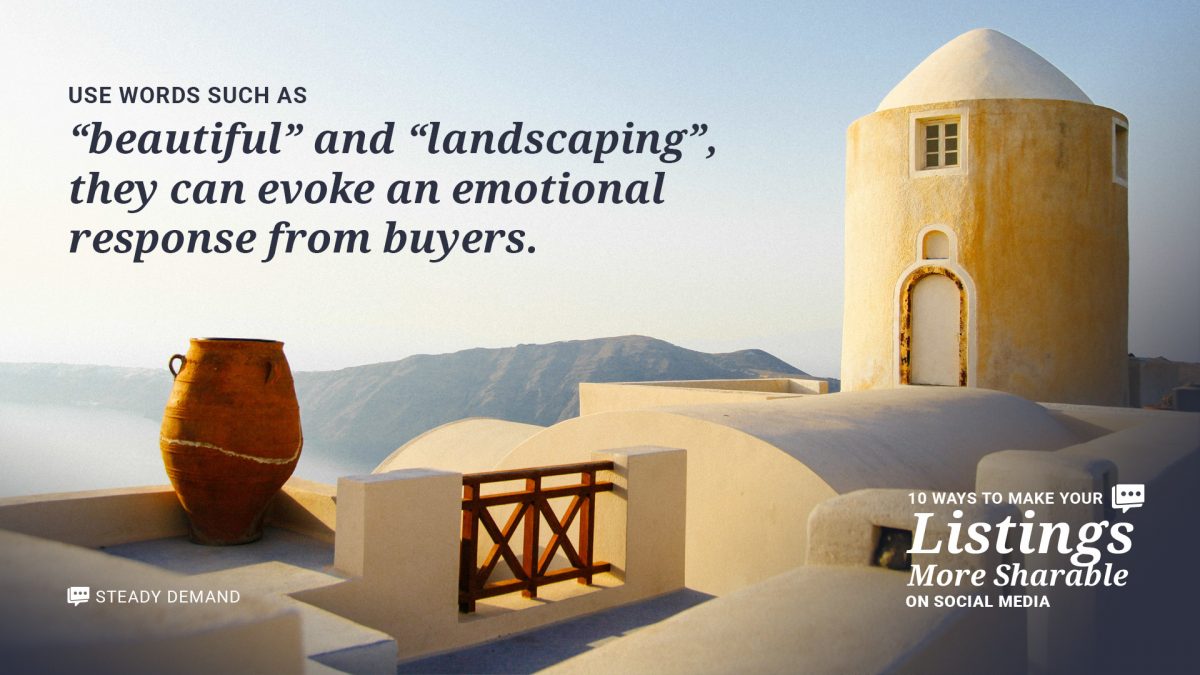 Studies have shown that words like "beautiful" and "landscaping" can evoke an emotional response from buyers, cut market time and result in a higher selling price than the average home.
Of course, these words should only be used if the house is indeed beautiful.
Take the time to learn which words evoke emotion in buyers and have them in your word arsenal that you can pull out as appropriate. Remember, these are likely the same words that increase shares.
4. Promote the unique things about your listings
Most real estate listings sound exactly the same, so you need to think outside of the box if you really want to stand out. Perhaps do a pull-out or tweetable quote from the homeowner talking about their favorite thing about the house or the neighborhood.
RealEstate Marketing tip: Create tweetable quotes about the best parts of your listing!
Click To Tweet
5. Go the extra mile and include a description and photo of the area
Is the home located in a small hometown? See if you can get permission to use photos of their 4th of July Parade or Fall Festival. Is the home located in a tourist destination? Search Flickr's "commercial use allowed" license for photos of things to do in the area.
6. List upcoming open house dates
This should be quite obvious, but easy to forget. Make these dates obvious and tweetable! (See point number four again.)
7. Give a shout out
Everybody likes being talked about (in a positive way). So give a shout out to the housing community, hardscaper, landscaper, contractor, interior decorator, etc., especially if they have a sizeable social media following.
For example,
"You are going to love the gorgeous new patio recently installed by [Contractor Name]!"
Share the post to your social media channels, and tag the contractor. There is a good chance they will share your post (and therefore your listing) with their followers.
8. Leave a personal note and call to action
If your visitors have made it to the end of a post, then it's fair to assume that they respect your opinion or message, or at least can relate to your viewpoint in some way. Why else wouldn't they have left your site already?
Ask them to share your listing. If you don't ask for it, you won't get it–Sales 101.
9. Include social sharing tools
There are plugins and apps that make it easy for visitors to share your real estate listing. If your website is built on WordPress, then our highest recommendation goes to Social Warfare (we use it on our own site). There are other solutions available as well, and you can find some highly recommended ones here.
Be sure to give the right sharing options, though. You don't want to give every sharing option under the sun– decide which sharing options are most valuable and use only those. We suggest 3-5 share buttons, maximum.
10. Once the home sells
You can remove the link to your listing from your Featured Homes section of your website; however, don't remove the listing page. Nobody wants to share content that is going to be removed, causing broken links on their Pinterest Boards or Facebook feed.
Instead, take advantage of these links by updating the property as "sold" and perhaps suggest a similar home or homes in the area.
Your partner for shareable content
Need help making your real estate listings shareable? At Steady Demand, we leverage our expertise to build your brand on social media and fill the gaps in your content marketing funnels.
"Steady Demand has a proven track record of results-driven Social and SEO tactics backed by honesty and transparency," -Neil Patel, co-founder of Quick Sprout
We hope that you found this post interesting and valuable. If so, please share it with your professional contacts and/or social audience.