You want your clients to rank well in Google Local with Google Posts. Your clients want traffic that can be tracked and convert.
Posts on Google have an impact on Local SEO Ranking results in the 3-Pack. Here at Steady Demand, we help you employ the same semantic search optimization techniques with Google Posts that we have been using for years with Google Plus for Local Search Engine Optimization.
It can be frustrating at times for you to come up with ideas, be consistent in your posting schedule and get an edge on your competition. We are here to help you, especially if you are looking to offer this to your clients as a white label SEO partner.
Google Posts (aka Posts On Google)
As Featured on

By partnering with Steady Demand, your business will get the following benefits:
4 custom posts per month
Unique & effective copy for every post
Written by journalists in the USA
Images created for you
Highlight special events
Assist in the buyer's journey
Control a portion on your GMB knowledge panel
Impact on Organic Search and 3-Pack Search Results
Add a call to action on Knowledge panel
Content is fresh and professionally written
Can report on Impressions and CTA clicks
You get to leverage our highly experienced team of PR and Marketing pros who have had access to the Google Posts product since before it was publicly released. Nobody knows this Google product better than us, which means your business is getting the best of the best.
You can contact us today to speak with one of our lead consultants.
What kind of results can you expect?
That's a great question. For that, we're going to give you some unbiased, 3rd-party studies by trusted SEO industry leaders.
In an article for Search Engine Land from Joy Hawkins she cites a number of case studies we did together. In one particular case study in she cited,
"…they increased from position seven to two about four days after the posts started. I double-checked to make sure they didn't receive any new reviews a few days prior to the increase, since they did receive a few new reviews during the course of the test."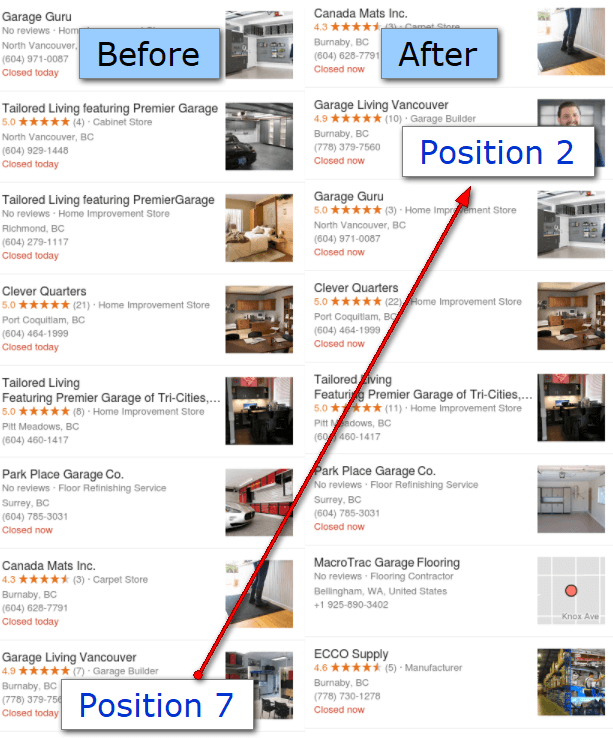 Want to see these kinds of organic results for your clients? Click the contact us button below!