…Even Though We Work on Different Parts of the Internet.
One thing that I noticed about clients when we interfaced with them during the sales and consultancy process, is that there is a genuine concern about how they will be dealt with in the ongoing business.
It's a definite concern of mine also, we're all in it for business and I want to give my best in their business shoes. I hear their fears about outsourcing work to different parts of the globe, and I actually resonate with that pain. You see, I work as part of a team, and I have to be able to stay on the same page with my team at all times.
What you really get when you ask for AN SEO – note the singularity
It's all very well "talking the talk" but we have to be choreographed into one voice, that's your brand's voice, and thus polarized toward the overall company direction. Not to the benefit of the individual. Wow, I sound like a cult follower, but really there's many layers to this definition of team. Let's take a look at what you really mean when you asked for that bid on eLance, Thumbtack, or any independent freelancer:
I need an SEO – that doesn't mean I want someone banging out keywords. I don't want someone link building from a country not specific to my audience needs. That reads so Alien.
I need more traffic – Funny that, your work looks like a robot. In fact, it looks like several robots. You call that a team or a virus? Are you Borg?
I need higher search rankings – How are you going to do that, and do you even understand my business and customers? Are you Mr Data or Spock?
Familiar with any of those instincts? Don't tell me you feel like you're getting a bonus when someone replies they work as part of a team. (Then passes the buck to someone you didn't speak to after closing the SEO deal.) Blugh, don't be sheltered! We work differently. My team are my tools, my bounce board, sounding device, auditor*, my brainstorm meter, and my different feelers or pointers for each of our niche specialties. Oh and incidentally I'm not here to compete with other freelancers either, far from it, I just love training people up to join our team.
*Auditor: au·di·tor (ô d -t r). n. 1. One that audits accounts. Micromanages me (Kidding Josh!) But this is a highly attentive positive thing. Since we're all pretty autonomous in the way we work, I need someone who's got my back. We're human and we can make mistakes. Josh's main role is to oversee that value and quality is being attained for the customer. He acts as the "Demand Central" for whiteboarding our ideas.
Dave our Operations Manager is also our super geek developer, who creates our amazing backend portal. The secret sauce of our shared activities that you, the client gets to draw upon for its reporting capabilities. I want to show you the mechanics of that system in this article, and demonstrate why I would be simply uncomfortable going back to being a sole Independent Freelancer.
Should I hire an Independent SEO or Marketing Consultant/Team?
Ooo this is where I get to point out we have the skill sets of highly attuned individuals selected for your business, guided by a solid foundation of Team Legs! As a result we aren't just "consultants" but actually do the leg work once we've scattered and nano-botted out your competitors. Our overlapping industry expertise is always excited by new territory and come back to "Demand Central" with information we've scoped out on your business landscape. Demand Central is an awesomely chaired weekly meeting where your ears burn as we hammer out events from the past week, and Sherlock ways to make your brand more awesome.

We believe in face-to-face, and say once every 3 months as a company we do a marathon get-together and comb through every client to see where we can improve on our services to you. It also solidifies that relationship thingy I first mentioned in the opening of the article.
I'm an Athlete (of sorts), which is awesome for the team regarding dedication, and communication for our co-ordination. This is no far fetched sophomoric speaking either. How I drill all parts my life is core to how it flows into my work. …Except that I seem to remember our trip to Demand Central Vegas turned into a bit of a solo show you guys!
9 a.m. Morning Drill: If you want to be a Champion, you have to Train like a Champion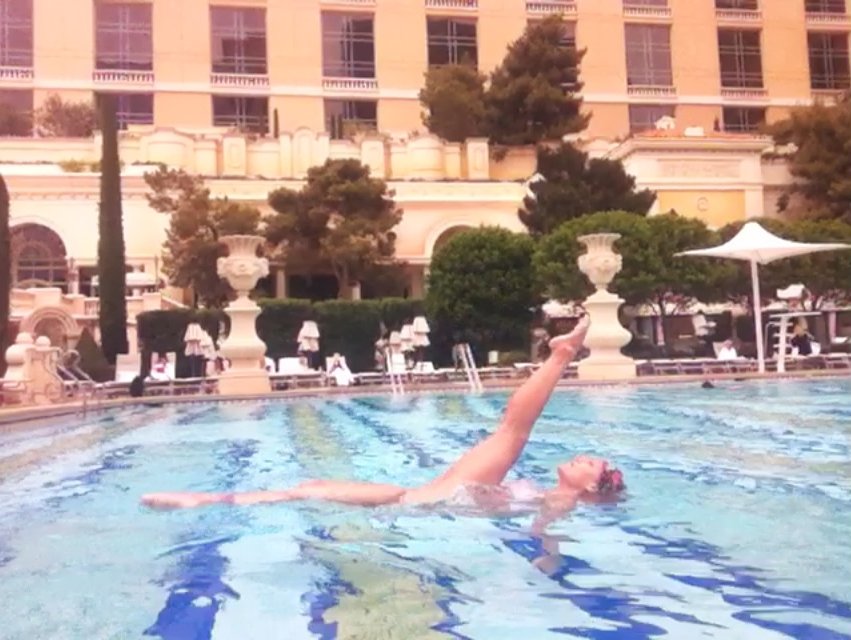 I simply feel my quality of work is higher from within my team, and makes me very self-accountable. I get more satisfaction out of my work this way, and I certainly never get the feeling of Clients breathing down my neck.
This is because I have a team relying on me, feeding me more landscape information, and vice versa, and that really keeps us ahead of the eight ball! We are really focused on learning more about your business, and how we can identify new opportunities for you. That's what makes us more than a Marketing team, and more than an individual SEO. I'm always looking for the next recruit as well. I would personally love a new teammate local to me in Los Angeles to be besties with. Despite saying that we have a great time connecting via video calls.
How do I trust an SEO
Hmm this is the meaty bit where I show you our secret portal. Ok not so secret then, please enter:-
We don't ask for your trust, we believe that actions speak louder than words. Not only do we believe we are fully transparent blah blah, (You can take a look at our mega profiles on Google plus). Now I've just used the Role of SEO in this example, but the same pertains to whether you're recruiting us for other products. Either way our products are geared to future proof your site for further SEO updates to the Google Algorithm.
Here's a sneak peak at my working portal: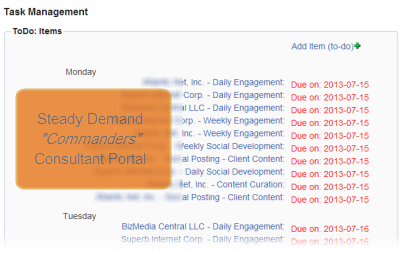 What you see here is my control panel. This system breaks down your specific requirements (as a customer) and populates my daily task list with weekly, bi-weekly to-dos. It's a prompt for me to get granular on my reporting without me having to set up a nasty spreadsheet. Tell me you don't love ugly excel worksheets – please!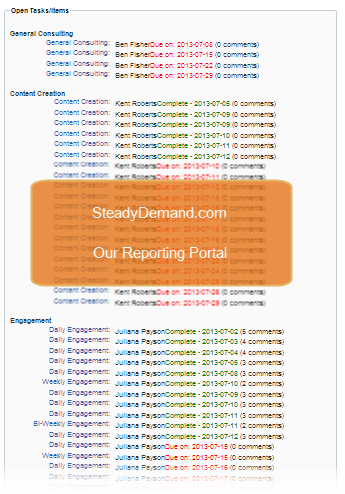 On the other side of the portal we have a customer view and reporting views so that we can whiteboard in on each other. Our reporting gets really granular you get to see the links through to activities performed. We even have the special tools courtesy of Dave the Brain again to sort through activities and find out which ones performed by pulling stats from G+.
This is your guarantee if you will, that you can be assured we actually do the work and go further to see if it's working for you! I particularly love it because at a glance I can plan my time. Some tasks you can't just schedule, because engagement needs to be hot on the reaction time.
Other Workflow tools using the Cloud
Finally we have an arsenal of working methodology and tools at our disposal to also create the perfect tag team.
We have set up a site permissions WIKI, and Knowledge base. Initially fleshed out using Google Sites as our cloud hosted solution, then pointed to our wiki subdomain. The Wiki is now part of our own CMS. We're big fans of cloud computing, subscribing to each others updates, resolving timestamped comments in shared Google Docs. I believe I just need a better way of organizing my Google Drive now.
I've actually gone and spent the extra on Google Storage to buffer the flow of documents. ( We're paperless except for contracts. ) Our dedicated site server is owned and secure with two phase password entry. Since the software is developed in-house by the Dave, we share bug reporting and give him all the headaches. We don't have to worry about open source software and it's familiar entry points by hackers because the portal is custom designed and owned by us. Your information and strategy is our private and secure concern!
Things you should ask your SEO before recruiting
Our Philosophy is About Engineering to Future Proof Your Site
Once again I've defaulted to the SEO role, even though it's apparent our philosophy is about future proofing your site. I believe that's already more than traditional SEO, it's actually an efficient way of hiring too! What you get is a whole marketing arsenal, for the intent of just bringing on an SEO.
If I were in your shoes the things that I would ask are going to be exactly what I personally look for when scoping out a new team mate. Incidentally we're a growing company and we're actively hunting new recruits. I tend to look for something I can relate to in a fellow colleague, then solidarity comes naturally out of that relationship.
Believe it or not our team has great overlap and belief in our core philosophy. And despite where our approach comes from with our unique backgrounds, it's how we all think. I believe like attracts like, and quite frankly I've never had a better team to work with than here at Steady Demand!
We have a lot of respect for each other, and I'm proud to be working any hour of the day simply because my teammates have great respect for each other. We are also each other's Mentors in various different backgrounds. Most of us are family people with familiar responsibilities and an entrepreneurial lifestyle. All of us throw spaghetti experiments until something sticks. I have an analytical background in Engineering with a Degree with Honors from the UK. We are all thinkers, learners and teachers.
We are all into our competitive sports from Kung Fu, Gymnastics, and of course me with my Contortion disciplines. Other various creative types in our group come from the music industry and fashion. The way I look at potential recruits is how will they work with me? Will they be excited by the work, put extra time in when we need it, and be willing to learn?
Let's work together!