The process for reinstating a suspended or disabled Google business profile has changed.
Currently, this is rolled out in the European Union and should be eventually rolled out globally.
However, there is no ETA on global release. If I have a guess, it is coming to the USA within a month if all goes well.
The old process was simple. You get an email and fill out a form that would then get responded to by a support technician. There would be no reason for the suspension beyond suspicious activity or guidelines violations. The denials were also cryptic, mostly saying you were not adhering to the guidelines.
At least when you were denied, you had a chance to appeal, you could reply to the denial as many times as you wanted, you could use the contact form to ask for another look, and you could go to the community as a product expert for another look. That, for those who are counting, is at least 3 attempts.
The new process highlights:
Before I go into any detail, I want to tell you the best and worst parts of this new process.
You have ONE chance to apply for reinstatement.
Overall, this is an improvement in process and transparency about what policy was violated.

Note this is not new policies, just transparency on violation.

There are no additional details, just guidance on what was violated, e.g. content violation.

When you start the reinstatement "wizard," you will have 60 minutes to provide business proof.

Based on our research, 4% of profile have the RIGHT proof already assembled.

The process will probably change over the next few weeks to improve the experience.
Pro Tip: Get an expert to review your profile and documents ahead of a suspension.
Useful links: The appeal tool.
Support Docs: Support about appeals.
The new process is pretty straightforward.
You get an email stating that you have been suspended. This email gives a general hint as to which guidelines you have violated. There will also be a link to the area of the existing guidelines. These are grey in nature, to begin with.
Thanks to Sherry Bonelli for gathering the screenshots early on.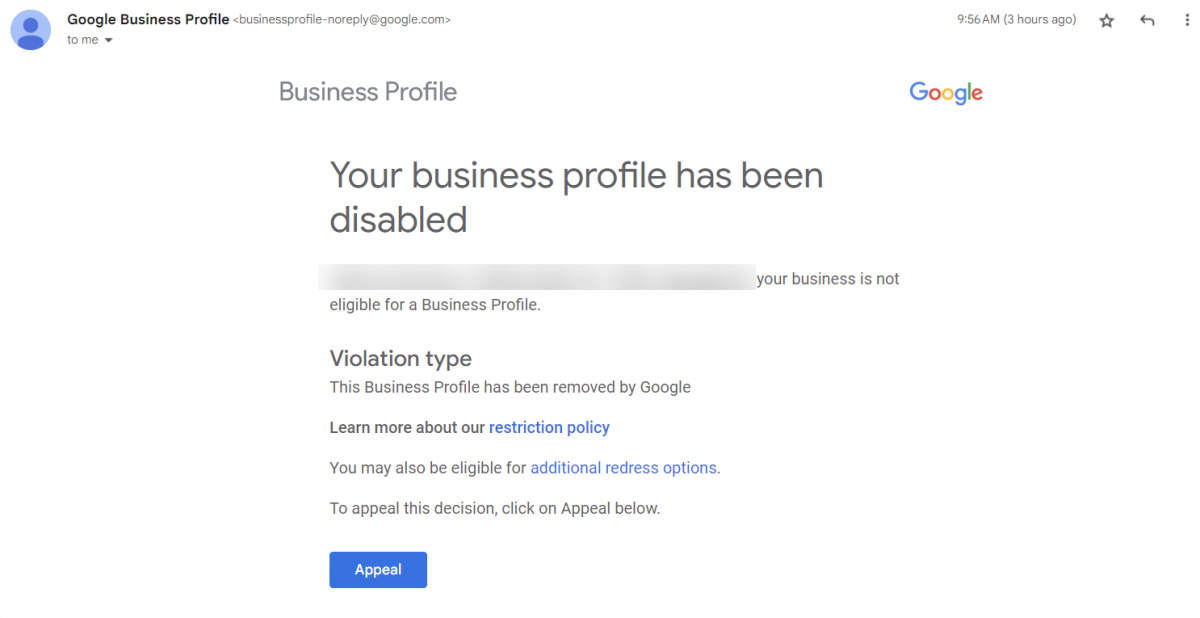 As long as you are logged in as a user on the profile, you will see your profile listed in the tool.
– My big hint here, be logged in as only the account that has access to the profile.
– Agency accounts will take a while to load and there is no sort/search feature yet, this will probably change.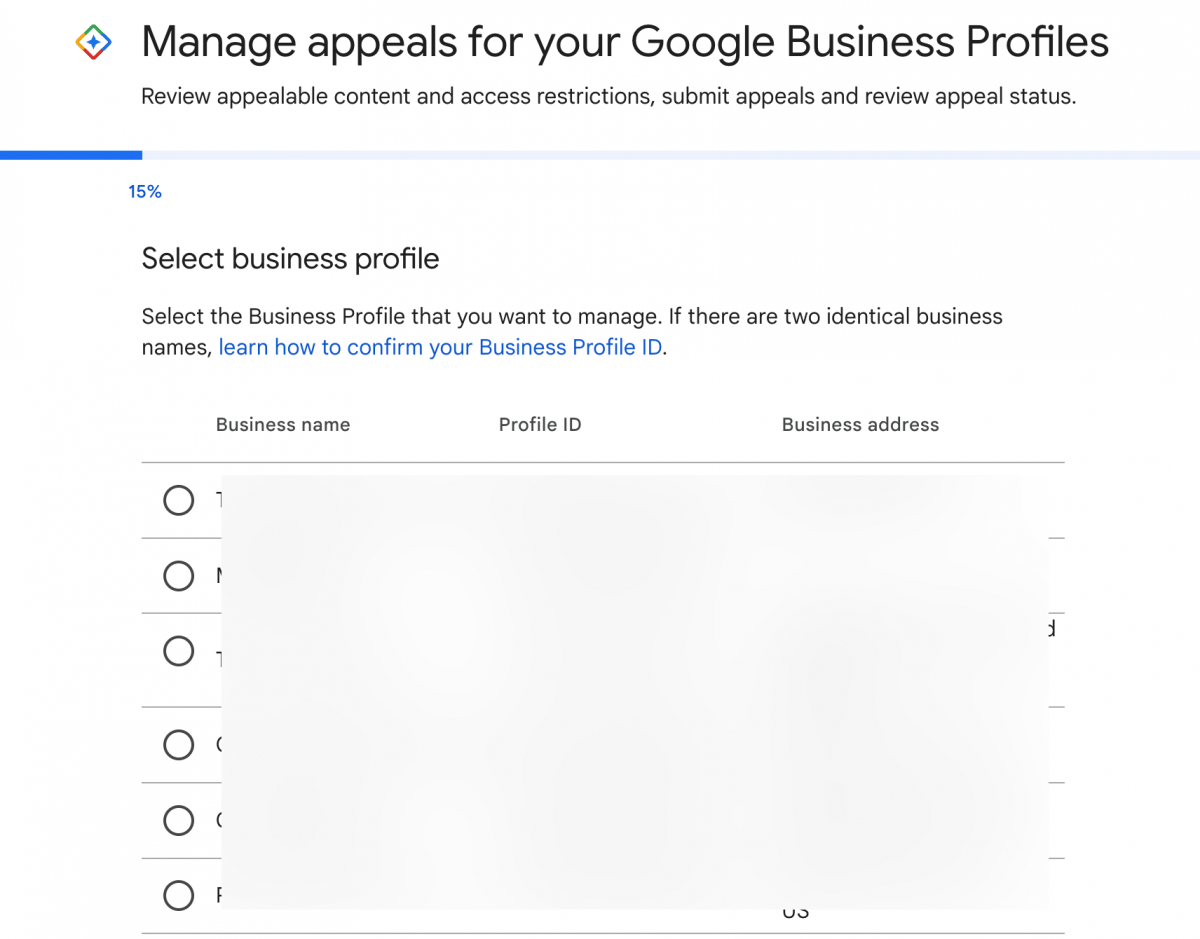 Once you select your profile, you move to the next screen. This screen is very important. If you move past it, you will have exactly 60 minutes to assemble your business proof and upload it. If you do not, or if you close the window, then the team will not consider your proof.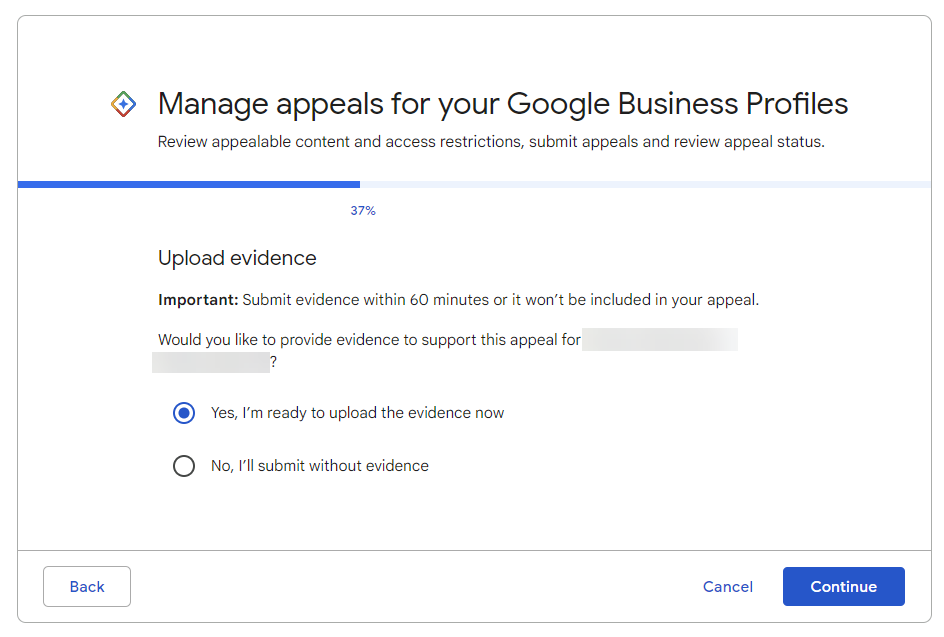 Things to know for now:
You have ONE chance to apply for reinstatement. If you miss this step, you will most likely be denied and have NO chance at an appeal.
There is no timer
You can use a zip file for multiple proofs.
You should get an email when you are reinstated.
Below are screens of the process. After that, I will tell you what to do if you do not hear back on your reinstatement/appeal request or are denied.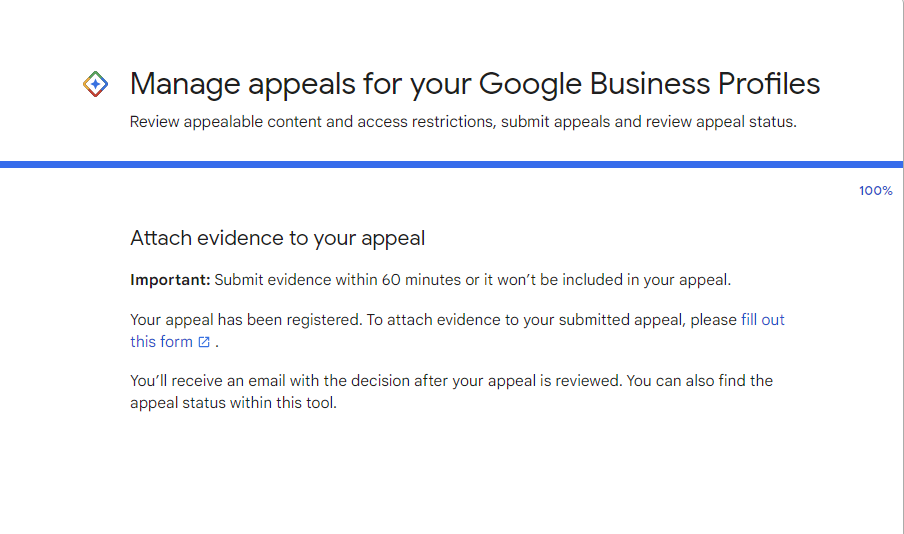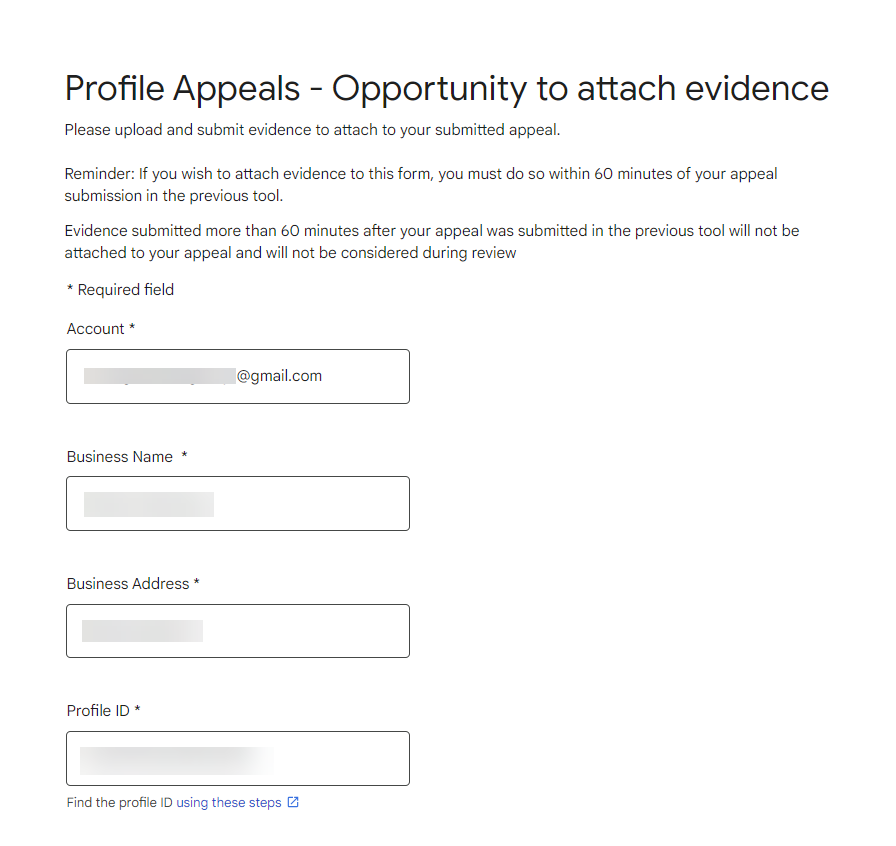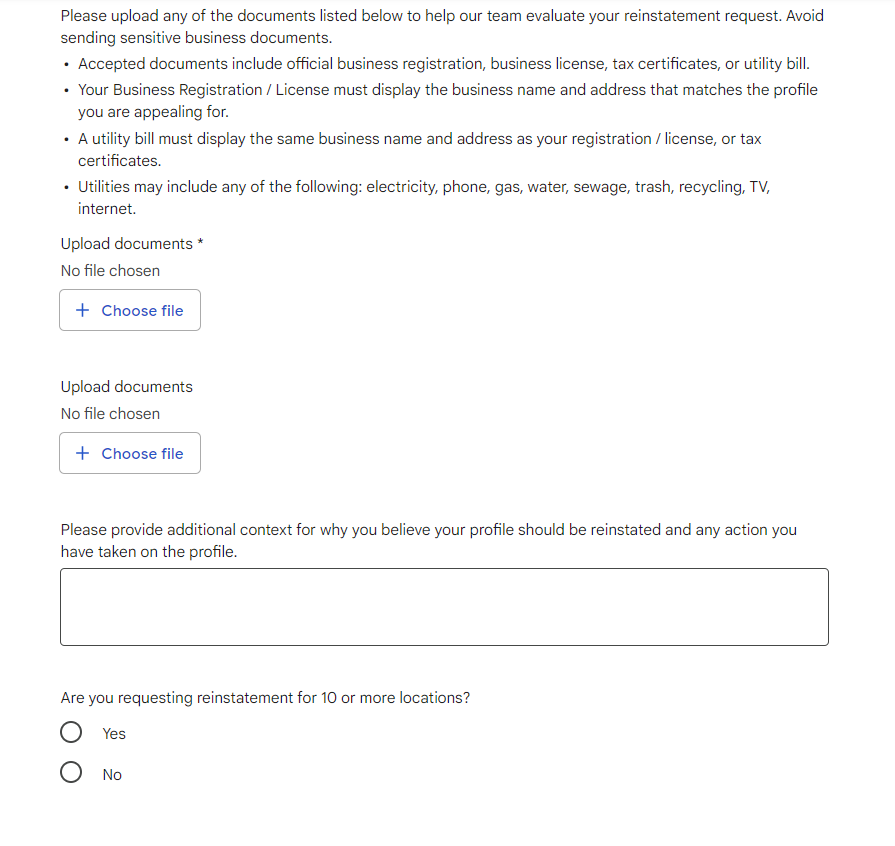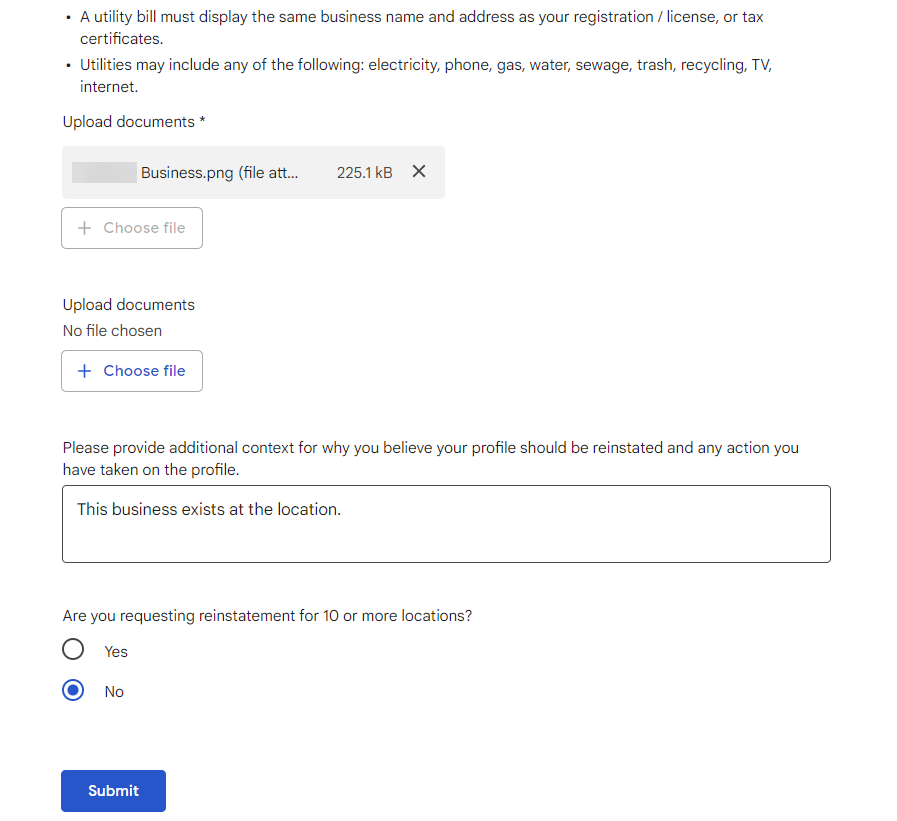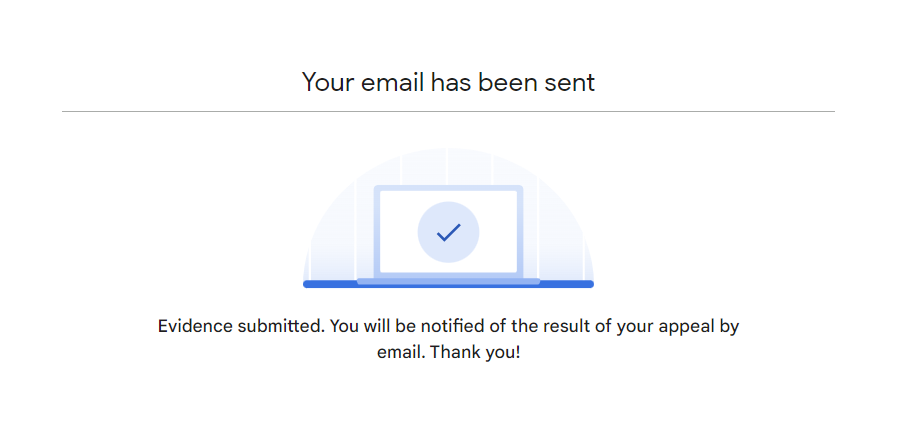 If you fail reinstatement or do not hear back, you can ask a product expert at the GBP community for a look at your profile and escalate it to Google for a look. – There is NO appeal process via support.