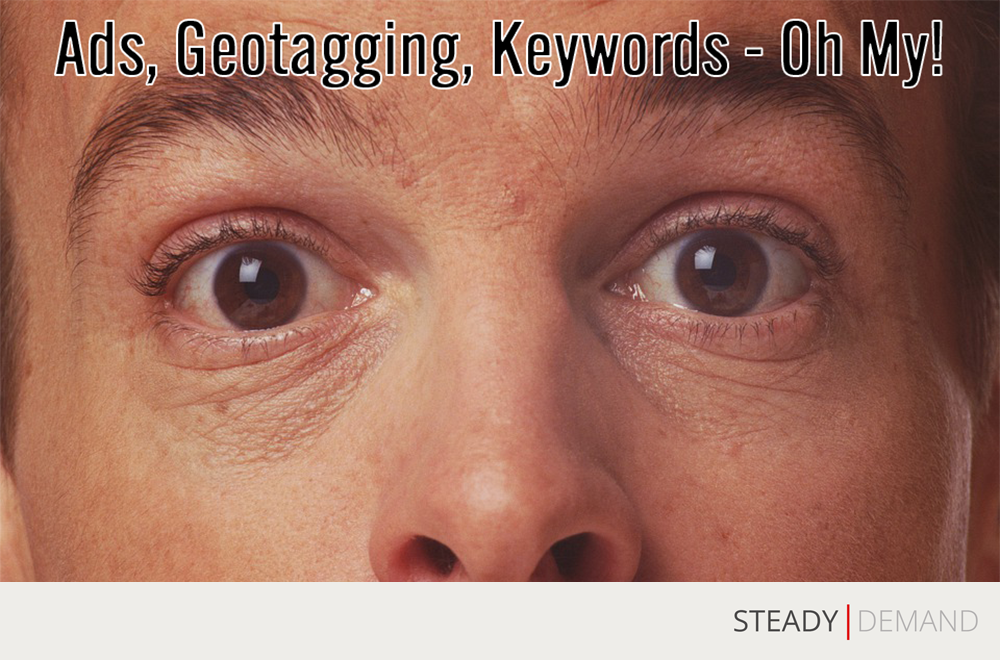 Let's discuss some Google Business Profile (GBP) ranking myths that aren't true but just won't die, as well as some methodologies that can actually help boost your rankings.
Written by Ben Fisher, Google Diamond Product Expert
Hello! My name is Ben Fisher, and I am one of only a handful of Google Diamond Product Experts in dealing with Google Business Profile (formerly Google My Business). I am also a founder of Steady Demand (@steadydemand, www.steadydemand.com), a digital marketing agency that specializes in helping local businesses rank on Google.
You don't have to have SEO experience to know that Google is the number one search engine in the world…and it's not close. Black hat SEO artists have for years tried to game the system, and they will undoubtedly continue to do so. However, at the end of the day, there simply aren't many levers you can pull that will help increase the rankings in local searches for your Google Business Profile (GBP).
There is no shortage of digital snake oil salesmen out there who rely on myths, half-truths, and downright falsehoods to convince you they can magically boost your rank…for a hefty fee, of course. If you encounter anyone telling you they have a magic solution to boosting your GBP listing, run away! Here are five of the top myths you might run into.
Myth One: Google Stacking
This one is all too common. You might hear the suggestion that stacking Google products (e.g. – using Google Drive or Google Sheets for links in your GBP listing, or embedding a Google Map with tons of pins on your landing page) might give you a boost.
It doesn't.
The concept they are selling you is that somehow, by using Google properties against themselves, there is some kind of authority granted by manipulating their own platforms. There isn't.
Myth Two: Setting Up a Service Area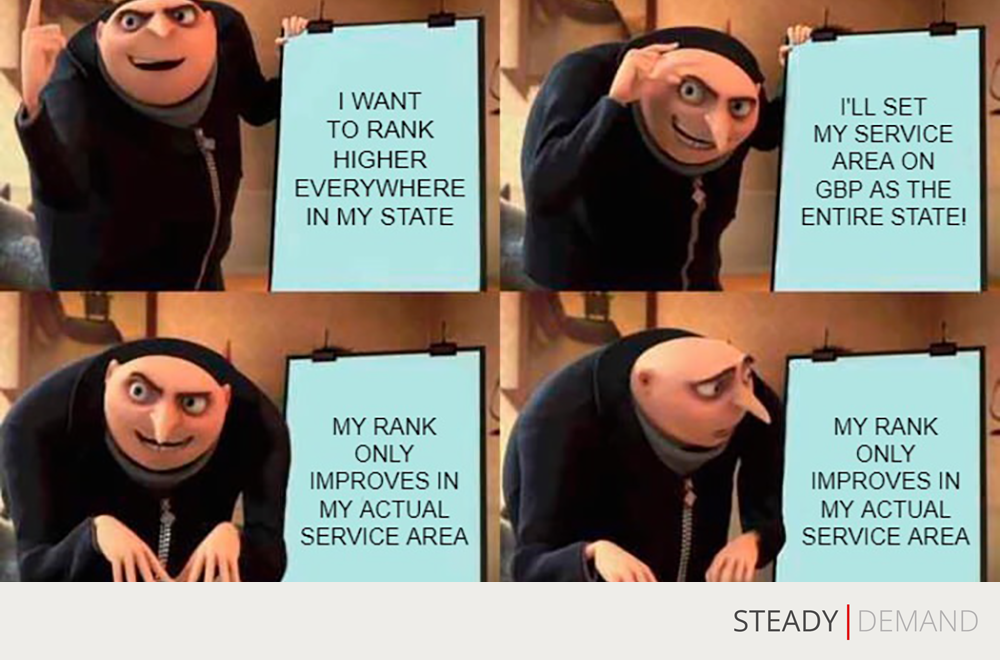 Setting a service area is only the way to go if your business model supports it – but it won't help you rank. For example, if you have a pizza shop and do deliveries in an area, set it up as a service area that matches where you actually deliver – setting up for the entire state will not improve your rank in other cities outside of your actual service area.
The bottom line is that as we sit right now, your ranking is mostly determined mostly by the address you are using to verify your business. Therefore, if you want to rank in a certain metro area, you should have a verified address inside the boundaries of that city.
Myth Three: Purchasing Ads
There is a good reason to purchase Google Ads – to attract new customers. One reason not to purchase ads? To increase your rank. This myth has been absolutely tested to death but still lives on in the organic SEO space.
Myth Four: Keyword Stuffing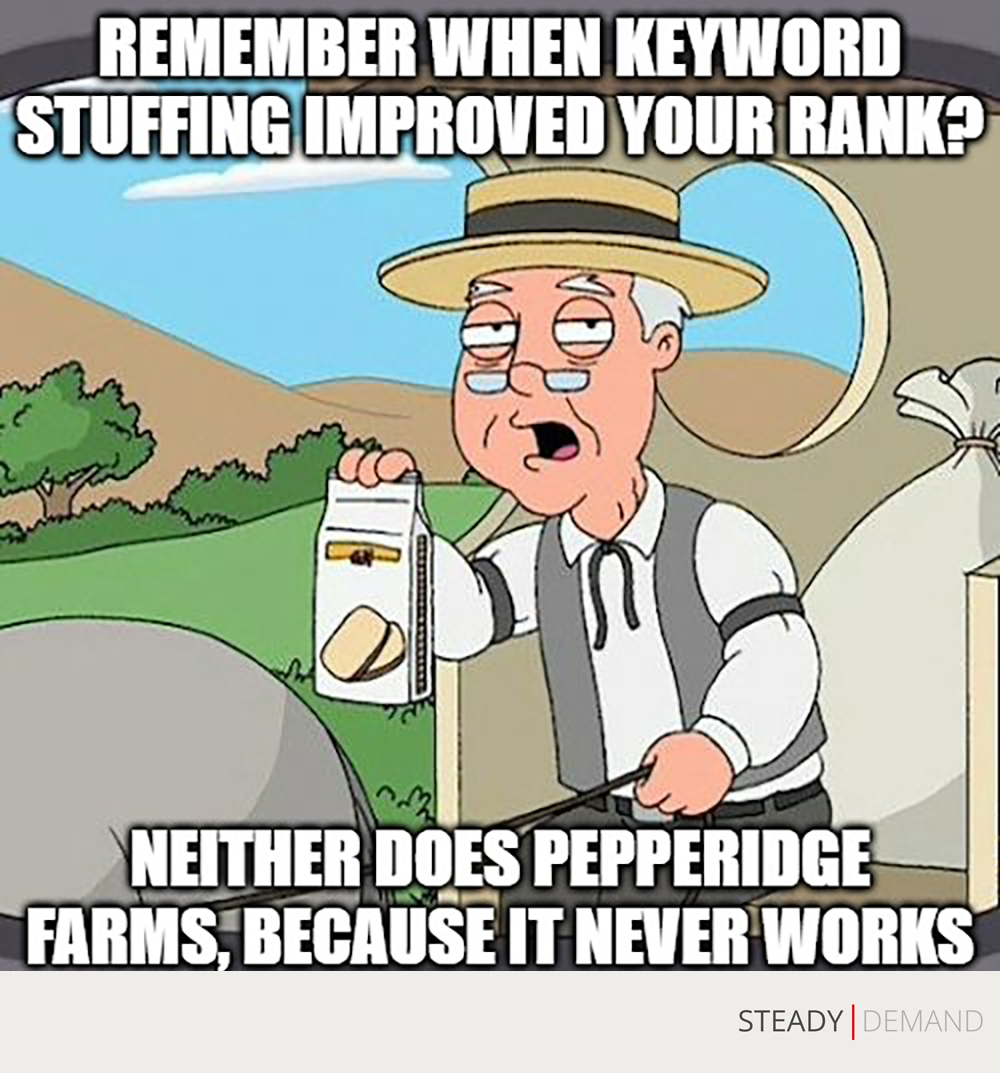 This is the thing I shake my head at when doing Google Business Profile optimization work. I look at a profile and see keywords everywhere! While it's important to have your keywords appear somewhere in your GPB listing, shoving them in every single sentence in your description (or on every single page on your website, for that matter) doesn't do you any good.
I will say it again, once more for the people in the back – keywords will not help in your:
Description
Products
Services
Labels
Store Codes
GBP Website
Review Responses
Message Responses
Photo Names
Address
Posts
Myth Five: Geotagging and Adding EXIF Data to Images
This myth simply needs to be buried and forgotten. While they can help from an accessibility standpoint (such as people using a screen reader), adding extraneous data to images and uploading them to GMB does not increase your ranking. Period. Local Marketing Institute has a great article on this very topic that you can check out for yourself here.
Myth Six: Keywords in Review Responses
I know I covered this a bit up above in Myth Four, but I'm going to state it once more: please, please do not stuff keywords into your review responses. It will not help you rank
It's easy to understand where the logic behind this one comes from – keywords in reviews will actually help you rank for those keywords. Just focus on responding to the review and care about how new prospective customers see your response.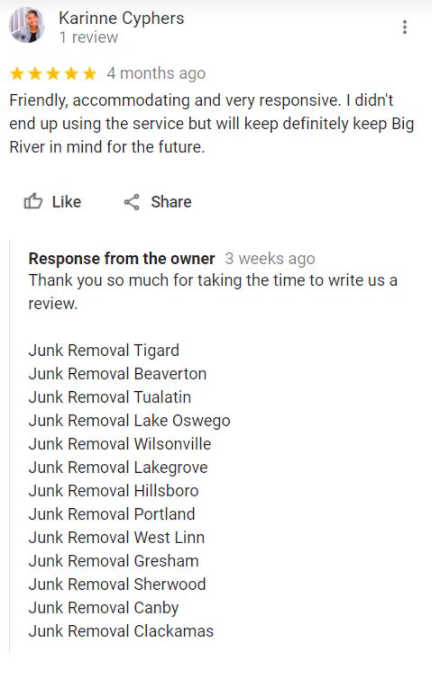 What Can You Do?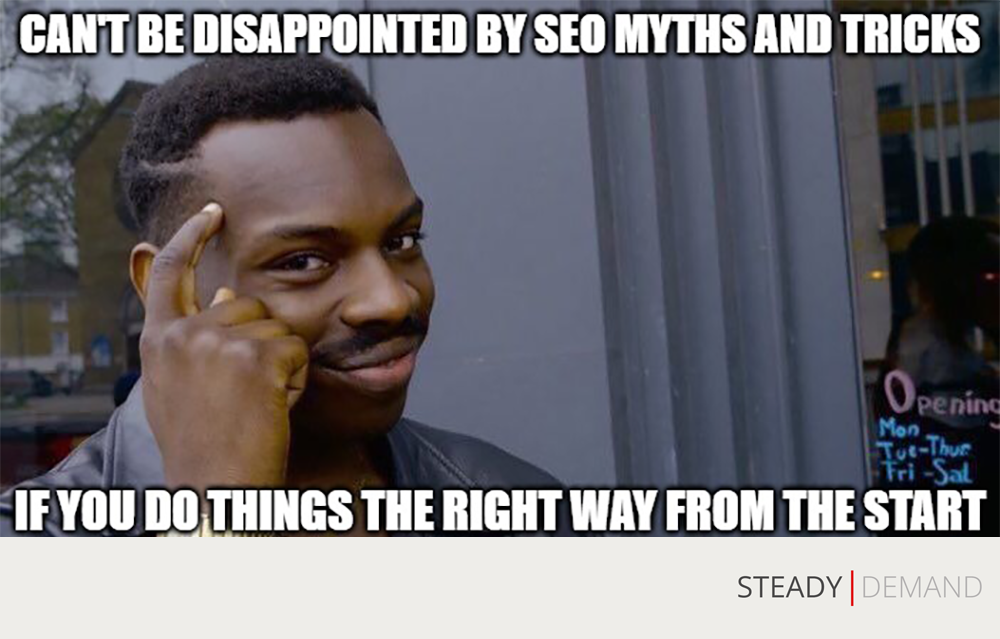 But it's not all bad, folks – trust me. There are some things you can do that can help boost the visibility of your Google Business Profile. It's nothing magical and nothing that will take you from the third page of the results to the number one listing, but they are tried and tested efforts that can make a notable difference over time.
Keeping Your Primary and Secondary Categories Up to Date
Your Google Business Profile is allowed only one primary category, and as you might imagine, it's important to select the right one. Several are very similar (e.g. – Waste Management Service vs. Garbage Collection Service), and it's worth it to keep an eye on your competitors and what they are listing as their primary versus their secondary categories.
Actively Managing Your GBP Listing
If you've done all the work of setting up your Google Business Profile correctly, congratulations – but that's only half the battle! The other half, and one that can have an appreciable impact on rankings, is to be active. Respond to your reviews in a timely manner. Add posts regularly and be sure to include photos. Add new products and services if applicable. And, of course, fill out every section possible of your GBP listing.
Working Keywords into Reviews from Customers
The importance of Google Reviews in your rankings can't be overstated. In addition to simply having lots of five-star reviews, though, try to encourage your customers and fans to work in your relevant keywords into their reviews. It helps!
One of the best ways of doing this is to guide your client (not tell them) on what to put in a review. An example of this can be as simple as below:
Please write a review about your experience with us. The review is not for us per se, but for those who are thinking about doing business with us. If you can answer some of these questions while writing the review, we would greatly appreciate it..
What service/product did we help with?
How was the service/experience?
Who helped you?
Did we set expectations and deliver?
Weer we prompt in providing a solution?
Where was this service performed (location)?
Keywords in Your Business Name
This one you have to be careful with. Google actually has fairly strict guidelines when it comes to adding keywords to your business name…however, if done correctly and within their rules, it can actually help a bit. In fact, we think this is so important we created a service to help with this strategy.
Essentially, it boils down to if your competitors are putting keywords in their name and it is helping them unfairly outrank you, then you can (and should) level the playing field by doing the same. But you've got to do it the right way! Let them get suspended while you are in compliance.
As a quick example, the last client we did this for added "personal injury lawyer" to their GBP name, and in 24 hours, they were outranking competitors in San Diego in 24 hours and doubled the number of inbound calls. Not too shabby.
Getting Recent Reviews (within the past two weeks)
We mentioned above the importance that Google places on reviews, so it's critical to solicit them from your customers. It's also important to do this on a regular basis as recent reviews (those posted within the past two weeks) can certainly give you a boost.
Getting Quality Local Links
Getting links can be one of the most important SEO activities you can do for a business. I have found that getting links from local websites and citations/directories can move the needle. Get links from your chamber of commerce, a local directory that highlights local businesses.
Increasing Engagement Signals
When all else fails, you can always go the traditional route of getting organic engagement. This can come in a variety of ways, such as people viewing the photos you upload, you responding to the reviews they leave on your listing, and creating regular posts that people can see and interact with (i.e. – click a link back to your site via the call to action [CTA] button).
At the end of the day, beware of what people tell you or try to sell you. If it is a bunch of made up buzz words, run away! Try to follow this simple advice: if it is good for the consumer, it is good for Google.