Google My Business – Should I set a Physical Address or Service Area Business?
Choosing whether to show or clear your address in Google My Business (GMB) is dictated by your business model. It is not a matter of Local SEO tactics. It's a simple decision determined by where you engage with your audience.
GMB is for businesses that make in-person contact with customers. To determine what to do with your address and service areas, simply evaluate where you have face-to-face interaction with your clients. There are only three possibilities:
Physical Location: You interact with customers, face-to-face, at your business address. (E.g. lawyer, retail store, restaurant)
Service Area Business: You deliver your products/services to your clients at their location. (E.g. plumber, on-site IT services, landscaper)
Hybrid: Your business has both a physical location for customer interactions and provides products/services to customers at their location. (E.g. an appliance store with installation service, pizza restaurant with delivery)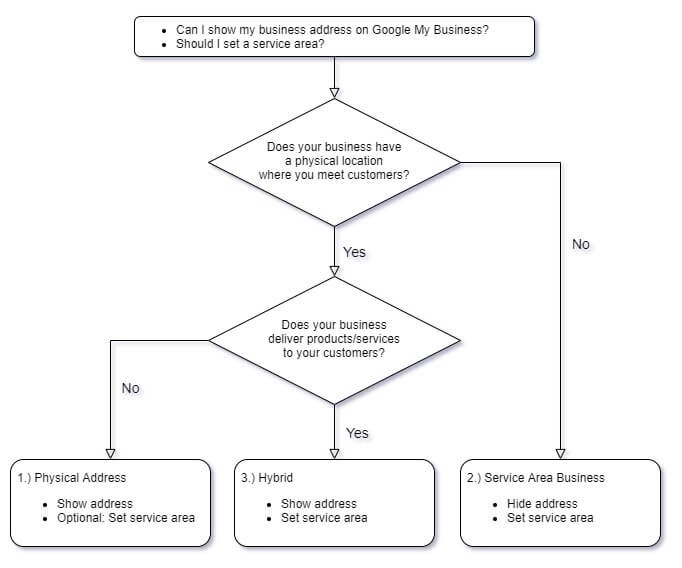 This simple decision flow answers some common questions about GMB.
Q: Do you need a physical location for Google My Business?
A: No. Service area businesses (SAB) are effectively businesses without a physical address.
Q: Can I use Google My Business for my home-based business?
A: Yes. Assuming you don't invite clients to your house, simply set up your GMB listing as a SAB.
Introduction To GMB Service Businesses
Originally, service area businesses were only permitted one listing per state (with an exception made for franchises). However, in 2020 Google updated the Guidelines to a more forgiving and more realistic model.
Now, SABs can have multiple profiles. The requirements are analogous to those for multi-location businesses. Each listing must have a unique service area- no overlap -and its own staff. Again, it really boils down to your business model.
Google also suggests a service area of no more than 2 hours driving time. The intent is to prevent businesses from trying to grab unrealistically large service areas.
It's such a misunderstood topic that Google quietly rolled out a collection of support documents specific to service business in early 2021.
Service Area Businesses On The Map
It's important to recognize a characteristic of any map that is so fundamental and obvious that it's easy to overlook. Maps illustrate the physical location of things (i.e. entities). Historically, those entities would have been roads or bodies of water. Today, in the context of Local Search, those entities are businesses.
GMB's service area feature effectively brings businesses without a physical address to the map.
The feature was actually introduced in Google Places, a predecessor of GMB, back in 2010. Considering that Google Maps was launched in 2005 it's worth noting that it took Google 5 years to roll out the service area feature.
However, the fundamental concept of a map being an illustration of physical locations has not actually been eliminated. While service area businesses don't display a location pin on the map, they are still connected to a physical address in the underlying database.
Research suggests that Google Maps treats SABs as being located at the address used to verify the GMB listing. And so, the fundamental concept of entities on the map having a physical location persists.
Service area businesses not having a location marker is really a matter of presentation. There is presumably some disadvantage to not being represented on the map with a marker, as illustrated below. Note that this is a click-through factor, not a ranking factor.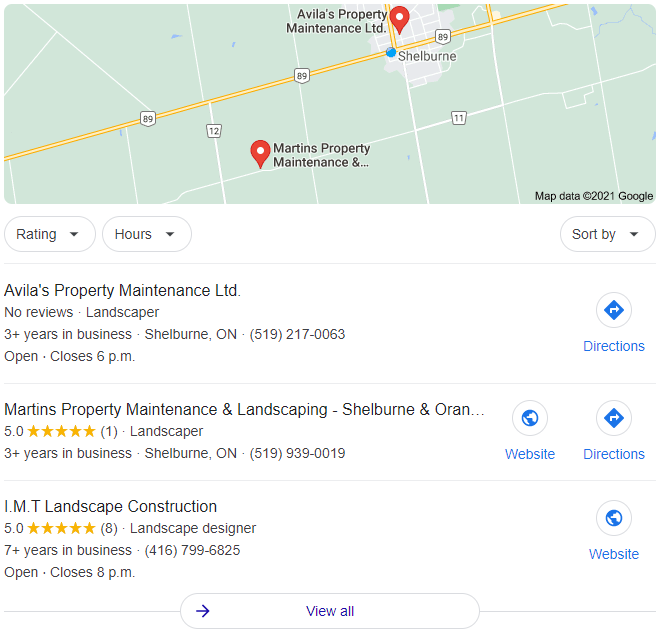 Impact on Rankings
The distance between the searcher and the physical location of a business is a significant ranking factor. (Often called "proximity".)
Google favors businesses that are closer to the searcher. Nearby businesses tend to rank higher in the Maps results. (As a general pattern, not a firm rule.)
This "proximity" ranking is a fundamental part of what makes local search local.
In dense, competitive markets, businesses that should create SAB listings often show their address, hoping to improve their rankings. However, with the understanding that Google still sees SABs as having a physical location, proximity remains a dominant ranking factor. The decision to show or hide your address is not. This reinforces the notion that showing or hiding your address is not a strategic decision, it's just a reflection of your business model.
Regardless, there is some debate among Local SEO experts on the impact on rankings.
Setting A Service Area For A Business With A Physical Location
Adding a service area to a business profile that is already showing an address will not change your rankings.
As for the presentation ramifications, if your business has a defined physical location it will display as a pin on the map. If you set a service area, that does not change. Google will not show both a map marker and a service area for a single business location.
However, on mobile devices, hybrid business profiles will display a pin on the map and may list the service area(s) in a separate field.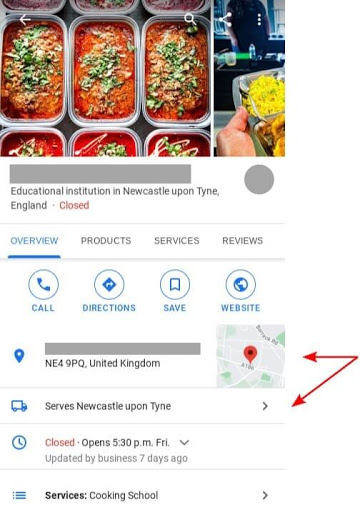 (This is not true across all surfaces. At the time of writing this occurs on Google Search on Android and Google Maps on iOS. These types of inconsistencies are not uncommon.)
How Can You Win As A Service Area Business (SAB)?
We always recommend following Google's Guidelines, to minimize the risk of having your listing temporarily suspended or, worse, completely removed from Google Maps. Not to mention that Google support won't provide help with GMB listings that violate the guidelines.
For what it's worth, if your business is an SAB, then it's likely that your competitors are SABs as well. So even if there is a ranking loss, most businesses in the industry are similarly disadvantaged.
For other competitors that are showing an ineligible address, use the "Suggest an edit" feature on Google Maps to try to have their listing removed. If this proves to be ineffective or too time consuming, consider a contracting a spam-fighting service.