If you're a local business, you know how competitive it is to show up in local search engine result pages (SERPs). More of your competitors are beginning to realize the importance of using local SEO strategies to get ahead in rankings – and this may mean that your business is falling behind.
Additionally, the first page of Google search results is usually full of ads, the Google Local 3-Pack and online directories like Yelp, Yellowpages, MerchantCircle and other online niche directories that take up valuable real estate.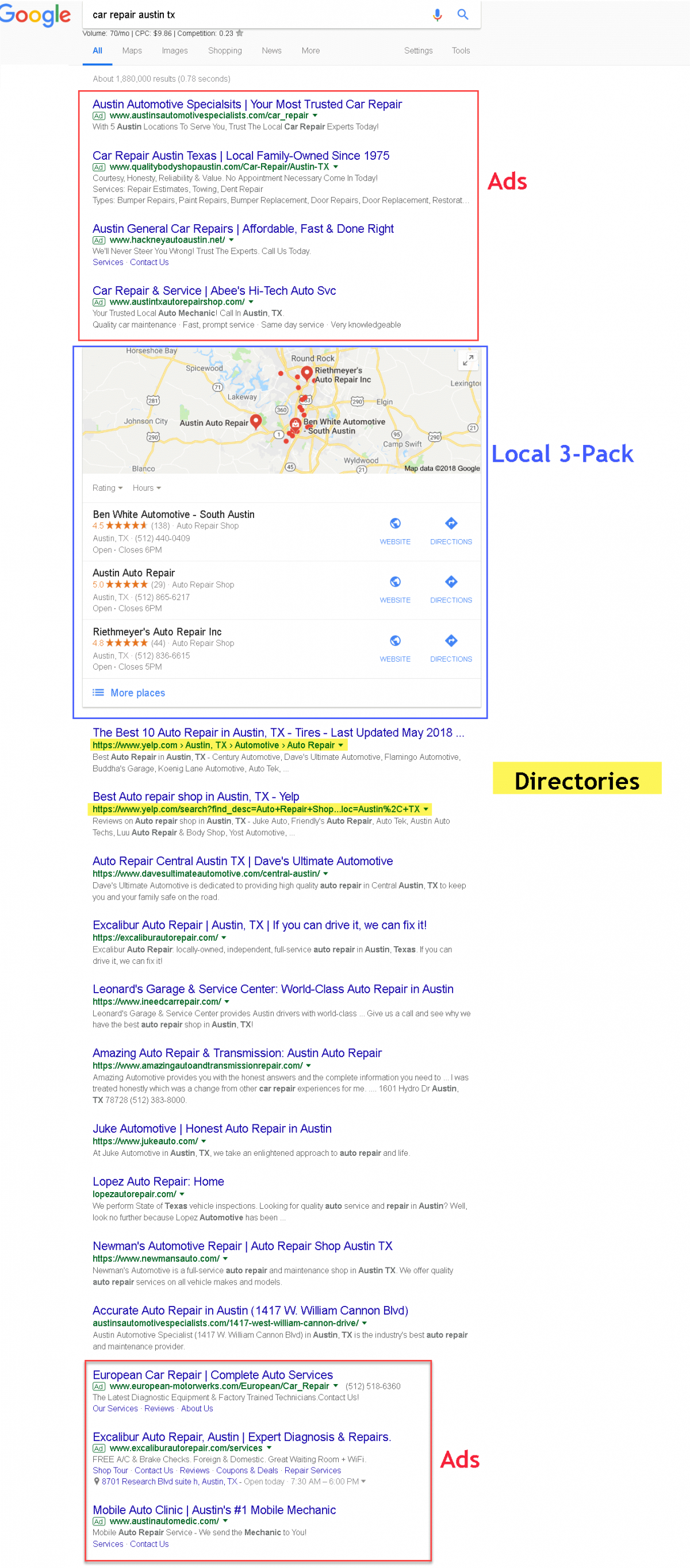 This means that it's more challenging than ever for your business to show up on the first – or even second – page of Google search results. As a local business, what are you supposed to do to get ahead?
How Does Google Decide Local Rankings?
First, let's look at just some of the factors Google considers when it ranks local businesses. Google bases local search results on a variety of factors. Some of those main local factors include relevance, distance, and prominence.
Relevance refers to how well the local listing matches what a person is searching for.
Distance pertains to how far the business is located from the person doing the search. If the searcher doesn't enter a physical location with their search keywords, Google will try to figure out where they're at based on what it knows about their location.
Prominence refers to how well-known a business is. Let's face it, some businesses are more popular than others and Google's search results often reflect this. Prominence also considers the information Google finds about the business on the internet (things like backlinks, blog posts, online directories, etc.)
Google also looks at the online reviews for businesses and that review "score" is factored into local search rankings. That means if a business has more positive reviews, that could help boost a local business' ranking, too. Other SEO best practices also impact local search optimization results.
One way to tie many of these ranking factors together is through a FREE service that Google offers to every qualifying business – Google My Business (GMB). Google My Business is a free listing that business owners can use to promote their local business on the search engine giant.
If you build out a solid and compelling Google My Business listing, that listing can improve your chances of showing up ahead of your competitors in local searches. Want to learn how?
Getting Started with Google My Business
So how do you stand out above the crowd of competitors?
First, every qualifying business should claim their Google My Business listing – if not, they're missing out… big time.
To check and see if your business is in Google My Business' database already, visit Google My Business and click the "Start Now" button and enter your business' name.
If your business has already been claimed and/or verified it will prepopulate in the field. If not, then enter your company's name and follow the prompts to go through the claiming and verification process.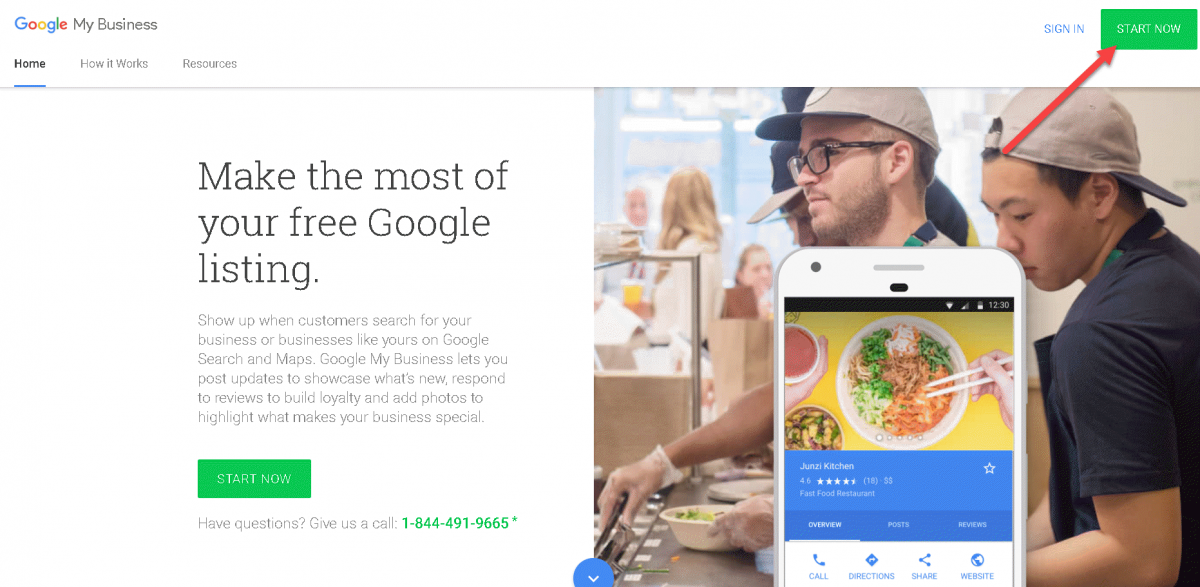 It's important that you include all the information Google asks for and that your business' name, address and phone number are listed correctly – the way you want them to appear everywhere online.
If you know that your Google My Business listing has been claimed – awesome! Now you just need to login to your Google My Business dashboard and make sure that you've filled out all the basic information:
Business Name, Address, and Phone Number (TIP: Make sure it's a LOCAL phone number and no P.O. Boxes or virtual office spaces!)
Business Category/Categories
Hours of Operation
Types of Payment Accepted
Website URL
Etc.
Make sure you complete all the fields that Google asks for.
Next, you're going to start using some of the newer features that Google has to offer. Let's take a look at just a few of them.
Business Description
Google recently announced that businesses could add a business Description to their Google My Business Listing. This is great news for those of us who have been missing this feature.
Use this opportunity to carefully craft a business description that tells people why YOUR business is better than the competition and what you have to offer.
Your business Description has a character limit of 750, but only the first 250 characters will show in the Knowledge Panel — so make sure that the most important points about your business are in the first 250 characters.
Think of it as an 'elevator pitch.' Don't waste these characters on words like "family-owned," or "locally-owned" – no one cares about that stuff anyway.
Don't use ALL CAPS and do not use this space to make big promises that aren't true ("We have the best selection of bass fishing supplies in the world.")
It's also not the place to promote a sale or special offer. (Posts are the place for those types of things – and we're going to talk about Posts in a minute.)
Your business Description is also not a place to keyword stuff. Don't do it. Not only will it make you look foolish to the people that are reading your Description, but Google doesn't use the business Description as a ranking factor anyway – so you're wasting space for no reason.
Stay on point with your Description – make it amazing!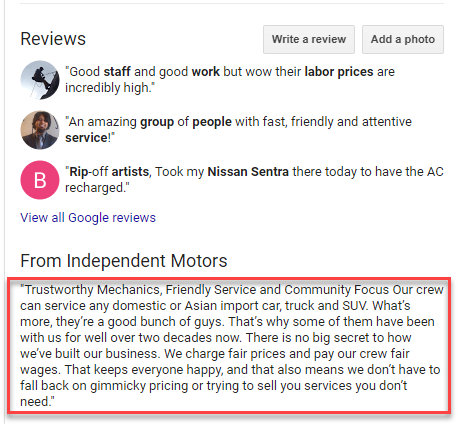 Now the big disadvantage of the business Description is that it shows up at the bottom of the Knowledge Panel.
When the Description feature first launched, the business Description showed up towards the top of the Knowledge Panel — which made perfect sense – but then it suddenly moved to the bottom under the Reviews.
NOTE: Why Google made that change we may never know, but it's the wrong move in my book. People want to see what a business is about and they shouldn't have to scroll to the bottom to see that information. Hopefully, Google will get wise and move the Description back to the top again. We'll see.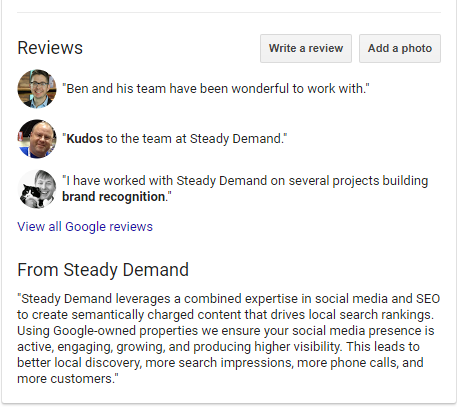 Google has provided you with some guidelines to follow when writing your business description: Google Business Description Guidelines. It's very important you follow these rules because Google does review your business Description.
Adding your business Description is easy:
Log in to Google My Business
Click on the "Info" button on the menu bar
Under the section labeled "Add business description" click on the pencil icon and a menu will come up where you can enter a brief description of your business
Remember this is your elevator pitch. Keep it short and on point.
Photos and Videos
The internet is all about information. Up until recently, most of that information was text-based, but more and more this information involves photos and videos.
Google is keeping up with the times and allows you – and your customers – to upload photos and videos from your business! As usual, Google offers guidelines, but here are some of our tips on photos and videos.
Don't use stock photos. Google wants the photos to be taken at the business. Stock photos or videos taken by others that are not relevant to the business may be removed by Google.
Make sure that your photos and videos are high quality. Photos should be simple, direct, in-focus and well-lit, with bright, vibrant colors. Photos should be at a minimum resolution of 720px wide by 540px tall. Make sure they're saved in JPG or PNG format, so they can be easily uploaded to Google.
For videos, Google accept the following file formats: AVI, MP4, MOV, FLV, WMV, MPG, M4V, MKV, M2TS, and MTS (they do not accept MKV or MPEG.) The maximum size for videos is 100 MB.
Videos should be a maximum of 30-seconds long, but we've uploaded longer videos. However, with the short attention span of your audience, it's best to keep the videos short.
Encourage your customers to post pictures and videos on your Google My Business listing – it shows Google that your customers are engaged with your Google My Business listing (and that could earn you some bonus points with Google).
AGENCY TIP: If you are responsible for optimizing Google My Business listings for your clients, you probably already know how difficult it can be to get pictures from them to upload to their GMB listing. Give localPics a try. This tool sends your clients a text message reminder, letting them know that it's time for them to send photos. The owner (or whoever the "photographer" is) then takes pictures or selects some pictures of the business from their phone's photo gallery and the pictures are automatically uploaded to their Google My Business listing!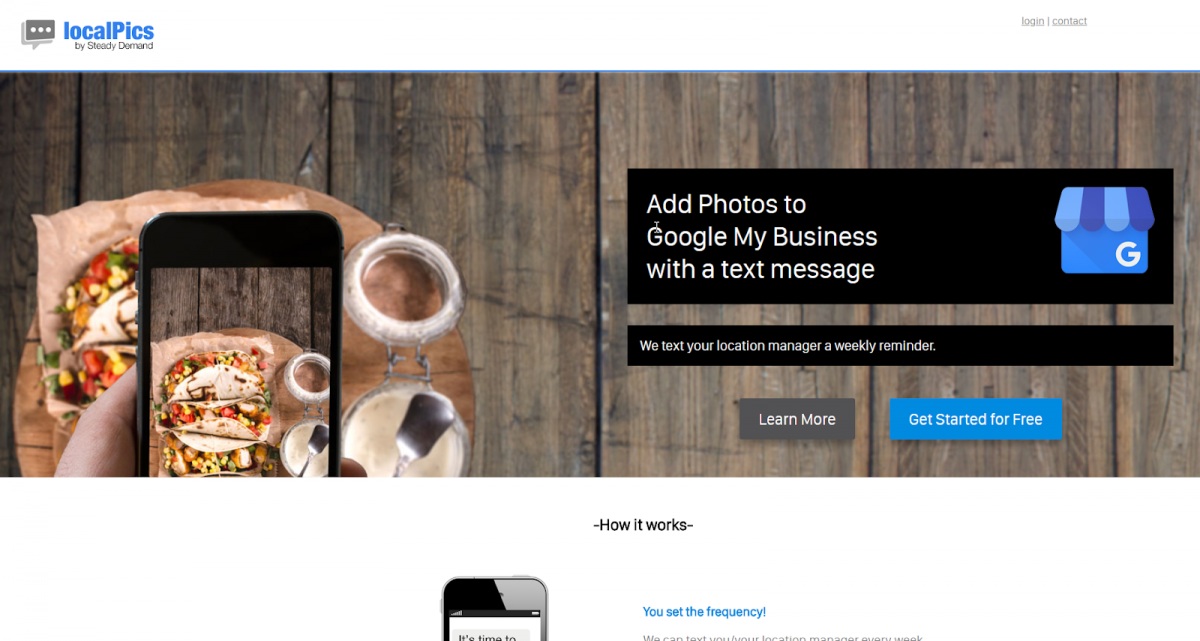 Posts
Posts are almost like mini-social media posts or ads that show up in your company's Knowledge Panel when your business is searched for.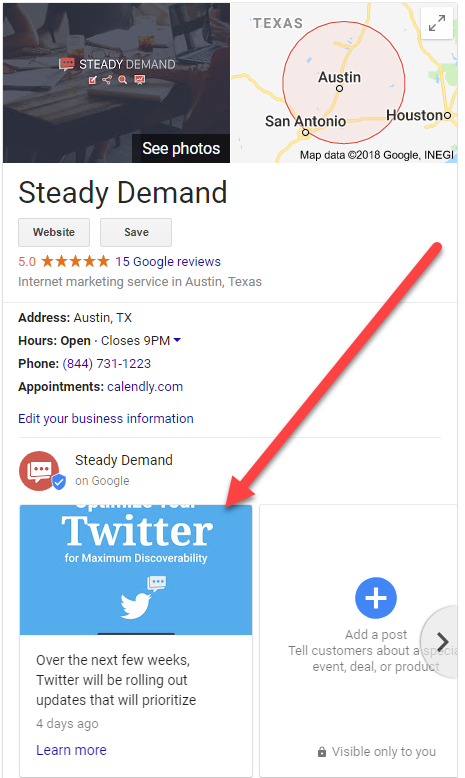 Google Posts are awesome! For a full breakdown of Google posts, read our Ultimate Google Posts Guide. We're only going to include a few highlights and tips below, but there's a lot more to them than can be contained in this post.
You can make all sorts of posts:
General "What's new" Posts
Event posts (like a tradeshow or conference)
Sales or promotions
Products
Posts stay up for seven days, but if it's an "event" post, the post will come down after the event is over. Keep in mind that people can still see other posts you've made – they can scroll through and see them by clicking the "View All" icon next to your latest Post.
To get started with Posts, log in to your GMB dashboard and you'll see the Post option on the left-hand side. Click on that to get started creating your post: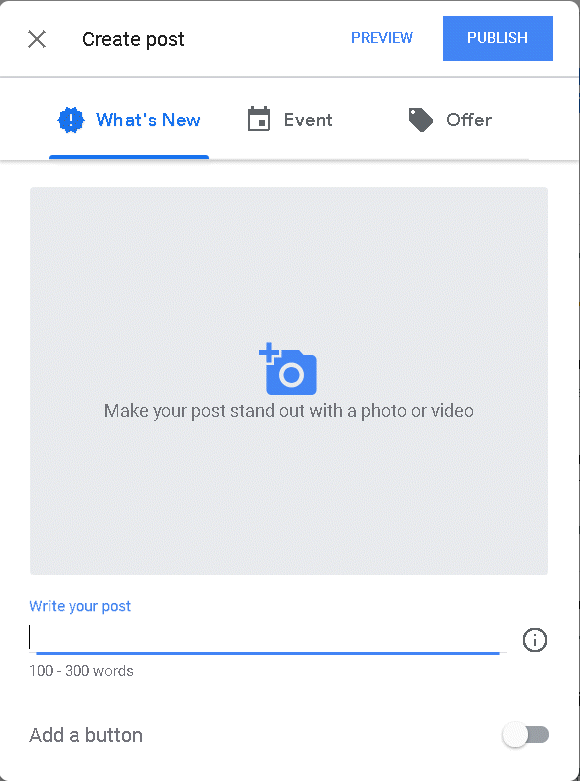 You can include a photo, a description of up to 300 words and a call to action (CTA) which can include a URL link.
Photos should be simple, direct, in-focus and well-lit, with bright, vibrant colors. At a minimum resolution of 720px wide by 540px tall, in JPG or PNG format.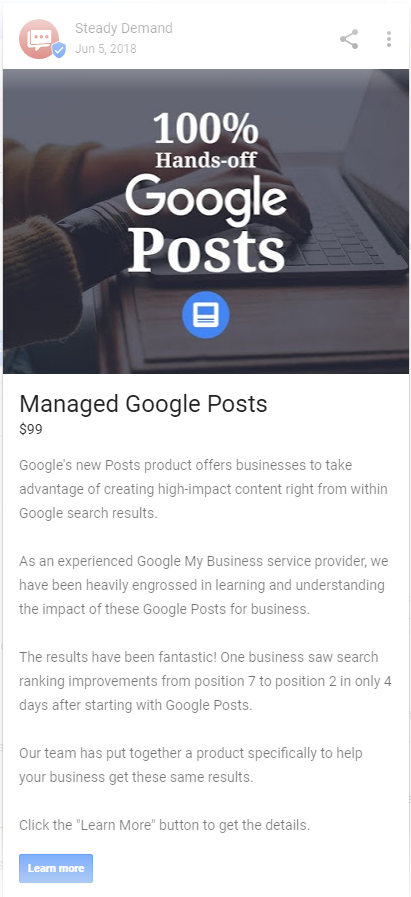 Including a CTA is very important! (Posts are a great way to get people to actually visit your website!) So use the CTA options that Google gives you.
Menus/Services
Google allows restaurants to list their menu items right in GMB. That means that if someone is looking for a great restaurant, they can check out your menu right from the search engine!
If you're a restaurant, this option will automatically appear for you:
You can add a Section Name (i.e. Lunch, Dinner, Appetizers) and then list the items within that "Section." This allows you to build out your complete menu!
For non-restaurants, Google has made this feature a Services list.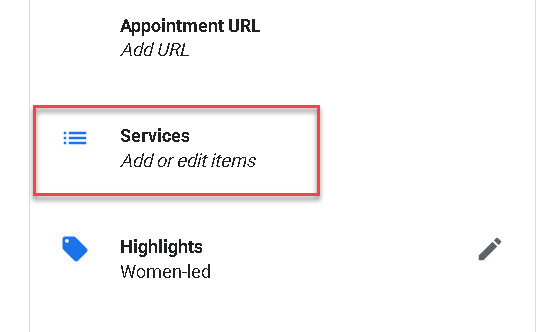 So you can go ahead and list the services that you offer. This is great for oil change companies, spas, salons – and even digital marketers! You will want to include pricing.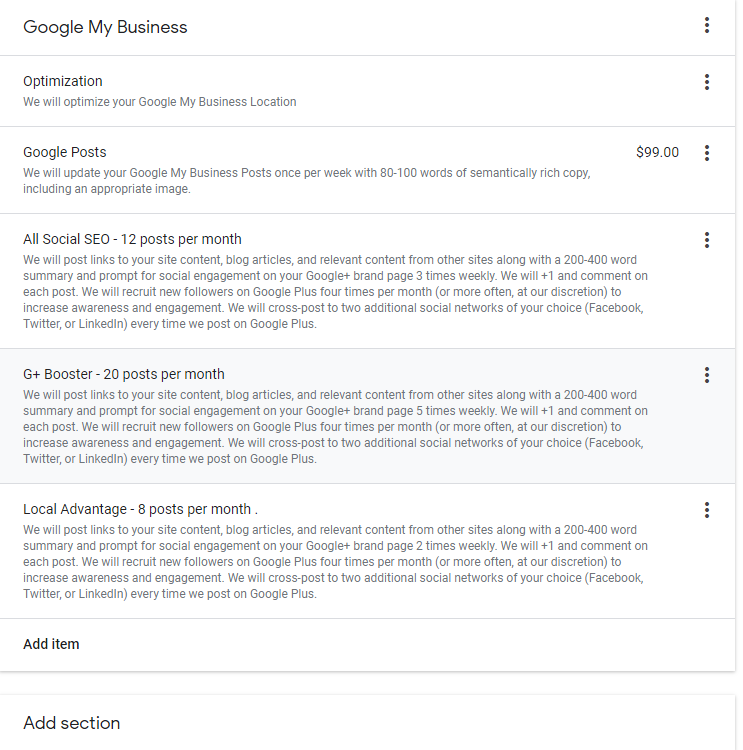 Booking Feature
If you own a business where your customers need to schedule appointments, Google's Booking button feature is perfect for your business.
Check to see if you're already using one of the integrated scheduling software Google has partnered with. If you are, people can schedule an appointment with you directly from your Google My Business listing.
Google is adding new scheduling partners all the time so be sure to check this list frequently to see if your scheduling software has been added.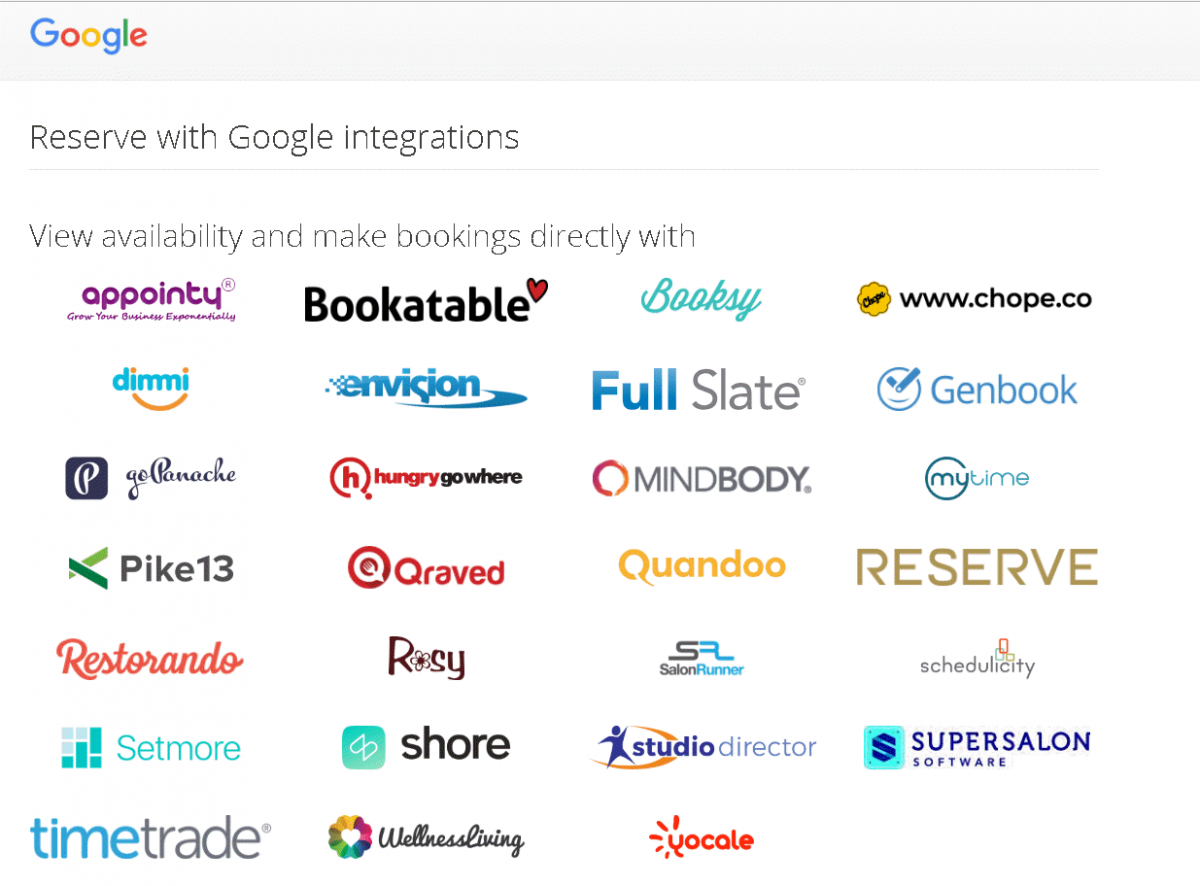 Question and Answer
Questions and Answers are a great way to engage with your customers (or potential customers) proactively.
Here's the catch with Google's Q&A feature: anybody can ask a question and anybody can answer a question. Yes, you heard me right.
This means that if a question is asked about your business on Google My Business, you better be the one out there answering it! That means proactively checking your Knowledge Panel for questions, answering them and flagging answers that are incorrect.
But this is where you can really beat your competition. Many business owners don't even know that this feature exists – so they have questions out there just hanging–either being answered by someone other than a company representative or going completely unanswered.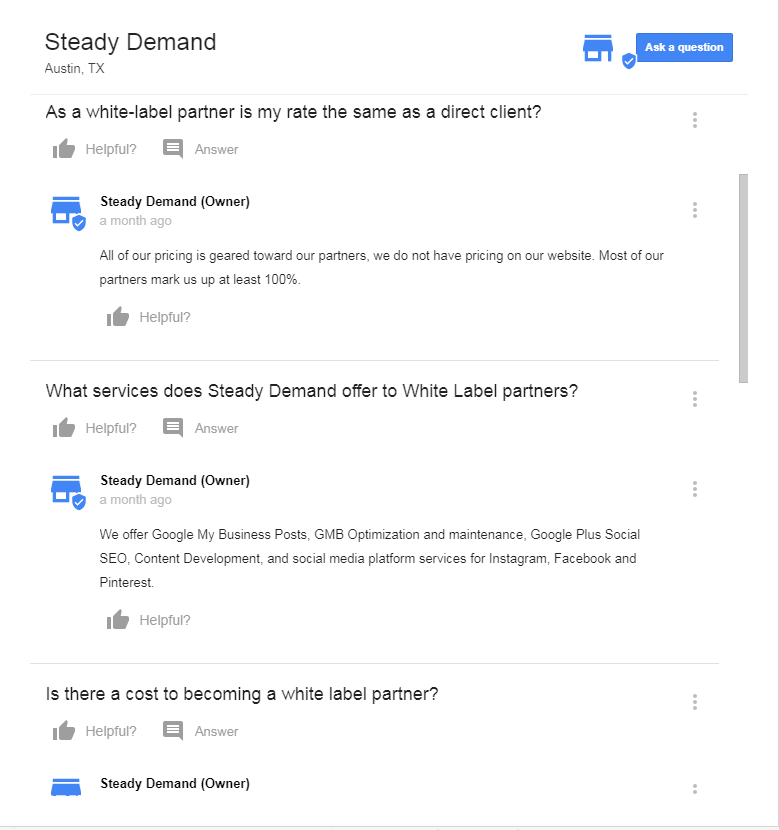 You want to proactively answer questions that are asked. Then go one step further by adding frequently asked questions to the Q&A list. This ensures that the questions people are most likely to ask are already answered on your GMB Q&A section!
More Google My Business Features
Guess what? There are even more Google My Business features that we haven't even touched on yet.
Look for future blog posts where we will cover some of the other GMB features and will focus on some of the more popular ones in depth. (Hint: if you subscribe to our email list below, you'll be the first to know when a new article is published!)
In the meantime, get started using these Google My Business features and start beating your competitors. xyadrabyer us