Have you heard about whitelabel SEO services previously, and just never knew what that meant? Or maybe you've just never taken the time to look into it as an alternate revenue stream for your marketing business?
Well in this article, we're going to take you through everything you need to know to properly consider a white label SEO partnership for your business.
Before anything else, let me get this out of the way first: SEO is not a new thing. It has been around for a long time, and will still be relevant as long as there are search engines.
Search Engine Optimization is a study on how we can use the nuances and guidelines that search engines (such as Google) give us in order to get websites to have a higher foothold on the search engines. It involves a specific set of skills that most people doing online marketing need to have. It involves being ready to tackle data on a daily basis.
A person needs to be updated on the best practices out there and apply them to their digital campaigns in order to fully succeed in the industry.
In short, SEO is not magic. It's science, it's a skill, it's a passion.
Whew, now that we've gotten that out of the way, let's get down to what we're really here to talk about: white label SEO and how it can grow your revenue fast.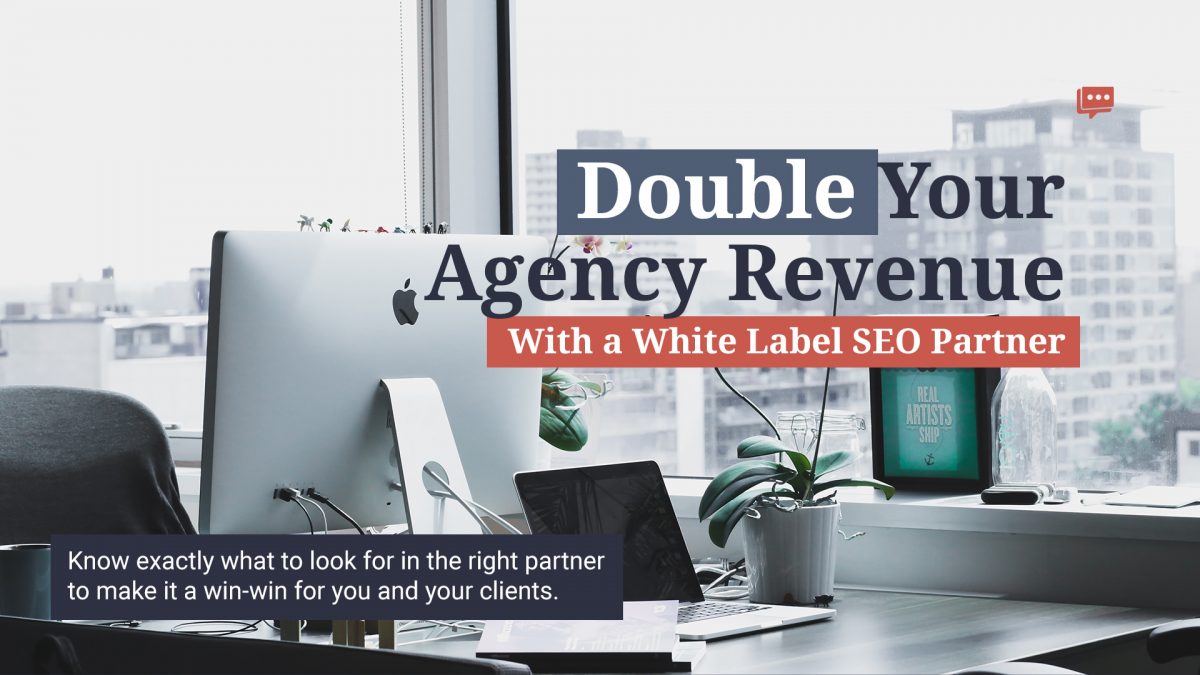 What is "White Label SEO?"
Most SEO agencies out there sell these services directly to clients.
These companies often perform multiple services such as keyword research, content creation, link building, outreach, social media integration, and so on. These services are vital to a well-rounded digital marketing campaign.
But with white label SEO, it is different. Basically, this is the process of an agency partnering with an SEO company who will do work on behalf of the agency for the agency's clients.
This means that you (the agency) are the one talking to the SEO company, and you are also the one talking to your client as well. You are a middleman of sorts, and you get to dictate which services you want to get for your client, as well as the price you actually charge the client.
In simplest terms: you contract the SEO company to perform services for your clients. You handle all the client relations and bill the client accordingly.
Which leads me to our next section…
How much should I be charging for white label SEO?
There is a fine line involved with this, but it comes down to how much work you are putting in on top of the SEO work.
If you are just looking at being the main point of contact between your client and the SEO company, then a 40 to 50 percent markup is common.
However, if there is extra work involved on top of the SEO services provided then a 100% markup is reasonable.
Let's say, for example, you requested a social SEO service. You may have the SEO company creating all the keyword-targeted social content, but you still handle most of the customer service activities – like answering inquiries and questions on a Facebook page – for your client.
Just remember that you should weigh in your own work as well in order to justify charging a higher price.
Will it cost me to become a white label SEO partner?
No there isn't, and there shouldn't be.
Why? Because you are already getting charged by the SEO company for the services. Any charge on top of that is practically a shakedown. You are already bringing in business to their company, so you should just pay for the cost of the services that you are going to offer.
Good companies don't charge extra for their services as a white label SEO partner. They will be providing excellent SEO services without an extra cost, enabling you or your own agency to gain more money for less work.
80/20 Pareto principle. Isn't it nice?
How do I know if I am partnering with the right white label SEO company?
Good question! As SEO becomes more and more popular due to the transition of businesses online, the number of so-called "SEO companies" out there multiply as well. And most often than not, these people think they know what they are doing, even though they just read something online or are still clinging to outdated strategies.
The best SEO companies out there should be able to show the following key strengths:
1. Case Studies
Companies should be able to provide case studies that show how their strategies and services had a positive impact on their past clients.
These studies should be clear, concise, and backed up with data. Figures should show a positive rise in whatever aspect they are targeting, whether it's traffic, rankings, clicks, or leads.
The data should also show a time frame on when milestones are achieved.
2. Easy to work with, reliable, and accessible
Choosing a right white label SEO partner means that you would be working with them for a while. You should go to a company that is easy to work with, in terms of schedule, work ethics, and deliverables.
They should be able to reliably do anything that is scheduled within a certain time frame. Their work ethics should match yours since this will be a deciding factor in producing quality work.
And last but definitely not the least, is that all promised deliverables should be passed on time.
They should also be accessible at reasonable hours, so if anything surprising comes up, you will be able to handle it efficiently.
3. Proven Success
This can be proven in conjunction with the case studies mentioned earlier.
If you are going to bring business to a company, then wouldn't you like to partner up with one that can achieve positive results? This ensures that your client can get what they want, and what you are charging is definitely worth the results.
4. White Hat Methodologies
Ah, the infamous white hat vs black hat controversy still applies when choosing a company to do white label SEO for you.
For those who are unfamiliar, white hat is the term for SEO practices that are seen as moral, honest, and favorable in the eyes of search engines.
Black hat refers to tactics and techniques which may prove effective, but carry with them questionable morality, and are frowned upon by professionals and search engines–often ending in penalties and greater long-term losses than short-term gains.
In hindsight, it seems very tempting to go for companies that can produce results in a very short amount of time. But generally, if you want to establish yourself as a big brand in the industry, and if you really care about your clients, then choosing a company that employs white hat principles is the best choice.
White hat strategies are great for long-term business goals. These are the ones that do not pose any threats of getting flagged by search engines in the future. Also, white hat strategies truly focus on an organic influx of results, meaning that these will work even though your contracts with either the client or the company is over!
5. Fair Pricing
This is a no-brainer.
You should choose a company that doesn't bamboozle you with providing "Meh" results but charging you a million bucks. Choose a company that can give you the best results possible and charges a fair price for it.
6. Can provide assistance with marketing materials
We mentioned before that SEO is only a part of a series of skills you need to have in order to be a good digital marketer. And a good SEO company knows this.
That is why if you need assistance in any digital marketing materials you need, they should be able to provide.
Do you need a sales sheet to hand off to your sales team's next presentation? Need copy for a new landing page to sell your newest SEO services? How about a slide deck presentation of said SEO services so you can effortlessly present them to new or current clients?
A good white label SEO company should be able to provide these to you. Or at least, they should be able to point you in the right direction!
7. Google My Business Experts
Everyone knows that you can't talk about SEO without talking about Google. There's really no contest, Google owns search, and therefore in-depth Google knowledge is par for the course for any SEO firm.
With Google My Business in particular, it's important for a great SEO company to know it inside and out. This is especially important for local businesses trying to rank in their local markets.
Without extensive Google My Business knowledge, even the most valiant of efforts can fall short. So make sure you're aligning yourself with Google My Business experts.
Where can I find a white label SEO partner?
Well, it just so happens that Steady Demand is a white label SEO company. (But you already knew that, didn't you? You're smart.)
And as far as the criteria for finding the right white label SEO company we mentioned above, we pass with flying colors.
Steady Demand has been working with many different brands and agencies to optimize their digital marketing efforts. We give clients the necessary edge to compete in whatever type of industry they are in.
Here are some studies that we did proving our success in the SEO field:
Local Business Social + SEO Case Study – Elk Springs Resort – this case study involves us doing a highly targeted and localized social media marketing and SEO campaign. This is a real challenge since we had to clash with other businesses in a fiercely competitive environment. The results speak for themselves though!
Local Social + SEO Case Study – Williamsburg Therapy Group – another local social and SEO case study. This involved a business that's opening up a new location and they want to have search presence in the least amount of time possible, without slowing down the growth of their other locations. Tricky, but we did pull it off!
Google Plus Marketing Case Study – 34SP.com – in here, we used Google Plus marketing in order to raise exposure for a certain brand. Other SEO companies undermine the usefulness of Google Plus, but the results we achieved stand to differ in opinion. Definitely, something you should check out, especially since this might probably an untapped gold mine for you or your clients.
How do I partner up with you for your white label SEO services?
White label SEO has always been a forte of us here at Steady Demand.
We provide one of the best services when it comes to growing your client's site exponentially within the shortest time possible. We have been doing this for years now, and the results speak for themselves.
By partnering with Steady Demand, you can generate extra revenue for your agency without any added cost.
Grabbing this opportunity is easy, just contact us through our contact page.
If you want to talk to someone and get more information on how we can help you, give us a call by clicking on those numbers at the top of your screen.