The Google search result pages have evolved over the years. Here's what you need to know about one of its biggest innovations, Knowledge Panels.
If you've been in a position where you've concerned yourself with a business' placement in those search results, you've no doubt taken note of the changing layout as the service evolves.
Take, for example, the ever shifting placement of paid ad spots and determining where you site now sat in relation to being "above the fold" on the page. However, Google's search service results have gotten more involved with time.
Now there are Top Stories panels, a section for a company's most recent tweets, and a map showing store locations if applicable. That's a lot of screen real estate getting taken up. It accounts for a little more than half the page.
But, what about the panel on the right? It's pretty dense with information.
One might say that having that box filled with pertinent facts about a business is a must-have when trying to market on the current incarnation of Google.
Well, one would be correct in that assessment.
If you're marketing or own a brand that gets most of its business locally, the Google Knowledge Panel is a critical part of your web presence and has been since its introduction in 2012. If you still haven't taken the steps to establish one for your local brand (or you're just getting your business off the ground) 2017 is the year to tackle this.
Why is it so important?
Nate Dame has an interesting write up in Search Engine Land on the increasing dominance of the Knowledge Panel. Essentially, screen real estate that would formerly be available for organic search results is now being given to Google products like the Knowledge Panel, so ignoring it is no longer an option.
Dame's key idea on the Knowledge Panel:
"These panels are a powerful commentary on your brand. Not only do buyers tend to trust information from third parties, the Google Knowledge Graph is training users to look for and trust what they read in these panels.
If the information in your brand's Graph panel is accurate and complimentary, it is a welcome feature. If it is not, you have (some) power to update your brand's Knowledge Graph information and content as necessary."
Having a Knowledge Panel is critical. So, what's actually in it?
What's in the box?
It's important to understand what actually makes up the Knowledge Panel. If you decided after that introduction to do some Googling for examples of the Knowledge Panel, you probably noticed it doesn't look the same for all businesses.
That's because there are two main types of Knowledge Panels: local and brand.
Let's look at brand first because it's the most expansive and involved.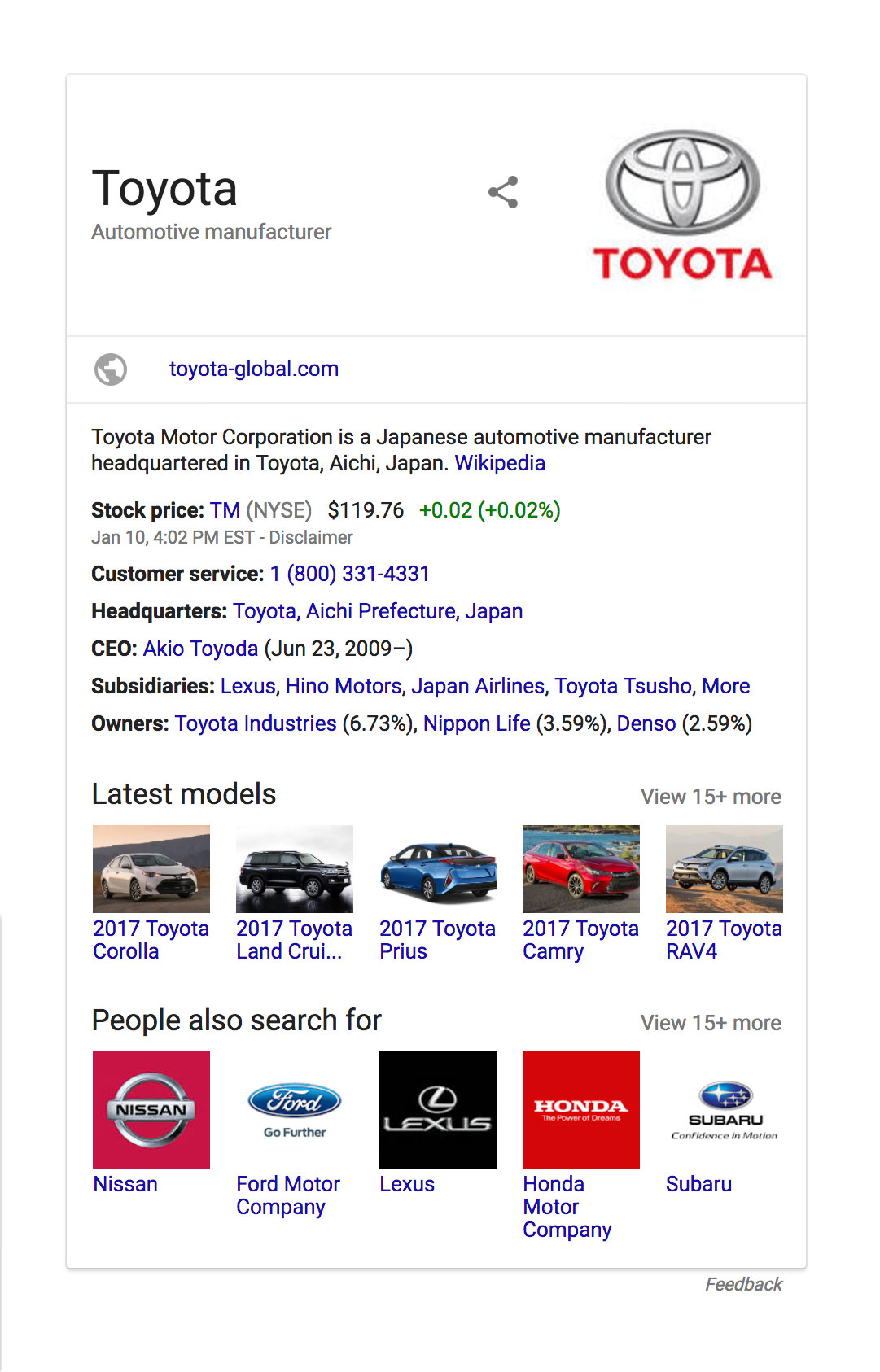 Most businesses don't get brand Knowledge Panels because they simply aren't large enough. Toyota, for example, gets a brand Knowledge Panel when you search for their name in Google.
Here's another example from by favorite source of caffeinated beverages, Starbucks: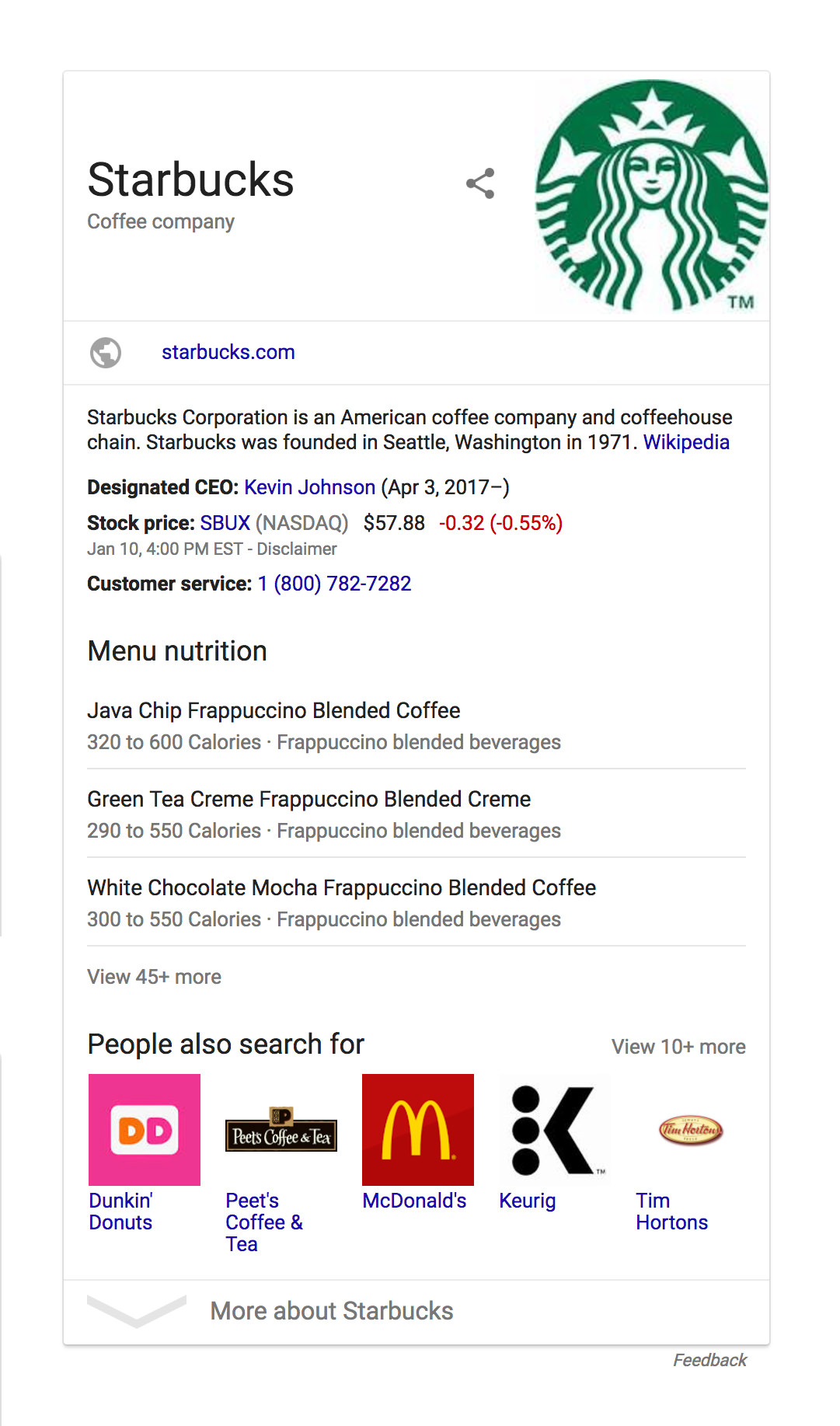 And how about one more example from a major broadcast network, NBC: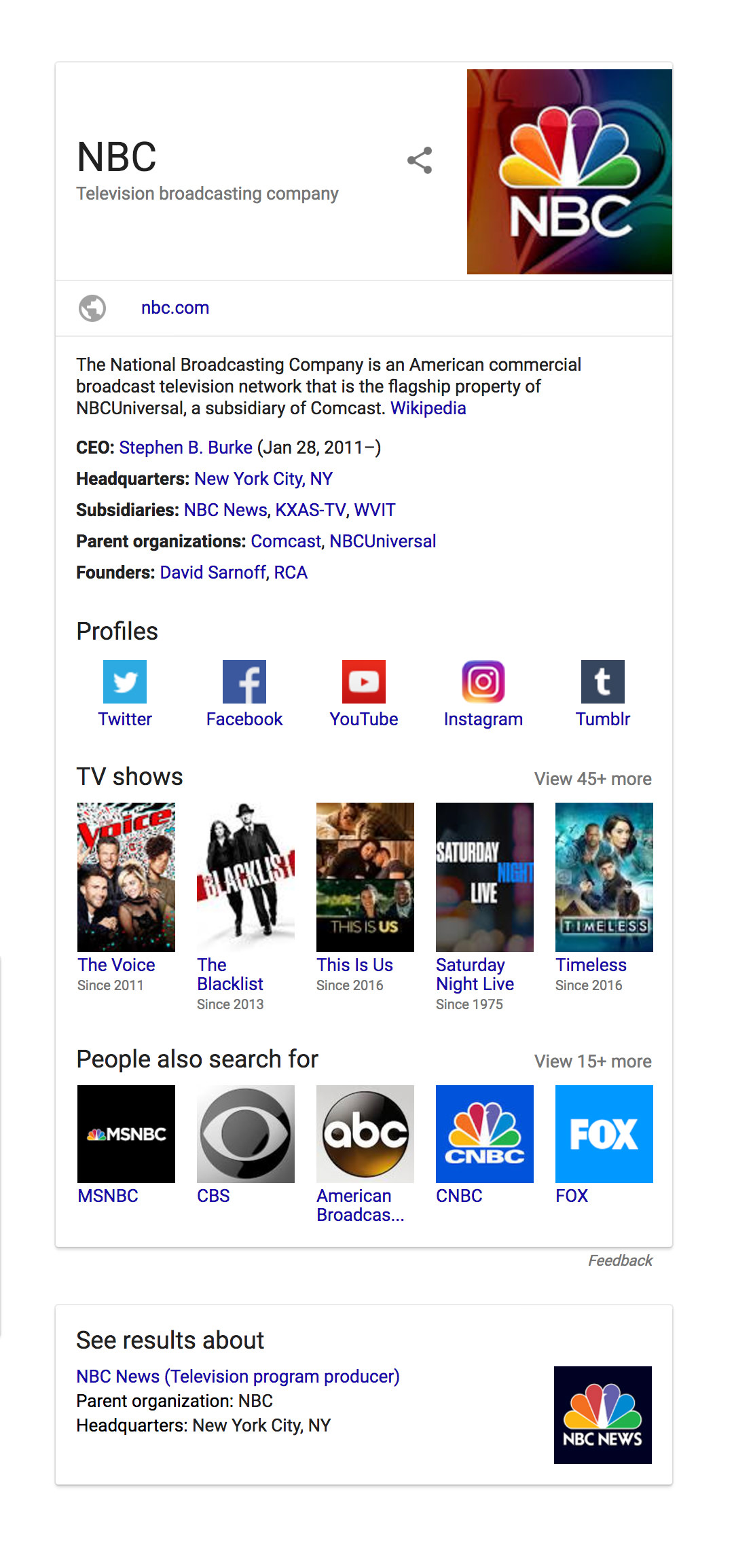 Brand results are more "zoomed out" and tackle the big picture. Therefore, what you're served are things like:
links to their social media profiles
product descriptions
Wikipedia snippet
current stock price
current CEO
global customer service number
and perhaps related companies that fall under their umbrella
Your local business isn't going to have most of these things, which is why Google serves up local Knowledge Panels instead.
These are formatted a bit differently. The emphasis is on what Google thinks someone searching for your business wants to see assuming they are in proximity of your location.
That's why, in a local Knowledge Panel, you'll find information like:
number of locations
addresses for those locations
Yelp entries
Google reviews
Here's a great example of a local knowledge panel for one of our clients, Capri Laguna on the Beach:

Now, I know you're just dying to go Google your own brand and see how your own Local Knowledge Panel looks, right? Go ahead, I'll wait.
In the meantime, I'm going to add a couple more examples of juicy local brand knowledge panels for you: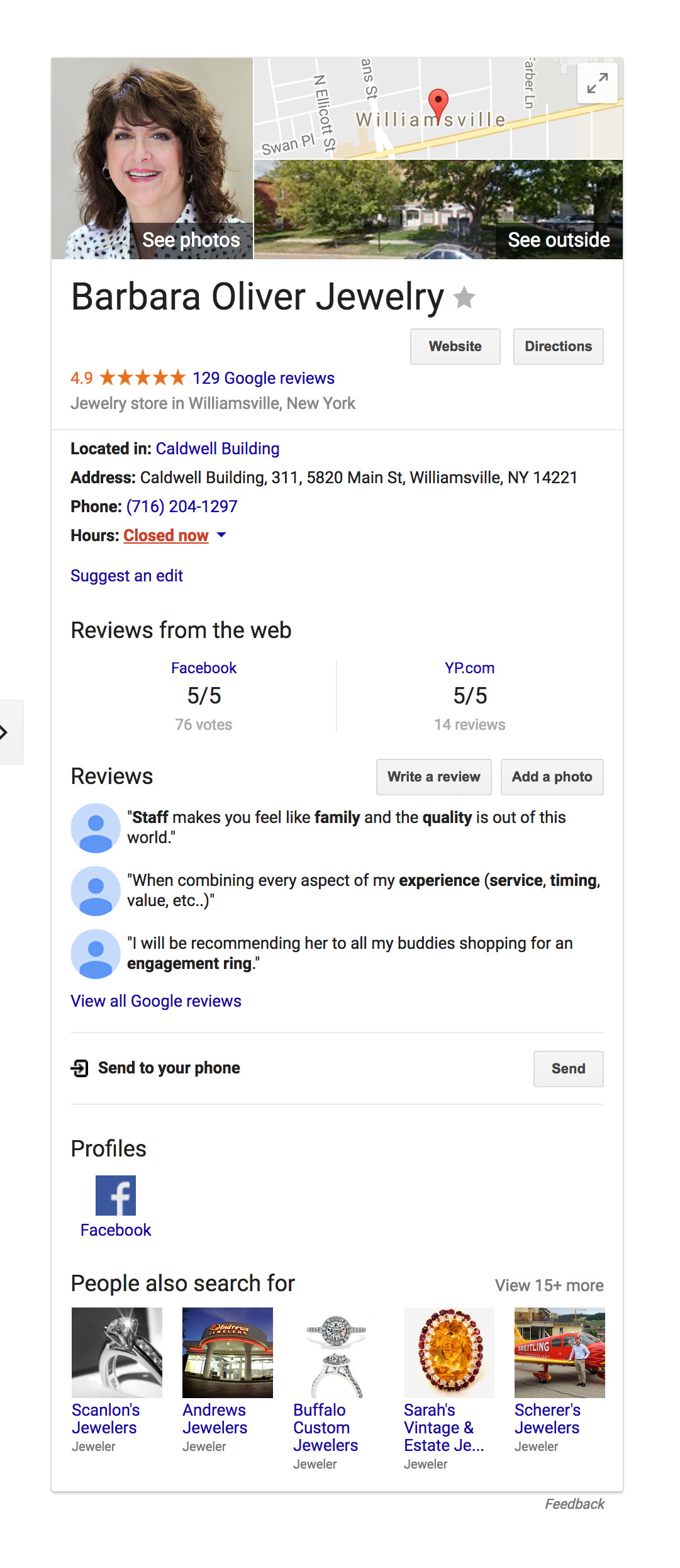 Great. How do I make one?
Well, Google actually makes it for you once you provide them with the adequate amount of information that they're looking for.
What information, exactly, are they looking for? As with all things Google, they're not telling.
Their value lies in the secrets of their algorithm, so all anyone can really do is try to recognize patterns and experiment with what kind of information Google is after. That's why being integrated with their services is so important.
One of the things we focus on at Steady Demand is Google Plus for local businesses because it plays a big part in things like Knowledge Panel creation.
Google doesn't leave us totally in the dark, though. They do have a guide for enhancing your business' appearance in their search results, which includes Knowledge Panel.
While a set of hard rules for getting displayed aren't present, we can extrapolate some things from this guide to get a pretty good idea of what Google is looking for.
Establishing a Google Plus presence is a must because it's a platform that pulls in a lot of information (on both you and customers via engagement) for Google to use to present more relevant results.
Bonus: Get our comprehensive Google+ Page Manager Guide plus 10 bonus tips delivered straight to your email. Just click here to get it now!
Another prerequisite for getting a Knowledge Panel created is signing up with Google My Business. Without it, you probably won't be displayed in search results other than the traditional website rankings you see for every kind of query.
Google treats the information you submit via Google My Business as authoritative. It's through here they will verify things like contact information and addresses.
Any tips for optimizing my Knowledge Panel?
There are some best practices to stick to when trying to get the most value out of your Knowledge Panel. Some of the things you'll want to accomplish include:
Get at least five Google reviews
User reviews are an essential part of local SEO and that holds true for the Knowledge Panel as well.
You want those big, bright star ratings (preferably a 5.0 of course) to appear in your business' Knowledge Panel. If your business has one Google review, Google will present comments with signifying words in bold to give a general overview of customer satisfaction with your business.
Be active on Google Plus
Yes, it's not enough to just establish an account. Google wants to see activity on its Plus platform because it will take content from there for its expanded results.
You may be wondering if what you're doing with your Google Plus page is actually helping. Well, you can start by utilizing the Google My Business Analytics which give you great insight on how you're doing.
But are you doing things "the right way?" You might be interested in our free analysis tool for your existing page.
Visuals, visuals, visuals
The world moves fast and people want to scan for information. Make sure any visuals you upload for your business are of a high quality.
This is especially true for your main profile pictures. Anything Google pulls in to represent you is going to be the face of your company for many potential customers.
Because no one actually knows what image, exactly, they will make your defining image in Knowledge Panel, it's important to make them all profile picture worthy.
The importance of visuals extends to Google Maps as well.
In your My Business dashboard, make sure the pin denoting your location is placed accurately. You want customers getting to your front door with no problems.
Conclusion
A lot goes into establishing desirable representation in Google's search results. It can often feel like a full time job. It doesn't have to be.
By partnering with Steady Demand, you can be confident that your Google business platform will be optimized through methods that have been proven to bring results. Do you want to get the most out of your business' search results?
Contact us today and we can figure out the best strategy for your business with you.