On Oct 29th 2020 I noticed that the Google my Business get help contact form was showing redressal ID's in the form itself as you moved through the GMB support flow. I confirmed with Google that this was indeed a very limited experiment.
When I saw this barry covered it on Search Engine Land and noted that I predicted this would be useful for Google My Business reinstatements.
Well, guess what…it is better than that it appears. I have confirmed with Google the reinstatement request form is in a limited test to be included in the contact flow.
Here are some screenshots: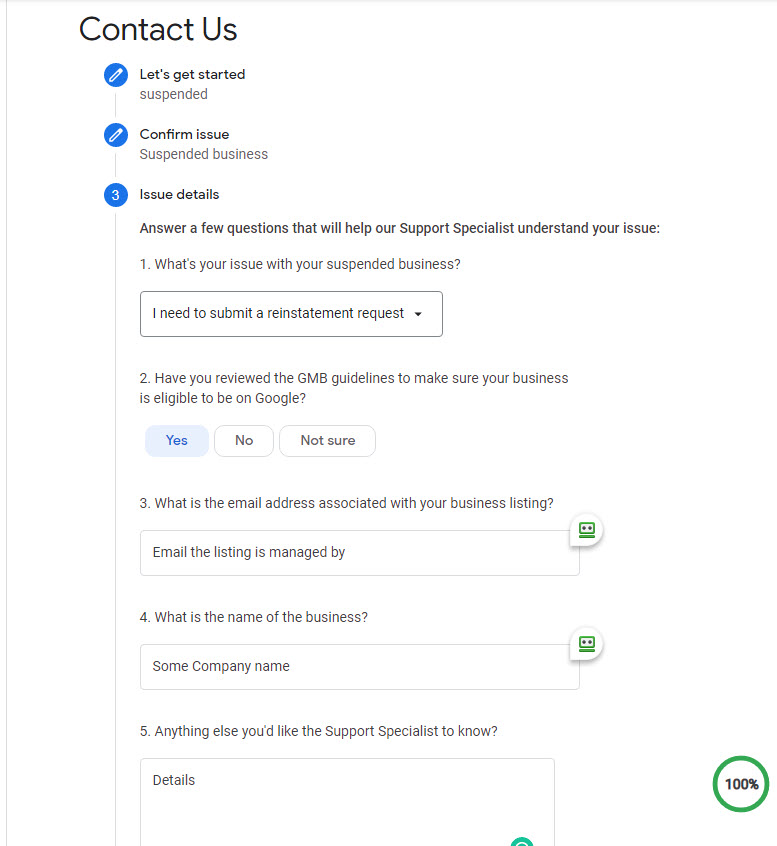 This really does make a ton of sense. The number of threads about suspended profiles can be staggering. And the options you see below are very common questions we Product Experts see on a regular basis. So putting this right in the contact flow will make it easier to at least reach out to support. It may not fix the issues support has with communicating what is wrong (there is a reason for that) but could help stress people out a little less.
Some Things I Noticed:
The form is allowing you to specify what email manages/owns the account.
Is NOT asking for the dashboard URL (this is hard for average users to find)
Note the section number 5 will allow up to 75,275 characters or about 5521 words!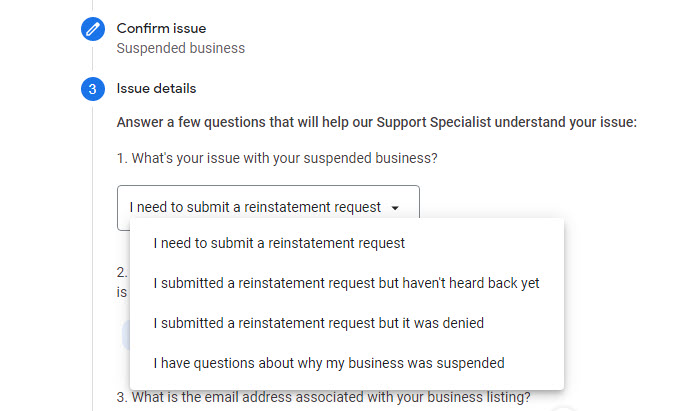 These are the options for submitting a reinstatement request.
I need to submit a reinstatement request
I submitted a reinstatement request bu haven't heard back yet
I submitted a reinstatement request but it was denied
I have questions about why my business was suspended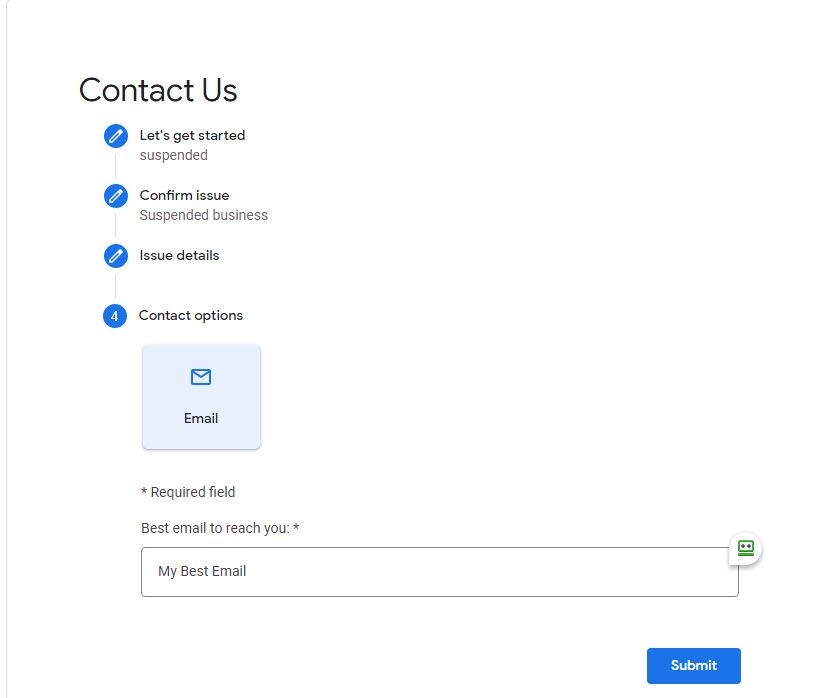 When you are at the end they ask what is the best email to reach you at. This I can tell you, I got the following email in the account I was using to submit this form. I should get a reply to another designated email tomorrow, we shall see it is a test after all. (got the email as intended, however, I was directed to the reinstatement form. So this is useful AFTER you have not heard back on a reinstatement.

The last thing you get I started to see a few weeks ago. It is a myriad number of tips and tricks to do when you are suspended. I am including it below in text.
If you need Professional Help With a GMB Suspension
– Reach Out To Us!
Thank you for contacting Google My Business Support. We understand that you're concerned about a suspended Business Profile on Google.
To help you get your Business Profile back up and running, here are some next steps to have your profile reviewed for possible reinstatement:
My Business Profile is suspended.
I submitted a reinstatement request and haven't heard back yet.

The majority of requests are reviewed, investigated, and resolved within 3 business days. If it's been more than 3 business days since you submitted a request for reinstatement, reply to this email. Then, we'll investigate the issue for you.

I already submitted a reinstatement request and it was denied, but I believe my business is eligible.

If you believe your reinstatement request was incorrectly denied, reply to this email with a justification to help verify your business's eligibility. If possible, include storefront images and a summary of how your business operates so that we can escalate your profile.

My profile has already been reinstated but I still have questions or issues with it.

We can't provide specific reasons why your Business Profile may be suspended. If you have issues with your profile post-reinstatement, reply to this email with more information about what those issues are and we'll investigate further.
Learn how to fix suspended Business Profiles.
If you need further assistance with Google My Business, the quickest way to get help is to visit these resources: